Jesuit Studies Café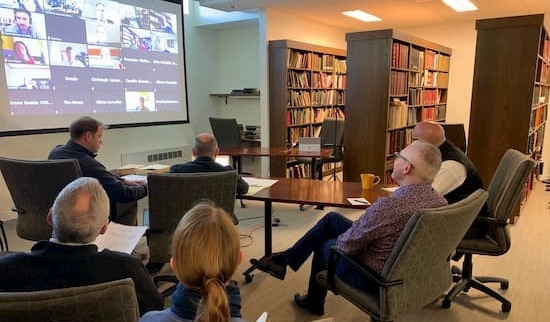 The Institute for Advanced Jesuit Studies invites you to join informal conversations with the world's preeminent scholars working on the history, spirituality, and educational heritage of the Society of Jesus. These discussions – hosted at the Institute over coffee and also available via Zoom videoconference – are unique opportunities to learn more about the newest and most interesting scholarship in Jesuit Studies.
If you would like to attend a café via videoconference, please register, and you will receive information on how to access the online meeting space 24 hours before the discussion. Please contact the Institute with any questions or if you wish to join or lead a café in the future (iajs@bc.edu).
---
Spring 2020 Conversations:
February 28
"Working and editing new sources: The first Jesuit philosophical text taught in Paris"
Anna Tropia, Charles University, Prague
Institute Library | 9:15 a.m.

How did the Jesuits teach philosophy during the sixteenth century? How did they organize lectures? What did they teach? How did they fit the current debates on hot topics such as the immortality of the soul, the relation between faith and reason, or the ancient authorities? 
Anna Tropia will offer some insights on these important questions, by presenting the "De origine, natura et immortalitate animae" (about 1564) by the Spanish Jesuit, Juan Maldonado (1533/34 – 1583), a manuscript she has recently edited. This text is the only extant trace of the course that Maldonado taught in Paris in 1564, the first year after the inception of the Jesuit Collège de Clermont, but it provides precious details and a solid perspectives on how the Jesuit philosophical tradition would develop in the early modern period.
---
March 26
New Database:
"The Digital Indipetae Database"
Emanuele Colombo, DePaul University
Marco Rochini, Research Fellow at the Institute for Advanced Jesuit Studies

Institute Library | 9:15 a.m.
This café be a demonstration of the new Digital Indipetae Database, an open-access resource that collects thousands of indipetae (Jesuit petitions for extra-European missions) preserved at the Jesuit Roman Archive (ARSI) and other archives. The tradition of writing indipetae, pretty unique to the Society of Jesus, lasted for at least four hundred years, between the 1560s and the 1960s. At this café, Colombo and Rochini will demonstrate the database's robust functionality by exploring the first series of letters uploaded -- the nearly eight hundred indipetae written during the generalate of Jan Roothaan (1829-1853), which highlight the evolution of Jesuit missions after the restoration of the Society.

---
---
Past Conversations
---
If you have any questions, please contact (iajs@bc.edu)