2015 Inaugural Lecture
Feore Family Lecture on Jesuit Studies
"American Jesuits and the World: Toward a More Global Religious History"
Presented by John T. McGreevy

Fulton Hall, Boston College| November 19, 2015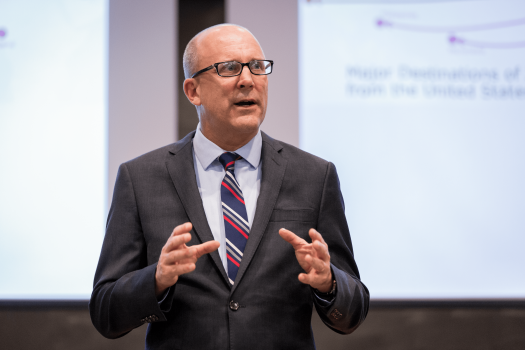 On November 19, 2015 the Feore Family Lecture Series on Jesuit Studies was inaugurated by John T. McGreevy, the I.A. O'Shaughnessy Dean of the College of Arts and Letters and Professor of History at the University of Notre Dame. Dean McGreevy spoke on American Jesuits and the World: Toward a More Global Religious History.
John McGreevy received his B.A. from the University of Notre Dame and his Ph.D. from Stanford University. He joined Notre Dame's faculty in 1997, coming from Harvard University. He served as chair of the department from 2002 until his appointment as dean in 2008. His title, American Jesuits and the World, was published by Princeton University Press in spring 2016.
He is the author of two other books. The first, Parish Boundaries: The Catholic Encounter with Race in the Twentieth Century Urban North was published by the University of Chicago Press in 1996. The second, Catholicism and American Freedom: A History was published by W.W. Norton in 2003. He has received major fellowships from the American Council of Learned Societies, the Louisville Institute and the Erasmus Institute, and has published numerous articles and reviews in the Journal of American History, Commonweal, New Republic, Chicago Tribune and other venues.