2022 Lecture
Feore Family Lecture on Jesuit Studies
"Telling a Different Jesuit Story"
Presented by Festo Mkenda, S.J.

Corcoran Commons, Boston College| October 4, 2022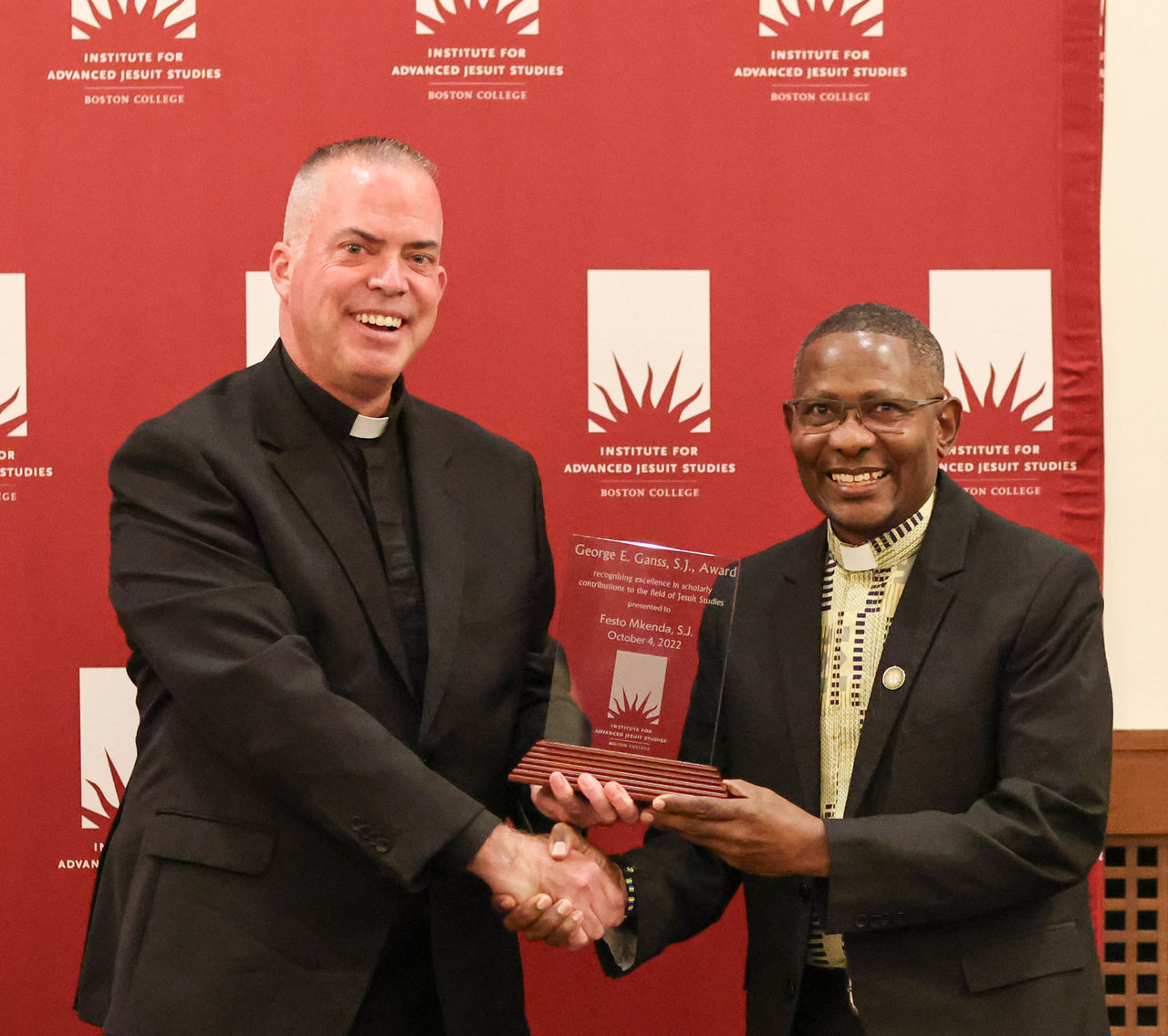 On October 4, 2022, Festo Mkenda, S.J., delivered the sixth annual Feore Family Lecture on Jesuit Studies at Boston College. 
Dr. Festo L. Mkenda, S.J., was born at Rombo in Kilimanjaro, Tanzania. He joined the Society of Jesus and studied philosophy and humanities (Arrupe College, University of Zimbabwe, Harare) and theology (Hekima College, Catholic University of Eastern Africa, Nairobi). He was ordained a priest in 2005, then pursued studies in history (School of Oriental and African Studies, University of London, and University of Oxford) ultimately specializing in African political history. He researches identity, nationalism and unity in Africa, and in Jesuit history in Africa; he also maintains active interest in contextualized theology and spirituality, and in the Swahili language. After doctoral studies, he served as assistant pastor at St. Joseph the Worker Parish in Nairobi, Kenya, and carried out freelance research. He then became Junior Research Fellow of Campion Hall and a Visiting Fellow of St. Cross College, both at the University of Oxford, for the year 2011. In January 2011 he assumed the directorship of the Jesuit Historical Institute in Africa (JHIA), based in Nairobi. He joined the Jesuit Community at Hekima College, Nairobi, working for the JHIA while lecturing in modern church history at Hekima College and in the history of consecrated life at Chemchemi ya Uzima. In 2019 he moved to the US and was Visiting Faculty at Xavier University in Cincinnati, Ohio, where he taught African history.  In 2021 he became the Academic Director of the ARSI (Archivum Romanum Societatis Iesu).

The Institute presented Mkenda with the George E. Ganss, S.J., Award in Jesuit Studies to recognize his significant scholarly contributions to the field.