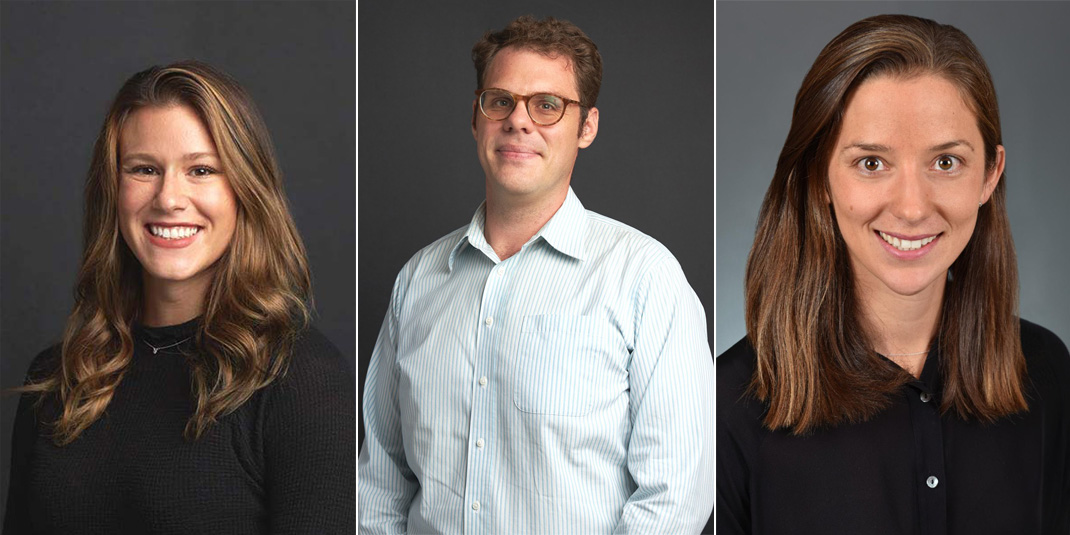 Three doctoral candidates in the Boston College School of Social Work have recently received grants from the National Institutes of Health to support their dissertation research.
Faculty and administrators at the University said the awards exemplify the strength of BC's social work program and the tenacity of its doctoral scholars. 
"These prestigious awards are recognition by the NIH of the innovative scholarship and impact of the SSW doctoral candidates," said Thomas Chiles, the vice provost for research and academic planning at BC. "Moreover, they underscore the caliber of faculty in the SSW and their dedication to graduate education and training."  
J.C. Hodges, PhD'24, and Natalie Grafft, PhD'25, each received an F31 fellowship, known formally as the Ruth L. Kirschstein Predoctoral Individual National Research Service Award. They are two of only a handful of scholars at social work schools to currently hold F31 awards, which include supervised training.
Laura Bond, PhD'24, received an International Research Training Grant from the NIH's Fogarty International Center, a program focused on global health. She is one of just 14 scholars in 2023—and the only doctoral candidate in social work—to secure the award through a training program at Washington University in St. Louis that supports the development of early career researchers focused on addressing complex health problems in children and families in low-and middle-income countries.  
Hodges, who counseled clients in Spanish at a health clinic in Virginia before coming to BC, said his research will shed new light on how social relationships have influenced the desire among Puerto Rican migrants to seek treatment for mental health issues and substance use disorders.
He plans to interview and survey a total of 390 adults who left Puerto Rico after Hurricane Maria hit the island in 2017, killing nearly 3,000 people and causing $100 billion in damage. 
"I'll be looking at what motivates people to seek out mental health treatment, because we know from the baseline research that there is a very high clinical need within this group," said Hodges, whose work is supported by a three-year, $97,381 fellowship from the National Institute of Minority Health and Health Disparities. "How do people decide they have a problem, how do they act on it, and how does that intersect with issues of access?"
Grafft, a former social worker at Boston Children's Hospital, will study how fathers' adverse childhood experiences impact their parenting as well as their kids' health and well-being. She posits that their level of exposure to abuse, substance use, and community-based trauma before age 18 has shaped their parenting practices in adulthood.    
Her investigation will focus on an analysis of the fathers in two large data sets, including a nationally representative sample of more than 20,000 Americans who have been surveyed five times since 1994 and are now in their 40s.   
"Up until now, fathers have been overlooked and taken for granted. But as times are changing, we have more single fathers and more fathers staying at home than ever before," said Grafft, who received a two-year, $86,580 fellowship from the Eunice Kennedy Shriver National Institute of Child Health and Human Development to support her research. "So it's really important to know how their parenting practices influence their children's health and what they bring to the table."
Bond, who worked for Catholic Relief Services in Lesotho, Afghanistan, India, and Nigeria from 2017 to 2020, said her dissertation will build on an ongoing project led by BCSSW's Research Program on Children and Adversity to improve the health and well-being of 10,000 families in three rural districts of Rwanda. 
For the past five years, well-trained lay workers affiliated with the Rwandan government have visited the homes of families in the region to deliver an intervention that has been proven to reduce the harsh discipline of children and improve the mental health of caregivers.
Bond will use qualitative and quantitative data from the lay workers and their supervisors to answer several research questions focused on the interventionists, including how the quality of their work impacts the outcomes of the program.
"This intervention has already been tested for effectiveness, and we know it works," said Bond, who received $86,000 to support her research, including $10,000 to collect data. "My research questions are more about the community workers who have been delivering the program, and testing something empirically that we understand theoretically."
As part of her research, Bond will analyze interviews with 18 lay workers and 12 supervisors to determine whether the program equips the interventionists with the skills to reach their professional goals. "I'm interested in understanding if they are professionally growing and able to meet their own goals because of their participation in our intervention," she said. "I want to hear about their own experiences, which have not been drawn out a lot in the literature."
"

These prestigious awards are recognition by the NIH of the innovative scholarship and impact of the SSW doctoral candidates. Moreover, they underscore the caliber of faculty in the SSW and their dedication to graduate education and training.

"
Chiles said all three projects align with BCSSW's mission to uncover innovative ways to address social problems around the world. "This is research that impacts complex social problems in timely and meaningful ways," he said. "It is research with a global impact."
The doctoral candidates credited their coursework and faculty mentors with preparing them to apply for and win their grants.  
Hodges and Grafft said they would not have received their fellowships had they not taken a doctoral-level course called Research Grant Writing for the Health and Behavioral Sciences. They said their professor, Kirsten Davison, the associate dean for research at BCSSW, helped them through the entire application process, from conceptualizing their proposals to fine-tuning a seemingly endless number of drafts and submissions. 
"Kirsten is very savvy about how to think about the different perspectives of the people who are going to be looking at your grant application and how you can connect your research interests with what funders want to see," said Hodges, whose dissertation is an outgrowth of BCSSW Professor Chris Salas-Wright's ongoing study of 500 parents and children who moved to the mainland in the wake of Hurricane Maria. "I was clueless about how to apply for a grant before this. She really showed me the road."
Grafft said Davison advised her to take a unique approach to her grant proposal, which led her to include a pitch to analyze how the interplay between fathers' and mothers' adverse childhood experiences impact the health of their kids.
She added that no one has ever conducted such an analysis, pointing out that she plans to sort through data from one of Davison's NIH-funded studies to aid her own investigation. "Kirsten taught me that you need something unique in your grant proposal," she said. "You need something that people are going to catch on to."
Bond said Theresa Betancourt, the director of the RPCA, reviewed drafts of her grant proposal and helped her frame her research questions. "She's really great at helping me think not only about what's interesting scientifically," she said, "but also what's practically helpful for communities." 
All three scholars hope to use their NIH grants as launching pads for the next stage of their careers. Bond envisioned herself at a nongovernmental organization, working as a leader on a research and development team. Hodges and Grafft want to land tenure-track faculty positions at top-tier research universities.
Davison said their grants should help them obtain coveted positions in the professional ranks of the social work or public health fields. "If I were employing someone, I would be very impressed to see that they had secured one of these grants along the way because they are very competitive," she said.