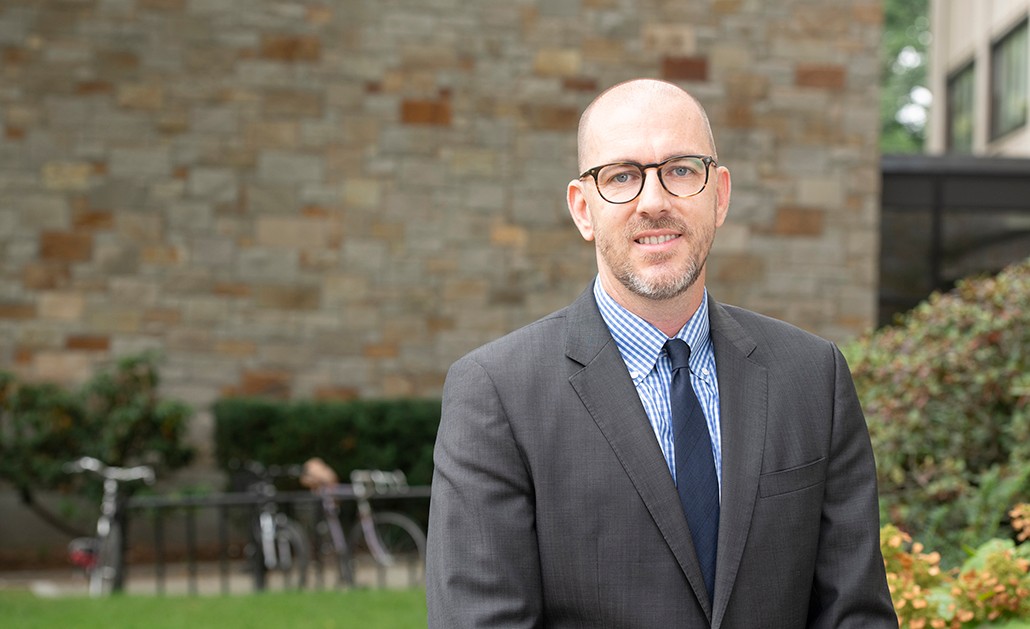 After Hurricane Maria hit Puerto Rico in September 2017, killing nearly 3,000 people and causing $100 billion in damage, Christopher Salas-Wright interviewed dozens of residents of the island who had been forced to flee to the mainland. 
Salas-Wright, a researcher who studies the social, cultural, and economic challenges that face immigrants, wanted to know how Puerto Rican migrants had adapted to their new lives. How, he asked a group of migrants who had moved to Florida, had people on the mainland treated them? How had they made ends meet? And how had they managed to remain mentally strong after the catastrophic storm had upended their lives?
"It was deeply moving to hear their experiences and see families that have to suddenly scramble to put their lives back together," says Salas-Wright, a newly hired professor in the Boston College School of Social Work who joined the faculty in July. "You can't sit in those kinds of meetings with people and not feel that you have a responsibility to use science to make a real impact on communities." 
Over the next three years, Salas-Wright plans to follow a cohort of 1,000 parents and children who moved to the mainland in the wake of Hurricane Maria. He says the goal of the project is to develop strategies that social workers, civic leaders, and educators can use to help migrants make the most of their new lives, especially those who have increased their use of alcohol in response to trauma caused by the forced displacement from their homes. 
"The hope is that this will be a unique study of Hurricane Maria survivors in the United States," says Salas-Wright, whose research project is funded by the National Institute on Minority Health and Health Disparities. "I'm unaware of any other study of its scope that will have the chance to follow people to understand how their experiences unfold over time."
"

To have encounters with people on the margins and to reflect on those experiences in ways that draw on the heart, mind, and faith have led to the work I do today. It's impossible for me to make sense of the world around me without thinking of migration.

"
His education at two Jesuit institutions—Santa Clara University and Boston College—has shaped his research agenda. 
As an undergraduate at Santa Clara in 2000, Salas-Wright spent a summer in a rural community in Chalatenango, El Salvador, which had been ravaged by civil war. He recalls that violence, inequality, and mass migration had touched the lives of every family he encountered. His doctoral dissertation, completed in the Boston College School of Social Work in 2012, focused on the relationship between spirituality and delinquency, violence, and substance abuse among young people involved in gangs in El Salvador.
"To have encounters with people on the margins and to reflect on those experiences in ways that draw on the heart, mind, and faith have led to the work I do today," says Salas-Wright. "It's impossible for me to make sense of the world around me without thinking of migration."
His newest study, for which he is seeking funding, will focus on migrants from Venezuela who have fled from a political, social, and economic crisis in their country. More than 1 million such people have crossed over into Colombia to escape widespread violence, hyperinflation, and a healthcare system on the verge of collapse.
The primary objective of this research project mirrors the goal of his project that took shape in the aftermath of Hurricane Maria: To develop long-term solutions to help migrants who have been forced to leave their home, their culture, and their language. 
"It's so hard under the best conditions to put together a good life," says Salas-Wright. "We need to figure out what we can do as social workers to try to help communities thrive."
Salas-Wright comes to BC from Boston University, where he served as an associate professor in the School of Social Work. He's authored more than 175 publications, including peer-reviewed articles in the American Journal of Public Health, the American Journal of Preventive Medicine, and Drug and Alcohol Dependence. In 2019, he received the Deborah K. Padgett Early Career Achievement Award from the Society for Social Work and Research, an honor that recognizes young scholars whose innovative work has attracted the attention of other academics and influenced the field. 
His research findings have appeared in numerous media outlets, including MSNBC, NBC News, and USA TODAY. One of his studies, published in 2015, revealed that teenaged immigrants are less likely than their native-born peers to engage in delinquent behaviors, such as fighting, selling drugs, and carrying guns.
"Despite greater social disadvantages compared to U.S.-born Americans," Salas-Wright told NBC News at the time, "immigrants tend to be less involved in problem behavior such as violence and crime and misuse of alcohol and drugs."
He says he looks forward to collaborating with students and faculty across the School of Social Work, including those who focus on improving the lives of immigrants, refugees, and people in Latinx communities. 
"It's hard to imagine a school that's a better fit for me," says Salas-Wright, who speaks fluent Spanish. "I had positive experiences at other institutions, but this is the first time where clusters of faculty are very much aligned with my own work, which will allow for a very unique opportunity for training and research."