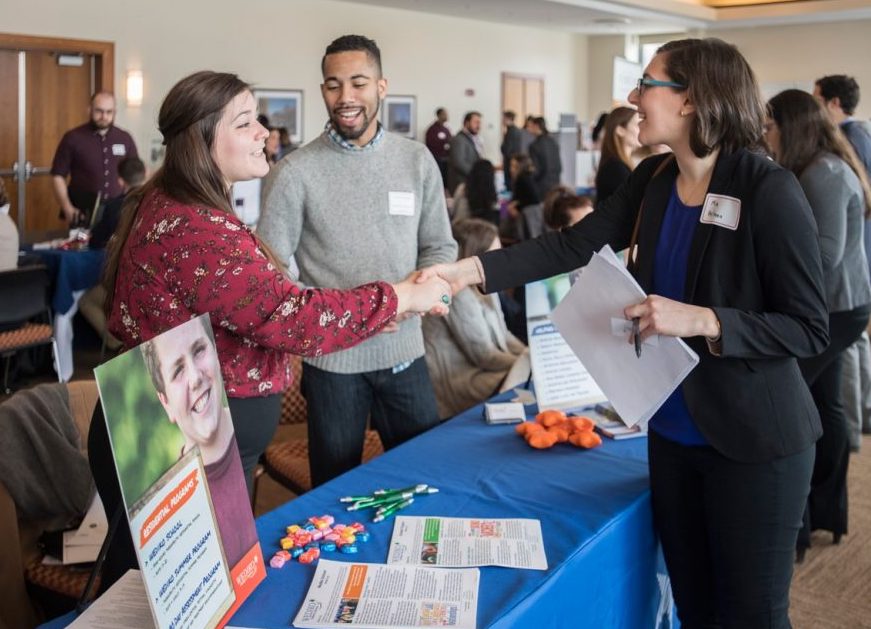 As the demand for social workers continues to grow, the Career Services Office in the Boston College School of Social Work has been preparing MSW students for professional success.
Survey data from the Class of 2022 shows that graduates, on average, accepted a job offer just six weeks after they first started applying for positions. Eighty-eight percent of alumni passed the master's-level social worker license exam on the first try, 12 points higher than the national average. And 25 percent of newly minted social workers accepted job offers from one of their field placements.  

"The social work profession is vast and our Career Services Office helps introduce students to the variety of roles they can play with an MSW," said Cindy Snell, BCSSW's director of Career Services and Alumni Relations. "We are committed to students' lifelong professional development."
We asked Snell to explain how her department helps students succeed.
In addition to BCSSW, only a handful of other social work schools have dedicated career services departments. What makes BCSSW's approach to career services unique?
Here at the BCSSW, we meet people where they are in their career journey. 
Many students who enter our MSW program are new to the social work field and want to learn about the many career opportunities within the field and how they can best discern the contribution they want to make professionally. Our Career Services Office connects them with alumni who work in different roles and settings to help them explore how these options might resonate with their interests.
Other students enter our program knowing exactly what area of social work they are interested in and want help getting there. We provide support with job search application materials like resumes and cover letters and help make connections with people in their field of interest who can provide tips for their job search.
Each year, students who have changed careers enter our program wanting to learn how to integrate past work experience with their new social work knowledge and skills. We offer career appointments for this group of students to talk about salary ranges, work-life balance, and the best way to present themselves through their new professional brand.
Overall employment of social workers is projected to grow 9 percent from 2021 to 2031, faster than the average for all occupations, according to the U.S. Bureau of Labor Statistics. About 74,700 openings for social workers are projected each year, on average, over the decade. Generally speaking, what is Career Services doing to ensure that BCSSW students stand out among other candidates in this job-seekers market? 
The Careers Services department emphasizes awareness, preparation, and relationship building. We make sure our students are aware of job opportunities through our robust jobs database, annual job fair, and strong relationships with alumni and employers.
Career Services also provides job search timelines, workshops, and resources like mock interviewing that allow job applicants to successfully manage the job search process and articulate their skills, knowledge, and experience to employers. 
BCSSW's Career Services Office is open to students and alumni for life, no matter if they've just stepped foot on campus or graduated 20 years ago. What are some other ways that you and your staff support them on their journey to career success?
Starting at orientation, I encourage students to schedule an appointment to meet with Career Services during their first year to talk about how they can use the resources, curriculum, and their field education experience to start to define the role they want to play within the social work field.  
For final year students, we host a series of workshops related to the job search that can help them feel confident in their ability to craft application materials, network, and interview successfully.
I encourage graduates to participate in our Alumni Mentoring program, which enables newly minted social workers to learn from seasoned professionals. And I encourage our more seasoned alumni to share their expertise and advance their careers through opportunities to teach, lecture, advise, and supervise the next generation of social workers. 
Career Services also responds to needs of students through specialized programming. For example, a final-year student relayed that they didn't know much about benefits and would benefit from a workshop on what a typical job offer provides. We called an alumnus who is the vice president of a large local human services agency and put together an online workshop that walked participants through typical benefits, discussed salary negotiations, and outlined career opportunities at that agency, including opportunities for international students.
In addition, students have online access to a comprehensive set of resources to refer to for every aspect of career development, from self-assessment through salary negotiation. Topics covered include licensure, loan forgiveness, resume writing, and networking.
Career Services hosts an annual recruitment fair, where students and alumni can connect with dozens of potential employers with a national presence. Aside from the recruitment fair, what other events does the office host? 
Throughout the year, students have many opportunities to interact with and learn from our alumni. These learning opportunities often present themselves through class presentations, workshops, or our annual Networking events with graduates.   
Career Day is offered annually in January to graduating MSW students, with a panel of recent alumni offering their experience and advice on transitioning from a student to a newly-minted social worker. This half-day event helps students create a job search plan of action by providing timelines, articulating steps, and sharing resources for a successful job search.
Mock interviewing for graduating MSW students is an opportunity for those on the job market to practice before it counts. They are paired with alumni volunteers who simulate 20-minute interviews in a virtual setting and then provide 20 minutes of feedback.
We also host Career exploration panels, which provide opportunities for students to hear from alumni in a wide variety of roles. These events allow students to learn about the many career opportunities available to MSWs, make professional connections, and hear advice on how to get where they want to go. 
Many of these programs are held online in the evening, allowing alumni across the country to participate and accommodating students' busy schedules. Our in-person, on-campus events provide the benefit of face-to-face interactions in a smaller group with plenty of time for Q&As.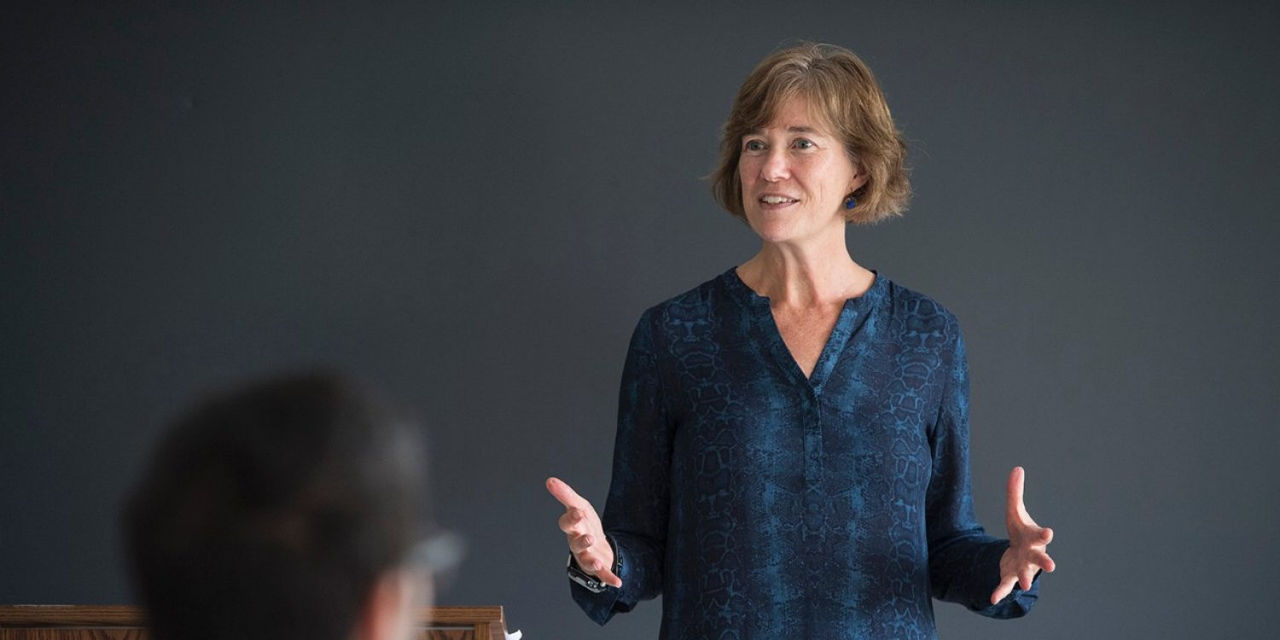 Career Services helps more than 9,000 BCSSW alumni stay connected to the University through programs, events, and networking channels, as you mentioned. One of the most popular offerings is the Alumni Mentoring Program. How does this program help new social workers navigate the challenges of social work?
This program is designed to provide newer graduates with insight and expertise from seasoned social workers. Areas of focus include career growth, navigating workplace dynamics, and finding a work-life balance. Many social workers get supervision in the workplace when they are starting out in their careers, but mentoring is meant to go beyond the day- to-day workload and to dig deeper into professional questions that newer graduates may have.
In addition to you and your staff, professors provide support as faculty mentors and work collaboratively with students. What role do faculty play in helping students reach their career goals?
As a professional school, BCSSW is committed to supporting students through the stages of career exploration, discernment, and decision-making over their lifetime. The layering of academic and career advisors, mentors, supervisors, and faculty allow for access to many perspectives, experiences, and connections to support all of our students through these stages of career development. Some of our faculty are involved in research and have opportunities for students to participate. All of our part-time faculty are practicing in the social work field and able to bring that experience to their teaching.
The two years of required field practicum gives students direct experience in the field and an opportunity to gain skills, make valuable connections, and apply what they are learning in the classroom. With five elective choices and many certificates to choose from, students can customize their curriculum to acquire the tools to build their social work careers.
Speaking of career goals, where do MSW graduates work? What kinds of roles can newly-minted social workers expect to take on after they earn their degree?
Our recently graduated MSW Class of 2023 is making an immediate impact locally and globally in helping ease some of the most immediate needs in our society. With an overwhelming need for mental health services across the country, our alumni are contributing as school social workers, in-home therapists, integrated behavioral health therapists at community health centers, and outpatient and crisis clinicians. 
They are working with immigrants and refugees locally, nationally, and globally at agencies like the International Rescue Committee and Jesuit Refugee Services. Our macro-focused graduates are making a difference by contributing their program management, grant writing, policy, advocacy, and research skills to make a positive impact on issues like mental health awareness, Alzheimer care, health equity, and housing insecurity.
Some students specifically look for jobs outside of the New England region. How does the Career Services Office, with assistance from the BC alumni network, help these students find the right fit?
Career Services supports students through their job search wherever they choose to locate after graduation. Many of our incoming students are from around the country and may choose to move back after graduation. We suggest students make an appointment with Career Services to talk through their plans and what information might be helpful to make this a smooth transition, whether that is state specific licensure information or connections to alums in that location. BC graduates can also utilize the platform EagleExchange to identify and connect with BC alums.