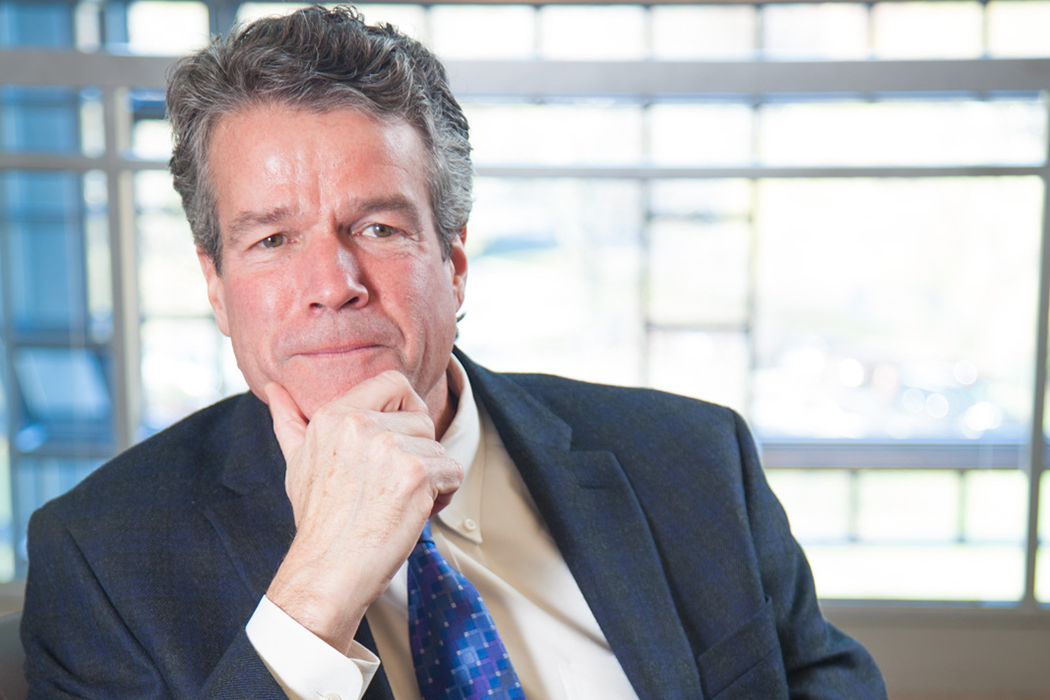 Bob Keane, an alumnus of the Boston College School of Social Work who now serves as a part-time faculty member, loves training new clinicians. 
It's his favorite part of his job as an assistant vice president at Walden Behavioral Care in Waltham, Massachusetts, where he oversees social workers who support the well-being of patients with eating disorders.
He says he tells newly minted clinicians to trust their skills, a prerequisite to providing the best possible care to their clients.   
"If they feel competent, then they get confident. And if they get confident, they get creative, and then they're really cooking," said Keane, who joined Walden Behavioral Care in 2011. "You have to be really creative to solve some of the problems that we face."
Keane, who received a master's degree from BCSSW in 1987 and a doctoral degree in 2003, has dedicated a large part of his career to training the next generation of practitioners. He draws on a wealth of leadership experience, including a four-year stint as deputy commissioner of the Massachusetts Department of Mental Health, to impart nuggets of wisdom to students and less seasoned colleagues in both the classroom and the workplace. 
Keane often advises new clinicians at Walden Behavioral Care to talk less and listen more. He said that clinicians who pay close attention to what their clients say are more likely to build trusting relationships with them, making it easier to find solutions to seemingly intractable problems. 
"I think most people know exactly what they should do with their life. The problem is they can't figure out why they can't do it," said Keane, who runs individual and group therapy sessions at the mental health organization. "That's where trusting relationships come in. To be able to bounce ideas around with people about why they are stuck is the road to recovery."
Keane regularly recruits interns and full-time employees from the master's program at BCSSW, where he's taught Health and Mental Health Policy since 2009. Three students in the MSW program started internships at the mental health organization in September, according to Keane, and two recent graduates are currently working there as clinicians.
One of them is Cassandra LaRoche, M.S.W.'23, who took Keane's class and started working at Walden under his supervision in May. LaRoche, who specialized in trauma-informed mental health, credited Keane with helping her improve her confidence in working with patients. 
"Although I can often be hard on myself, and sometimes lack confidence in my abilities and effectiveness, Bob has always been confident in my abilities," said LaRoche. "He finds a way to assist us in finding what we are proud of ourselves for in our work and seeing the role we have played in our patients' treatment."
LaRoche described Keane as a "supportive," "empathetic," and "insightful" clinician with a knack for offering salient advice at the right time. She said he shared a particularly wise bit of advice in class as the spring 2023 semester was wrapping up and students were on the verge of graduating. "Be thoughtful throughout your career about what you are doing, and why you are doing it," she recalled Keane saying. "You are where you are for deeply personal reasons. As you help others, you are being helped."
Keane may not have become the mentor he is today had it not been for an experience on the Heights nearly 40 years ago. 
In fall 1985, on his first day in the master's program at BCSSW, he attended an assembly in which faculty welcomed new students to the School. One professor, he said, used a phrase that has gone on to define his philosophy as a social worker bent on training the next generation of practitioners. 
"We have so much to give you," the professor, Robert Castagnola, told Keane and his peers. 
At that moment, Keane questioned what Castagnola meant. But after taking a few courses at BCSSW, Keane realized that Castagnola was sharing the faculty's belief in passing down knowledge to future social workers so that they may pay it forward.
"Faculty poured their heart and soul into teaching us," said Keane. "It was with a sense that this is important work and we want to invest what we've learned in your knowledge base so that you can go forward and continue it."
"

Bob is an integral part of our faculty. His leadership in keeping the Health and Mental Health Policy course so current has been a gift to the School, and his unparalleled excellence in teaching this content is greatly appreciated by his students and the School.

"
Keane has shared his knowledge with hundreds of students who have taken his Health and Mental Health Policy course, which focuses on analyzing and synthesizing the policy structures that undergird the U.S. health and mental health care system. 
During one class this past spring, he asked LaRoche and her classmates to guess how much particular medications, surgeries, and hospital stays would cost for patients and their insurers. Students were shocked by their priciness. 
"I think it's so important for clinicians to understand the policy aspect of this field because it interfaces with everything," said Keane. "It's about everything from how you can get paid to why you want to implement certain services to help people get better."
Students who have taken Keane's course have described him as an "incredible professor" whose lectures, discussions, and in-class activities frame health care policy in a way that anyone would understand. "What he teaches is extremely relevant to our work and our lives," one student said in an anonymous survey about the course. Another student said Keane "delivers content in a way that is digestible, relevant, and engaging." A third student acknowledged the positive classroom environment, saying he "creates a great atmosphere in which students feel comfortable asking questions."
Thomas Walsh, associate dean and director of the M.S.W. program, said Keane has mentored faculty who teach Health and Mental Health Policy and volunteered to revise the course to keep it up to date for the past 14 years. "Bob is an integral part of our faculty," he said. "His leadership in keeping the Health and Mental Health Policy course so current has been a gift to the School, and his unparalleled excellence in teaching this content is greatly appreciated by his students and the School."
Keane is currently writing two books that have the potential to benefit many more social workers than he could ever hope to mentor on his own. One book tells the story of his career, he said, tracking key moments in his professional life that have led him to become the leader he is today. 
His professional experience dates back to 1980, when he served as a counselor for a short-term inpatient psychiatric treatment program at a hospital in Wellesley, Massachusetts. It was there that he met a social worker named Ken Sklar who convinced him to look into the helping profession. 
One day, Sklar plucked his social worker license from his wallet, showed it to Keane, and told him he should get one. Keane asked why and Sklar listed all the things he could do with it—work at a hospital, teach at a prestigious university, earn a doctorate. The next day, Keane called BC and requested an application to the master of social work program. Around 20 years later, Keane had accomplished everything Sklar told him that he could do as a licensed social worker. 
"I'm not sure what will happen with the project, but I would love to use it as a way to get people to want to work in this field," said Keane. "I think it's a really important field and I think it's really important work."
The other book uses Walden as a case study to explore best practices for creating a seamless system of behavioral healthcare. Keane is writing it with Stuart Koman, the founder and chief executive of the organization, whom he met back in 1981, when they were both working at the hospital in Wellesley.  
"Bob really was a main architect with me developing our unique approach to building behavioral health companies that really would make a difference," said Koman. "He was, and is, a cornerstone of compassionate inpatient care at Walden."