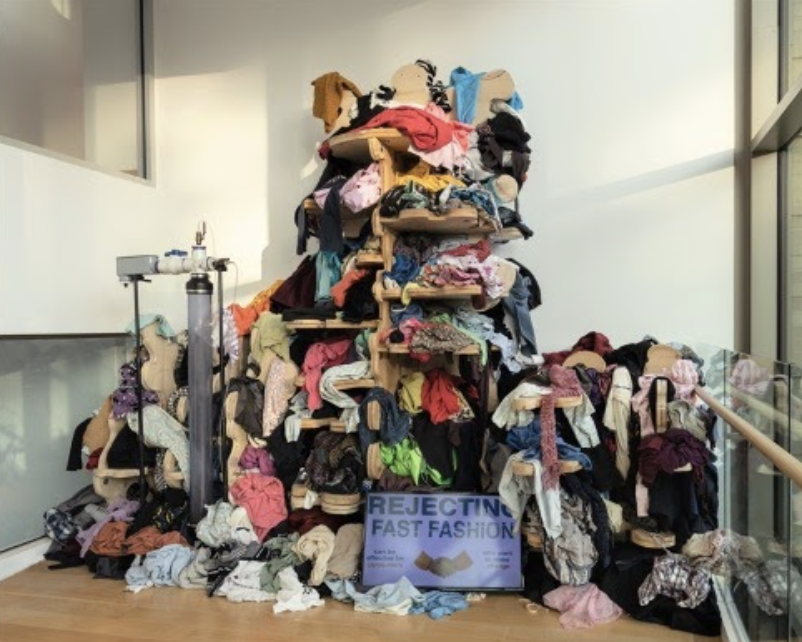 Earlier this year, the Schiller Institute awarded 15 grants to faculty members across campus in its inaugural Schiller Institute Grants for Exploratory Collaborative Scholarship (SIGECS) program. Dr. Julia DeVoy, Dr. Brian Smith, Dr. Martin Scanlan of the Lynch School of Education and Human Development, Professor Mark Cooper of the Morrissey College of Arts and Sciences, and three undergraduate students, had their SIGECS grant focused on assessing public health and environmental racism impacts of textile pollution through computer-based social justice research and multi-media art and data dissemination.  
One component of this project will now live in an exhibit in the McMullen Museum of Art from January 28 – March 12. 'Aftermath' (2021), pictured right, is the result of a goal to face up to a global economy of throwaway consumption that has given way to such unsustainable industries as "fast-fashion." 
Kevin Lotery, Assistant Professor of Art History, Modern and Contemporary Art in Europe & the Americas, explains that "the work's various components—including the Bioreactor Simulator, display armature, animations, and QR codes—have been sourced from an expansive network of scientific and design-based innovations executed by Boston College professors and students in disciplines as far-flung as applied psychology, art, engineering, environmental science, and education via grant support from the Schiller Institute." He explains that the 'Aftermath' piece proposes "that the spaces of art—whether gallery, studio or classroom—have already begun to be polluted by other spaces outside its sanitized, contemplative environs, from landfill to boutique store to laboratory." It is through animations and QR codes developed by undergraduate students that the project will provide more information and resources on this larger economy of waste.  
'Aftermath' will travel on to the ACCelerate Creativity + Innovation Festival, where it will be exhibitioned at the Smithsonian Museum of American History in April 2022.