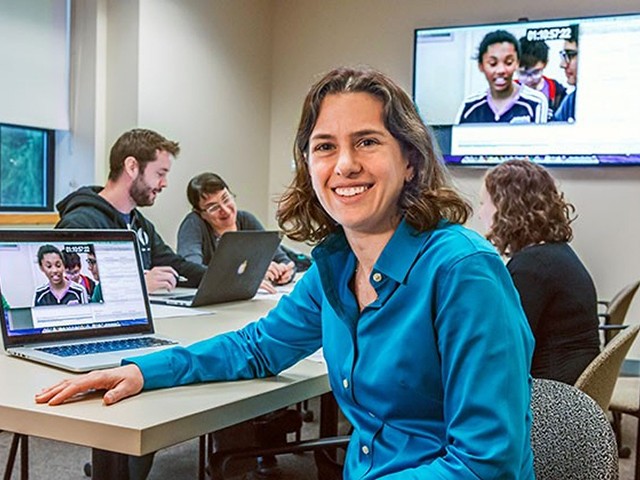 Kate McNeill, Professor of Teaching, Curriculum, and Society at BC's Lynch School for Education and Human Development, knows that science is so much more than facts—it's also about curiosity and wonder, and making sense of the world around us. That's why she's dedicated her career to helping students from diverse backgrounds get excited about science. 
"I'm biased because I love science," says McNeill, "but I know that it's turned off a lot of kids over time because of the way it's taught, forcing them to memorize facts like the periodic table. I really want to help kids—all kids—have a good experience with science. I want to open it up for them, help them connect and get engaged." 
For the past three years, McNeill and her team worked to develop a new middle school science program in collaboration with OpenSciEd, a consortium of nonprofits and universities, including Boston College Lynch School of Education and Human Development. The group is dedicated to delivering materials to teachers implementing the federal Next Generation Science Standards, which emphasize hands-on projects and integrate several scientific disciplines. What excites McNeill and others is the new curriculum's potential to capture the imagination of students who are often left behind when it comes to science, and revolutionize science education in the United States. 
Students of color, those whose first language is not English, and those from communities and schools lacking financial resources, are often the first to feel disconnected from science, says McNeill. OpenSciEd aims to disrupt these inequalities by supporting schools and teachers who begin their science lessons with the interests and curiosities of all students. Here's how it works. 
For example, one lesson starts with a video of music blaring from a truck. A window in a nearby building is shaking. "We start by asking students: What do you notice? What do you wonder? This is how we make the lesson student-driven, fueled by their questions," McNeill says. But, she adds, this is not the way most middle school science teachers are used to approaching the subject. And making the shift won't be easy without support. "I used to be a middle school science teacher," she says, "so I understand the challenges they face. It's weirdly isolating at times, especially when you're the only person teaching what you teach." 
To help middle school teachers across the Commonwealth make the transition, McNeill has secured a five-year, $5.3 million grant from the One8 Foundation to launch the OpenSciEd Equitable Instruction Initiative at the Lynch School. McNeill is co-director of the new initiative, along with Dr. Renee Affolter. The team also consists of Program Manager Hillary Paul Metcalf, School Support Specialists Nicole Ruttan and Bruce Kamerer, Senior Financial Administrator Jana Brinkhaus, and two graduate research assistants. The Massachusetts' Department of Elementary and Secondary Education (DESE) started a pilot of OpenSciEd in 2018, with the One8 Foundation providing additional funding support. All 3 organizations will partner to scale OpenSciEd and support Massachusetts schools to maximize the impact on middle school classrooms.
"The One8 Foundation is excited and proud to support schools and districts in their adoption of OpenSciEd. We have seen how OpenSciEd provides the resources for educators to engage students as scientists with hands-on, relevant, inquiry-based lessons," said Joanna Jacobson, President of the One8 Foundation." The world is rapidly changing and students need to be able to apply what they learn to the real world. OpenSciEd does just that." 
The OpenSciEd curriculum is open-source and free for all U.S. middle school teachers and schools, but as McNeill notes, "there's a lot of stuff involved in science." So, the initiative, through support from the One8 Foundation, is making grants available to schools to cover the cost of supplies, materials, and other forms of support for their teachers, like professional development. The new grant also makes it possible for McNeill and her staff to visit schools to assist teachers, and provide workshops, webinars, and virtual communities where teachers can connect with their peers learning to use the new curriculum. 
"One thing I really respect about BC is its dedication to the social justice mission," says McNeill "They realize that opportunity and access is not out there for all students, and they've been incredibly supportive of the equity vision of this Initiative." 
McNeill's team, along with Mass STEM Hub, a program of the One8 Foundation have started this work with a cohort of 40 schools across Massachusetts. Their goal is to reach about 110 over the next three years. Eventually, McNeill and the One8 Foundation would like to expand the program further, and include elementary and high school science teachers. 
"We need to think broader than just getting a student to do well on a standardized test," says McNeill. "Especially now, students need to be curious about the world around them. They need to ask questions and be able to engage in debate using science ideas and evidence. We're at a point in time where I think it's exciting to see teachers and kids getting excited again about science…and that's what excites me."

About the One8 Foundation
The One8 Foundation propels and supports outstanding leaders with compelling ideas that deliver scaled, sustainable social impact. The One8 education team identifies, supports and scales high impact programs and approaches that help schools and teachers prepare students for success in a rapidly changing, high tech world. One8 education focuses on applied learning opportunities, oriented around STEM and 21st century skills, that make learning relevant, stimulating and rewarding for students while amplifying understanding and interest. Learn more at one8.org
About Mass STEM Hub
Mass STEM Hub is a program of the One8 Foundation and its mission is to provide schools with access to and support for applied learning and STEM education that builds knowledge and skills students need to succeed in a rapidly changing, high-tech world.  Mass STEM Hub currently supports four programs in the Commonwealth: OpenSciEd, Project Lead The Way, STMath, and PBLWorks. Visit mass-stemhub.org to learn more.