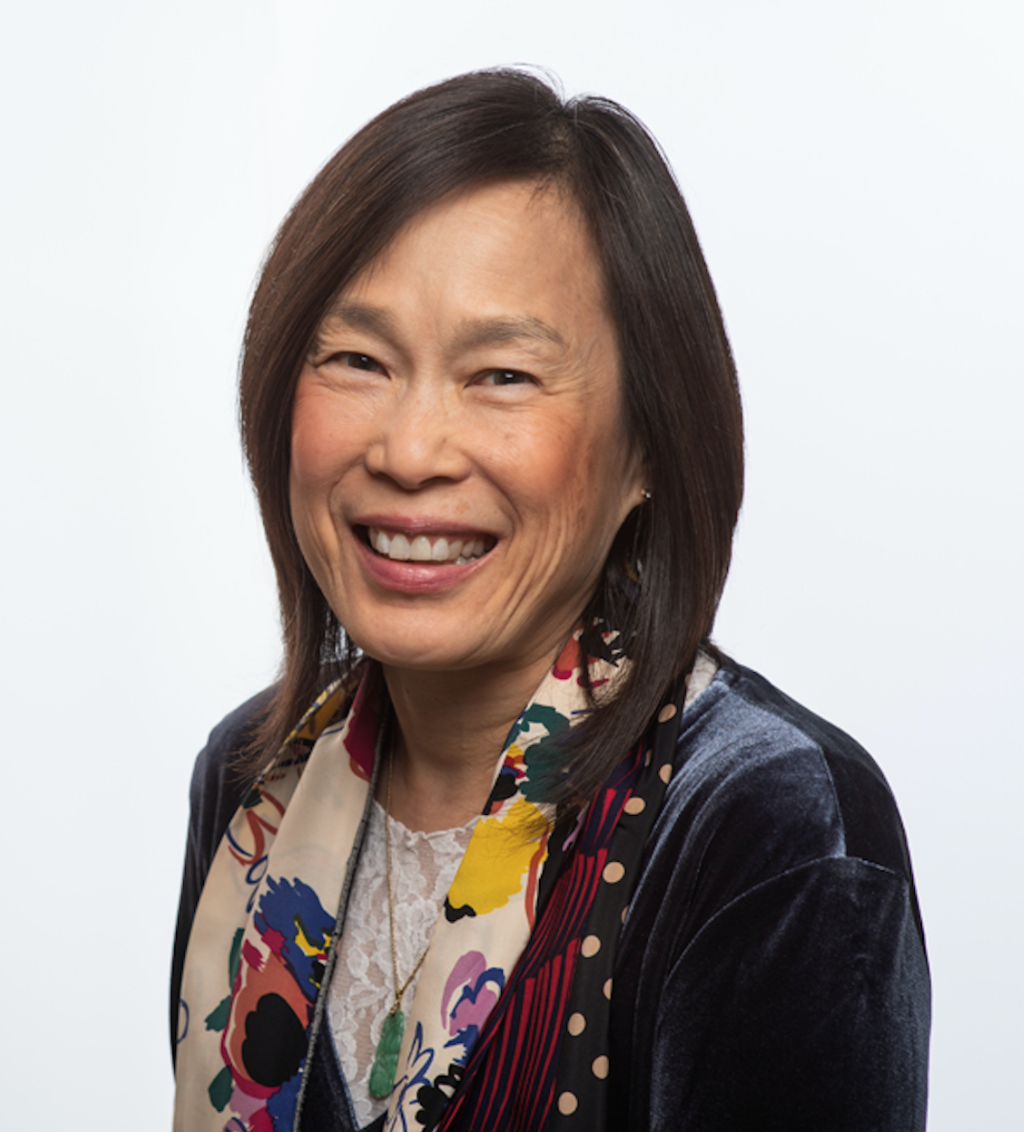 Catherine Wong, Director of Urban Outreach Initiatives at the Lynch School of Education and Human Development for nearly 14 years, has made a lasting and significant impact on numerous lives. Her legacy is nearly impossible to fully express. As she departs from the Lynch School, she will be deeply missed. 
Wong passionately served students in the greater Boston area and beyond through her work with the Donovan Urban Teaching Scholars Program, a cohort-based, one year, social justice-infused teacher preparation program, and with College Bound, a pre-collegiate youth-centered program for 7-12th grade students that addresses social and environmental injustice through a change agency framework.
With great dedication to students and colleagues, Wong facilitated cross-university and community collaborations at Boston College. Her expertise as an activist-scholar-practitioner is seen within her unwavering advocacy with first generation students and young people of color, nurturing their leadership capacity and cultivating their potential.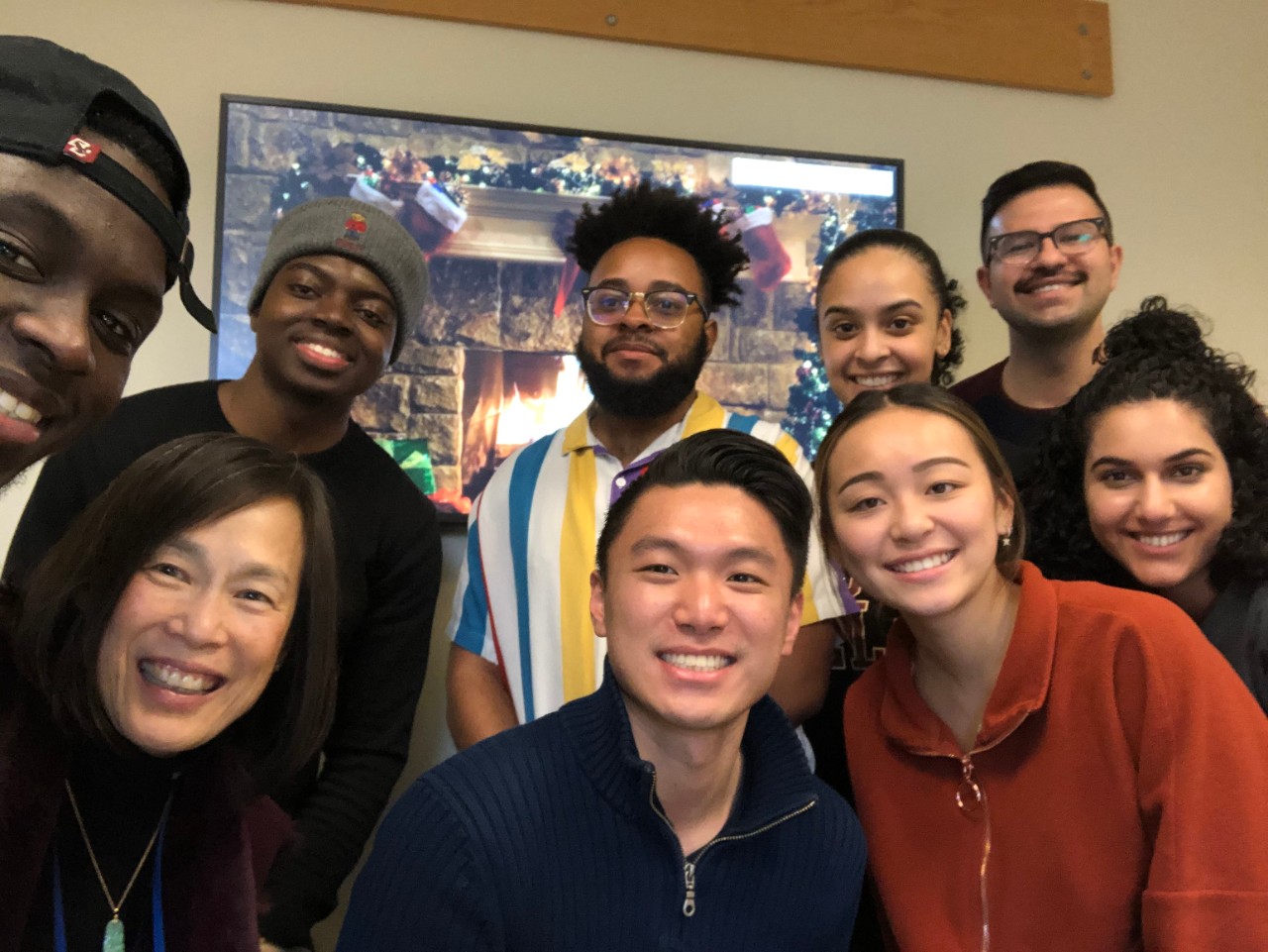 "Wong's work has been impressive and has served Donovan Scholars in inspiring ways. We are deeply grateful for her commitment and investment over the years," said Stanton Wortham, the Charles F. Donovan, S.J., Dean of the Lynch School of Education and Human Development.
On Boston College's campus and throughout the Greater Boston area, Wong has been a truly valuable member of the Lynch School community and has impacted many students, families, faculty, and staff in positive ways.
"I have been privileged to know Catherine since she first walked into Campion Hall many years ago. Catherine and I worked together on College Bound, which gave me an opportunity to learn about the depth, wisdom, and character that define her. I have observed Catherine interact with the students and peer mentors from College Bound with unwavering empathy, compassion, and dignity. Moreover, she seemed to really 'get' the students—knowing them and their families, and as importantly, the context that framed their lives. For me, Catherine was a mentor in my journey in learning about my privileges and in confronting the racism that plagues our nation. Watching how she managed these complex waters during these very challenging years was a true lesson in authenticity and radical healing," said David L. Blustein, Ph.D., Professor and Duganne Faculty Fellow in the Lynch School's Department of Counseling, Developmental, and Educational Psychology. 
Wong's intentional and decolonizing efforts made everyone that came in contact with her believe that they mattered and belonged in spaces that many didn't see themselves in before.
"Catherine Wong is truly a diamond in the rough... She truly cultivated community and instantly made everyone feel welcome through her warm nature. Her openness and honesty about who she is and what she wanted from us made us all feel so safe and welcome. I am extremely grateful for Catherine's recruitment of me to the Donovan Program, because it truly has changed my life. She is a wealth of knowledge. Catherine touches hearts, minds and souls wherever she goes. Everyone is special in Catherine's eyes and I mean that in the best way possible. She truly sees the best in everyone. We are lucky to have worked with her and to have her in our Donovan Ohana for as long as we had. But her story does not end here. Of course, knowing Catherine, she will continue to live and breathe this work in whatever capacity that she can. She is truly amazing and inspiring," said Michelle Lifson, a 2018 Donovan Urban Teaching Scholar Alumnus.
Best known for her mentoring and social justice and equity stance, Catherine's leadership will be missed by many at Boston College. We thank you, Catherine, for all you've done for the Lynch School community and wish you all the best in your future endeavors!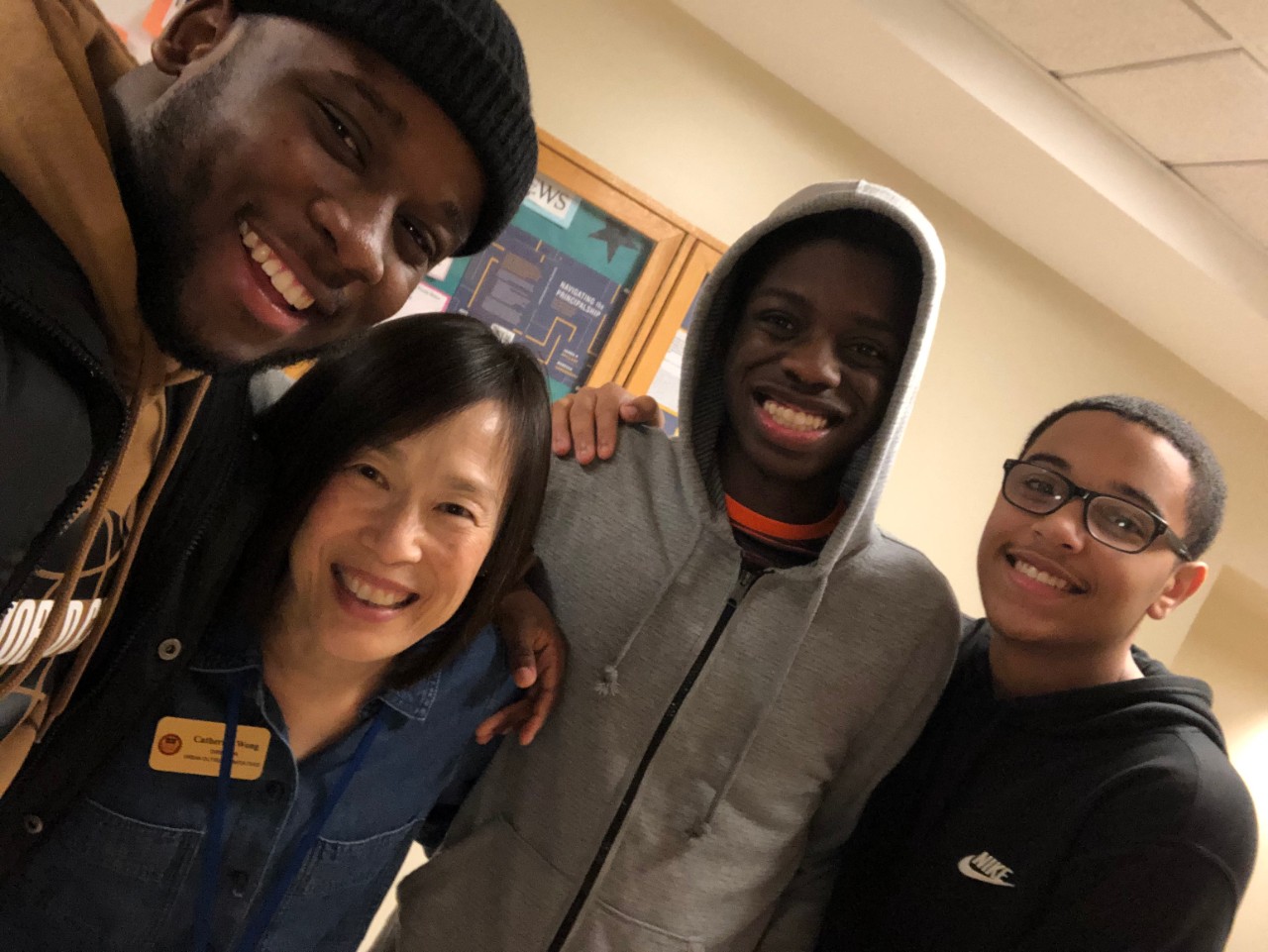 Enclosed are remarks of gratitude for Catherine from alumni, current students, faculty and staff:
"Catherine has served Boston College's Lynch School of Education and Human Development in multiple ways for over fourteen years - and I have had the opportunity to work with her in a variety of these contexts over more than a decade - and to collaborate with some of the many students who have participated in the programs that she has coordinated. I deeply appreciate her many contributions to facilitating our development of critical consciousness and participatory pedagogies through which many of us strive to undo racism at BC and in the schools and communities in which many of us work. Most recently she and I have collaborated with multiple other faculty, students, and staff in the Undoing Oppression Sub-Committee in which we have learned from Catherine's lived experiences in her home community of Hawai'i and here in the greater Boston area.  We will miss her wisdom, her generosity of spirit, and her steadfastness." —M. Brinton Lykes
"Catherine fully embodies the ideas of social justice and advocacy.  She is an educator who understands the importance of diversity, not only in discourse but policy. I am fortunate to have shared spaces with Catherine as she facilitated connections and growth with those she's encountered not only through the Urban Outreach and Donovan's programs, but across the Boston College community. Her earnestness in leadership is admirable, especially in these challenging times. I will appreciate, honor, and miss her as a colleague. Thank you, Catherine." —Tiffeni Fontno
"Catherine's influence on LSEHD and BC has been immeasurable and she will be greatly missed. Her work to promote justice and equity pervaded not only her assigned responsibilities in the Urban Outreach and Donovan Scholar programs but was seen and felt in each interaction she had with every member of our community. Catherine engaged in many efforts toward social justice that intentionally employed a decolonizing perspective and praxis – a stance that is humanizing, transformational and liberatory. She led and supported efforts on campus to acknowledge and resist oppressive forces while also aiming to build more equitable institutional structures and practices. In this way, Catherine consistently made the aspirational mission of LSEHD to "make the world more just" a daily lived experience. I know that Catherine's work will continue here at BC through those of us who have been deeply touched by her modeling and mentorship and we are forever grateful for her lasting impact on our community." —Anne Homza
"The Donovan Program changed my life.  Catherine and others kept us together that challenging year, as I became a confident 1st year urban teacher.  Because of how focused on urban ed and close-knit the Donovan Program is, to this day I continue to fiercely put students first, and I still talk with my former classmates.  Good teaching is good leadership.  I am so appreciative that my entree into urban education was through the Donovan Program." —Roger Strang
"Catherine is a sister, a colleague, a mentor, my friend and fellow woman of color warrior. She's a fighter and yet the most warm and compassionate person who has cared for me like family. She's unbelievably creative, loving, intuitive, passionate, selfless and has a beating heart for  change, diversity and equity (& warm weather & beautiful scarves!). She has paved a road for me and so many others to realize and fulfill their own unrealized potential and passions. There are not enough words to say on how much blood, sweat and tears she has shed to fight for equity diversity and change. Catherine is a powerhouse in creating community, as well as family, education, connection and compassion: all that is good in the world now. Catherine is Ohana and has created a powerful family in this world to invoke change, progress and equity. Catherine's legacy will only inspire more generations of Ohana and positive change and community in a world that's struggling and hurting. This is not the end but just the beginning." —Sandra M. Kim 
"Catherine Wong is one of the most effective advocates for racial justice and equity LSEHD has known in the 21st century. She lives the timeless credo of James Baldwin, believing that people's actions, and not their words, are the true indicators of their commitments to undoing oppression. To this end, over the past 15 years, Catherine's actions have shown an unwavering dedication to racial justice as the ultimate form of kindness.
This dedication was on full display in Catherine's leadership of the Donovan Urban Scholars Program. Her recruitment efforts revealed a deep belief in developing teachers who reflected the racial, cultural, and linguistic diversity of students in schools today. Her teaching methods revealed the urgent need to interrogate the societal structures that perpetuate racialized oppression, which are too often evidenced in our classrooms and schools.
Catherine is greatly loved by her students and by her colleagues at LSEHD and beyond, with whom she collaborated to shape and enhance the Donovan and Urban Outreach programs that she directed. And while many are hurt and confused by her departure, we all owe Catherine a debt of gratitude for her contributions to LSEHD. The legacy of her efforts to undo oppression and eradicate racism will be carried forward toward a more equitable and just future." —C. Patrick Proctor
"I first met Catherine at higher ed interview day, and I was immediately met with warmth and generosity. The next two years would be some of the most transformative years of my life, thanks to Catherine's modelling leadership, activism, and strength. Catherine has a gift for caring and amplifying and validating suppressed voices. She not only advocates for those of us who live on the margins, she creates pathways for us to thrive and do the same for her others. Under her mentorship, I was challenged to believe in my abilities. I was pushed to advocate for my value. In her time at BC, Catherine acted upon her commitment to promoting equity in one of the nation's most elite and exclusive institutions. By modelling her dedication to this end, Catherine's legacy is nothing short of boundless." —Neda Ghaffarian
"Catherine is a fearless leader that empowered me to be my genuine self. As an employ at the Urban Outreach Initiative for my graduate assistantship Catherine made me feel wanted and respected as a brown, LatinX and first generation student. Catherine's passion for social justice and equity continued to inspire me to pursue my career as the Director of Post-Secondary Support. Without her guidance and sense of Ohana I would have never survived an elitist institution. Catherine, as you pursue a new journey continue to be innovative, continue to treat every person as a unique individual and lastly continue to love what you do and find a place that will appreciate you for all of you. Con mucho amor, (with lots of love)." —Juan David Lozano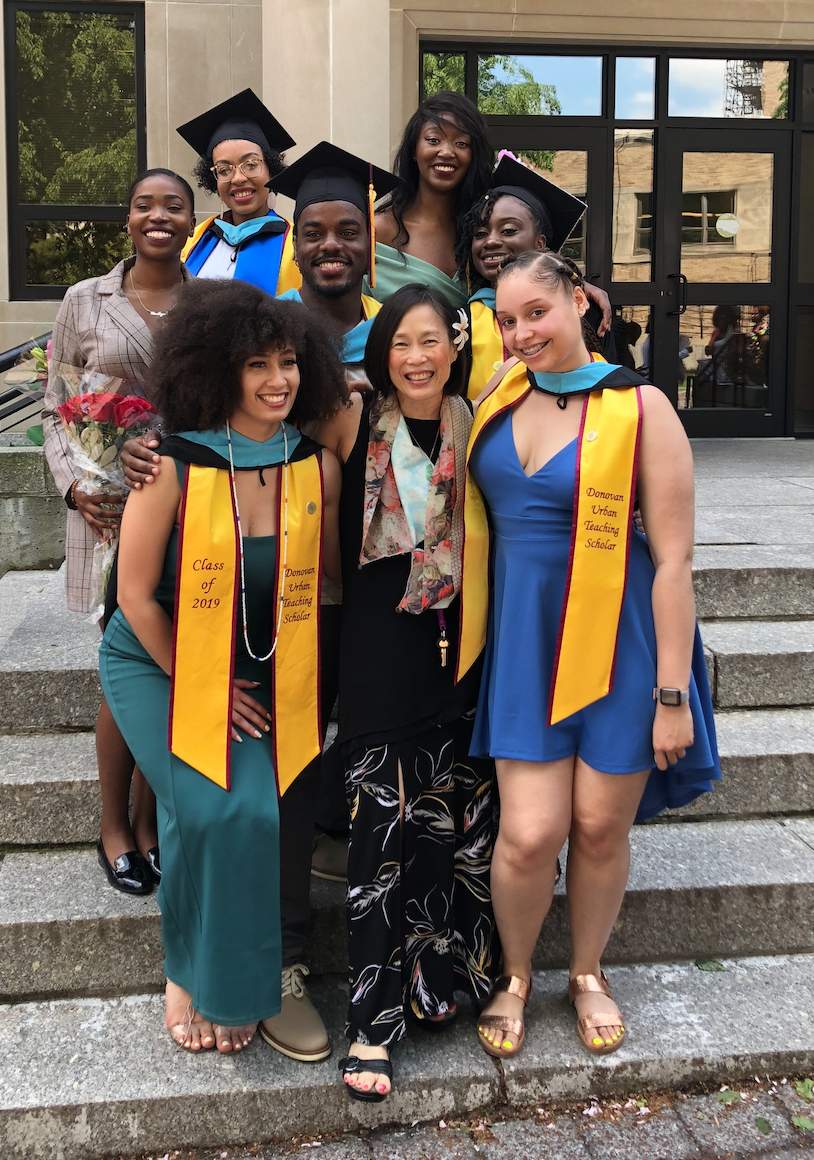 "When I think of Catherine Wong, I can't help but to smile and feel extreme warmth in my heart. Though I only came across Catherine at the end of my undergrad Boston College career, I had heard so many things about the support she offered students and the many lives she had impacted. From the success of the College Bound program at BC to creating activist-educators that center anti-racist beliefs and practices, while working to dismantle the racism within an education system that has historically marginalized our BIPOC students, there are not enough words to describe the impact Catherine has had on the Donovan Program and Boston College overall.
Personally, Catherine was one of the few educators I have come across that truly cared about me as a student, but also as a person. From the first sit down we had together, Catherine took the time to get to know me, my background, and my passions. She wanted to know my story and my why. Not many people had asked for this, not many people had worked to see me and make me feel seen, heard, and valued. Catherine is not only an amazing educator but an even better person. It is one of the many things that makes her an amazing educator. Catherine has this way of fighting for you and making sure your voice is lifted. She advocated for me in instances where I did not know how to advocate for myself and always ensured that all of my concerns were addressed.
When I talk to people about Catherine, there's a common theme in all of our stories. Catherine is an educator who lives, breathers, and centers the advocacy of her students. Realizing this, I knew that I wanted to be like Catherine and push to make sure all my students are listened to, seen, and valued. I'll carry that with me forever. I'm glad to have a model like Catherine to drive the work that I do as an educator, but even more grateful to have someone like Catherine on my side. As Donovans, we know that with her, we're always Ohana." —Bryan Paula Gonzalez
"My personal and professional work for more than thirty years has been in antiracism and inclusive excellence, including serving as a Chief Diversity Officer. I have worked with Catherine Wong for more than two decades. At BC I taught the Social Context course for the Donovan program for four years, assisted Catherine on the original curriculum for the Lynch Leadership Academy, and worked a bit with the College Bound program as well. All that to say that I know the quality and impact of Ms. Wong's work well, and it has been exceptional. She continues to be recognized for her work at the leading edge of antiracism, social justice, and women's leadership education. This is exemplified by her innovative and effective approach to recruitment and program development, making the Donovan program a leader in social justice teacher education and producing the most diverse and most sought-after graduates. Her work with both the Donovan and the College Bound programs have created active networks of social justice educators and made a major impact in Boston schools and communities." —Joe-Joe McManus
"I would have not earned the distinction on becoming the first African-American to have been awarded Massachusetts History Teacher of the Year, nor would I have developed the stamina to continue teaching anti-racism, and racial equity for Black and brown youth (as long as I have been within a profession that only consists of 2% Black male educators, out of the 3+ million U.S. public school teachers) if it were not specifically for Catherine Wong for recruiting me to apply to be a part of the Donovan Urban Teaching Scholars master's program.
For eight consecutive years, I have made it my diligence to pay forward the values of community, empathy, and solidarity – as learned as a Donovan scholar and alumni under Catherine Wong – into each history class lesson, facilitated nationwide workshops on cultural responsiveness and youth activism, and the countless immersed communities and entered spaces that I have been fortunate to have been in to solely advocate for the betterment of human and civic engagement. These values are, and continue to be, a personal and professional ideology that reinforces what doing good work asks of me, year round.
In working to advance social justice equity frameworks as a Black history teacher, I – alongside Catherine Wong –were able to establish a partnership between AmeriCorps' City Year and Boston College Lynch School of Education, that provided scholarships for any City Year alumni seeking to become an educator in urban communities via the Donovan program. This partnership alone has ushered in many current Black and brown educators, as well as current Donovan cohort scholars, to commit in partaking in this founded pipeline to increase the recruitment and retainment of teachers of color throughout Massachusetts, and nationwide, that will statistically benefit the socio-emotional learning for all students. Such a partnership was a years-in-the-making pipe dream that I had that only became a reality because of the limitless optimism for future educators that Catherine Wong knew was feasible through this.
Thank you, Catherine, for making me a better educator, advocate, and person. My friends, colleagues, and most importantly, students, are that much better learners and fighters because of your direct and indirect impact on their/our lives." —Kevin Dua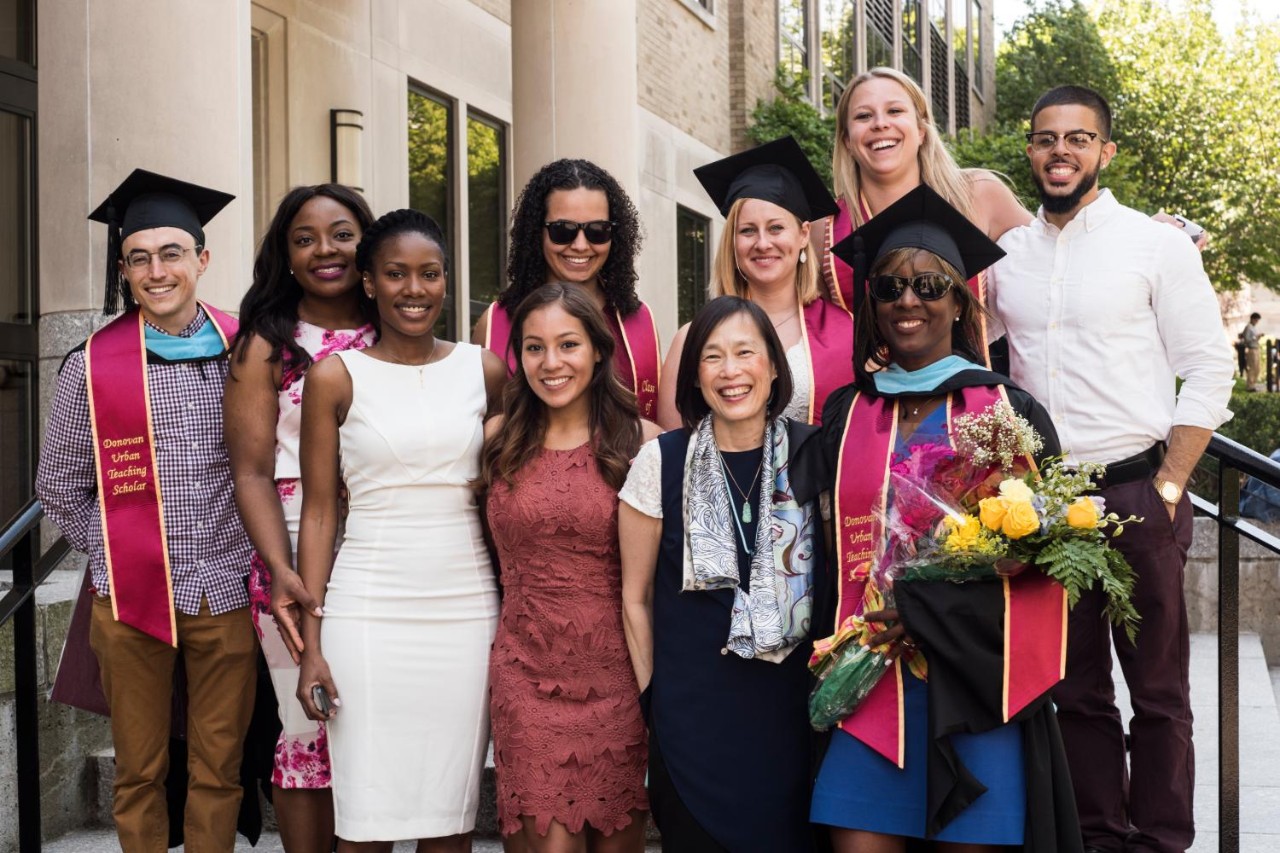 "When I first met Catherine, I was wearing an uncomfortable blazer for perhaps the third time in my life, uneasily examining tables laden with top-ranked university names. I was walking around a recruitment fair, nervous about applying to a masters' program to pursue my dreams of being an educator. I wondered how to dress up my passion for public education and immigrant students in front of the recruiter desks at these "fancy" schools. Catherine stood out, literally, in front of the BC table. We talked face to face, with no tables or glossy brochures between us. She asked about my intentions, my deeper "why", and we started a personal conversation about immigrant experiences, schools and the purpose of education. At one point, carried away by the truth and emotion in these themes, we teared up. That night, I spoke to many pleasant and professional admissions staff, but I was really happy to have met Catherine.
This first encounter, full of authenticity, respect, and fire, embodies what Catherine did as the Director of Urban Outreach Initiatives. At BC, Catherine refused to accept the gatekeeping norms of an elite institution and instead personally stepped out of the ivory tower to bring in aspiring educators to enrich the Lynch School's classrooms. As a recruiter, she didn't fit people into abstractions like demographics, diversity, fit, or tuition dollars - she saw whole people who held stories, talents, and potential inside them. As an advocate, she deftly navigated BC's vaults of privilege to extend opportunity to people who could in turn extend opportunity to the communities they cared about. As a director, she created a rich, meaningful web of connections between students, teachers, and student-teachers through the multigenerational programming of the Urban Outreach Initiatives office. As a mentor, she kept her door and her heart open to me, and I got to learn what leadership looks like in a fearless, powerful, brilliant, compassionate East Asian woman - an experience of representation that I had never had before.
I could have opened this letter of gratitude with a different story, of how Catherine met my sister in the hallways of Campion and ended up in conversation with her for three hours while I was in class. My documentarian sister, who was only in Boston for a day, left that conversation inspired, empowered, and with a connection to an aspiring young videographer who was a College Bound student. Catherine had a knack for conversations that connected brilliance with brilliance, often across generations. Alternatively, I could have written about the circle conversation she facilitated about violence and pain in the wake of the Parkland shooting that taught me more about teaching than a whole semester of classes at the Lynch school. The community that Catherine created in our cohort became a space for authentic learning and growth. I have countless anecdotes of the moments I spent with Catherine that represent what she contributed to the lives of every person she advised, because every day, Catherine lived her commitment to making the world more just in her work.
I am happy to be able to publicly declare my gratitude to Catherine Wong, whose legacy deserves the highest honor. Anyone I impact in my career as an educator will have been impacted by Catherine Wong. Because of her 14 years of heart at the Urban Outreach Initiatives office, there are thousands of students in the Boston area and across the country who have been and continue to be impacted by Catherine Wong. Catherine's legacy continues in all of us educators who learned about compassion, grace, strength, voice, action, and community under her guidance in the Donovan Urban Teacher Scholars program. Thank you, Catherine, for making me a Donovan. Moving forward, I am glad to be in your Ohana." —Sol Rheem
"Catherine opened the gateway for me to what is now my career as an urban educator in Brooklyn, NY. What I remember about Catherine is the space she created within our cohort. Her values of openness, inquiry, and liberation permeated our learning environment for the two years I studied in her program. She created a way for us to receive a cutting edge learning experience about equity and education balanced with a loving and brave space for reflection and community building. Catherine worked hard to make sure that this life changing schooling for us as urban educators did not put financial burdens on us and set us up with meaningful internships within nearby urban schools. I would not be who I am today if it had not been for Catherine Wong and the Donovan Urban Teaching Scholars." —Bradley Jensen 
"Catherine you taught me how to be resilient and perseverant as a teacher and as a person. There were many times when I needed a voice, a heart a hug and a strong smile like yours to motivate me to continue even when the "going got rough". I will always remember the kind-spirit speeches you gave me and the social interventions you made so that I could see and live all my potentials. Thank you, Catherine. I will always remember your "Ohana" trademark with the word " resilience".

Catherine provided me with support and a feeling of belongingness every time she did the Ohana circle, it created a bond synonymous to a caring family. Transitioned to the USA without my child was difficult, adapting to a new culture was also challenging. The Ohana circle- "reflecting on the week's happenings" was a great deal for me I looked forward to this every week. This touched me in my grieving/ sadness and depressed moments, As I thought I would lose my mom to cancer. When I thought I lost focus, Catherine inspired me and tailored a support system to help me strike a balance with school and life in general. She has captivated and inspired many people like myself who struggled because of challenging moments and experiences encountered while completing my degree. I will remember her for the resilient person she is and for believing in me when not even I believed in myself.
Catherine was a true inspiration and was a gift to Boston College."  —Stephanie Martin-Lecky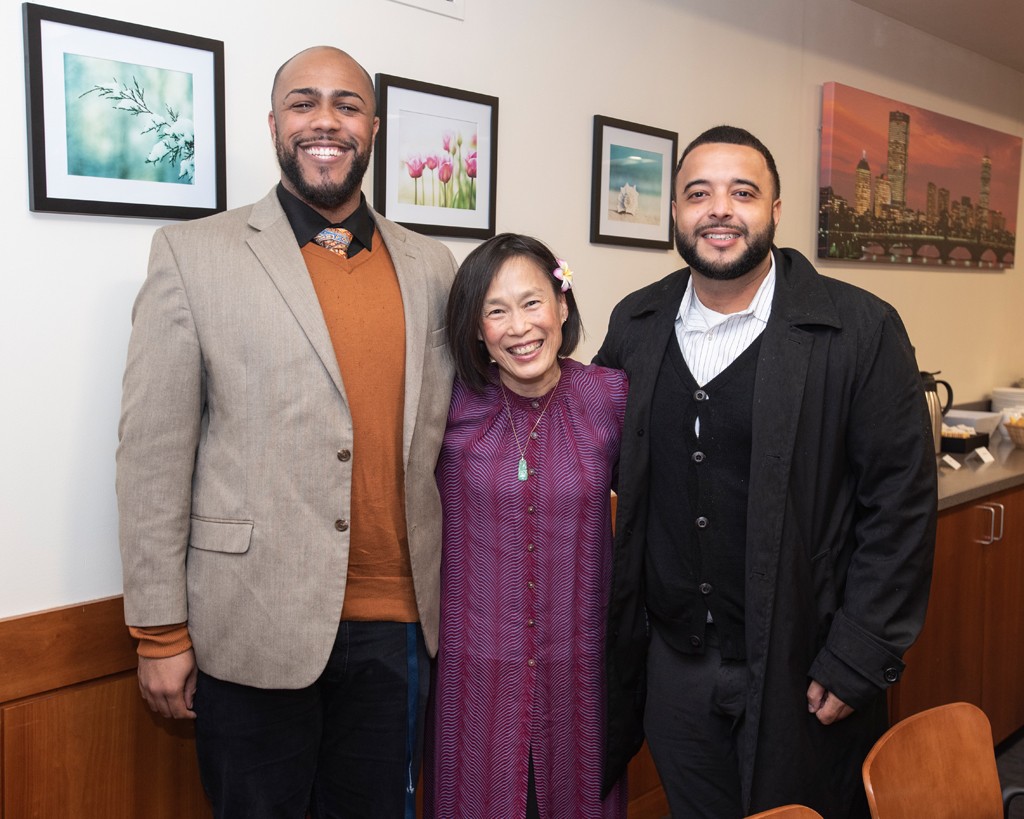 "Through the Donovan Urban Teaching Program, under Catherine Wong, my eyes and heart we open. Education – from the inception was flawed in this country and left toxic imprints of inequity that has created generations of harm to our BIPOC communities (Black, Indigenous and people of color).
This was not just a program Catherine built, she harvested a space for BIPOC educators unlearn, learn, be vulnerable, and critically engaged to be equipped to enter our communities and bring humanity, empathy, and integrity to our students' education. When I am asked who influenced my educational philosophy. The conversation is always rooted in my Donovan – Ohana (family). 
I am an Anti-racist educator. Bold. Empathetic. Fuerte. Creative. Culturally responsive. Special Education Teacher. Media Technology Specialist. History Teacher. GEAR UP Site Coordinator. Teach Union Leader. Parent Educator. Community educator. Leader. Social Justice Educator. My journey would not be same had it not been for Catherine providing a space for my and my cohort members." —Michelle Sanchez 
"As the Director of College Bound and the Donovan Urban Teaching Scholars Program for 13 years, Catherine Wong has always shined as a bright light of inspiration and guidance to hundreds of young scholars, activists, future and current educators.
We are excited to see how you will continue bringing your fierce passion and commitment to social justice in education; the ways that you will continue to share the deep amount of care that you hold your relationships with; and how you will continue utilizing your wealth of knowledge and creativity to building spaces for young people to keep finding themselves and finding each other in the fight for real equity and transformative change against white supremacy and the oppressive systems that we face.
Your Donovans are wishing you nothing but gentleness in your transitions, lots of joy for your continued growth and journeys, and deep gratitude for all the ways that you have supported us and helped us build a firm groundwork to continue growing from together as educators. We love you!" —So-yung Mott