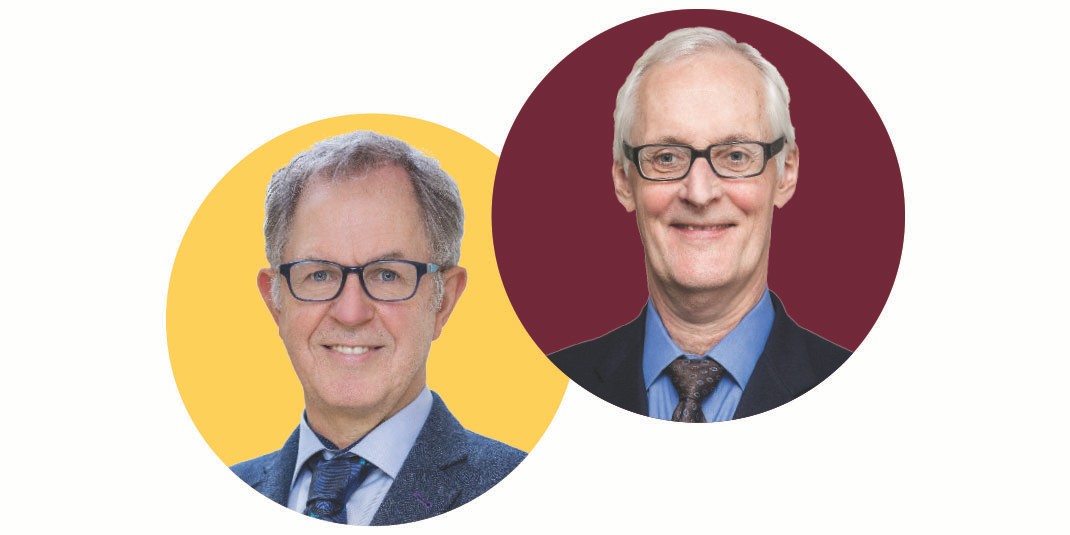 ANDY HARGREAVES + DENNIS SHIRLEY
The Whole Child, Whole Person Summit:
Redefining Achievement, Education, and Well-being
Boston College • October 22–23, 2017 • Open to the public

A whole worldview
Lynch School of Education and Human Development Professors Andrew Hargreaves and Dennis Shirley have traveled together across North America, Europe, and Asia to study some of the most effective school systems in the world. Many of them, it turns out, are steeped in the ethos of whole-child education. 
This fall, the two highly regarded Boston College researchers partnered with ASCD (formerly the Association for Supervision and Curriculum Development) to present "The Whole Child, Whole Person Summit: Redefining Achievement, Education, and Well-being," a two-day gathering that began October 22 at Boston College. Partially funded by the Yidan Prize Foundation, it focused on research, presentations, and discussions that organizers say encouraged participants to move beyond what the Lynch professors consider a narrow definition of academic achievement based on content mastery and test scores. Their goal was to embrace all spheres of students' long-term development and success. 
The event opened with an invitation-only "pre-conference" for 40 researchers and policymakers. It continued October 22 and 23, when some 190 teachers, principals, superintendents, and other education professionals attended.
"We want educators to think broadly about educational change and to tap into their aspirations not only for better schools but also for a better society," Shirley explains.
The summit is among the latest collaborations in a decade-long research partnership between Hargreaves and Shirley, both of whom are experts in educational change and leadership and teacher development. Their research on international longitudinal studies on school improvement and their award-winning 2012 book The Global Fourth Way: The Quest for Educational Excellence have earned the attention and respect of educators worldwide.
The pre-conference at "The Whole Child, Whole Person Summit," says Hargreaves, the Thomas More Brennan Chair in Education at the Lynch School, brought together prominent scholars, policymakers, and other experts who are "leading, thinking, and practicing" in the areas of emotional, social, and educational well-being and whole-child and whole-person development. The goal, he explains, was to shape an agenda for future research in the field.
The main two-day conference also emphasized collaboration and discussion "to open up rich conversations about change," according to Shirley. Hargreaves challenged each attendee to leave the conference with an individualized action plan. 
Yong Zhao, a Foundation Distinguished Professor of the Department of Educational Leadership and Policy Studies at the University of Kansas School of Education and an authority on the impact of technology and globalization on education, delivered a keynote address, as did Beatriz Pont, senior education policy analyst for the Organisation for Economic Co-operation and Development's Education Directorate, and Peter DeWitt, an internationally recognized workshop leader and expert on educational leadership. Hargreaves presented "Whole, Well, and Together: The Case for Collaborative Professionalism" and Shirley, "The New Imperatives of Educational Change." 
—Alicia Potter

Learn more about faculty research
Ensuring support for children in poverty
Measuring a meaningful life

View video