This fall, the Council on Social Work Education (CSWE) named Piero Goytizolo and William Lopez to its Minority Fellowship Program for doctoral and master's degree students. CSWE Minority Fellows receive a stipend and specialized training to provide mental health and substance abuse care to racial and ethnic minority populations and commit to employment in these areas following graduation. Both Goytizolo and Lopez are part of Boston College School of Social Work's (BCSSW) Latinx Leadership Initiative (LLI).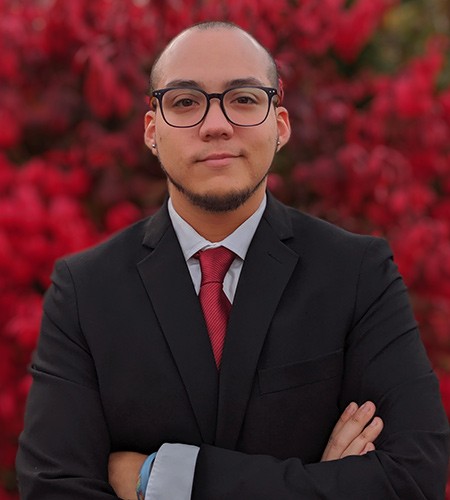 For Piero Goytizolo, MSW '20, receiving the CSWE Minority Fellowship seems like the culmination of a decades-long journey.
After graduating from high school, he pursued several different disciplines—mathematics, bioengineering, and accounting—before committing to his passion, psychology. In 2018, while reviewing graduate programs, he was drawn to BCSSW due to the LLI. "I really loved the idea of it," says Goytizolo, who was born in Peru and lived in the country for three years as a child. "I've always wanted to do work with minorities and with Spanish-speaking or Latinx clients. It made sense."
At BCSSW, Goytizolo is pursuing a clinical track in the mental health field of practice and has studied couples therapy and internal family systems. He's bilingual, and has taken five core requirements and extracurriculars in Spanish. His experience in the LLI, which is led by Founding Director and Associate Professor of Global Practice Rocío Calvo, has offered Goytizolo a sense of community that has come to define his BCSSW experience. "I never realized that I felt like an outsider in both Peru and America," Goytizolo says. "The first time I felt at home and part of a community was when I was surrounded by other bilingual, bicultural, Latinx, second-generation immigrant students who were raised in America. We understand each other's unique struggles, passions, and motivations like no one else can."
Goytizolo currently works at the Justice Resource Institute (JRI), where he holds multiple roles: clinical intern, therapeutic mentor, and member of the therapeutic training and support staff. He is also a Community Residence Counselor at McLean Hospital. At the JRI, he provides in-home family therapy and outpatient therapy to clients who experience a broad range of psychopathological struggles, and of his work at McLean, where he provides patient care for adolescents and children, Goytizolo says, "I genuinely love what I do, and it feels like I'm just coincidentally getting paid for it."
He will graduate in May with a master's degree in social work and aspires to do couples therapy.
The CSWE Minority Fellowship requires that recipients work for a period with underrepresented and underserved racial/ethnic minority persons, a requisite that Goytizolo says suits his aspirations perfectly. "I want to have my own practice doing couples therapy, individual therapy, and family therapy with Latinx populations and LGBT populations," he says. "There's a critical need for that right now."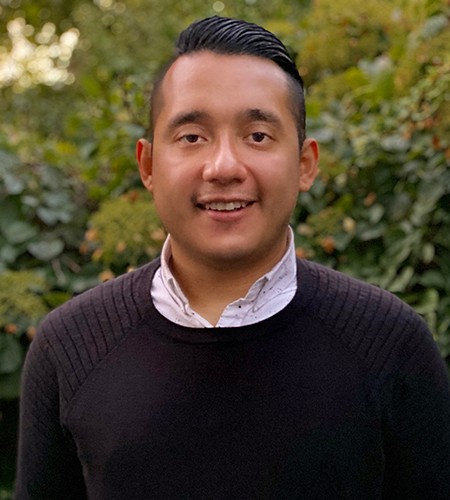 William Lopez, MSW '20, became interested in social work as an adolescent helping his Salvadoran parents find mental health care for his younger sister.
"I was always the one that translated for my parents," recalls Lopez. "I was reading a lot of medical documents." The experience was difficult but ultimately rewarding, as he and his family found the right care.
Lopez was accepted into several schools of social work but selected BCSSW for the Latinx Leadership Initiative. "The difference was the LLI," he says.
Lopez is a research assistant for his mentor, Rocío Calvo, on a study of older Latinx immigrants and the obstacles they face in accessing community-based care and services. The program has also helped him find "family" on campus. "Most of my friends are from the LLI," he says, "and it's where I heard about the Minority Fellowship."
At BCSSW, Lopez has studied cognitive behavioral therapy, adult psych trauma, and couples and family therapy in the clinical program. His field of practice is mental health, and in addition to his work with  Professor Calvo, he assists in a review of Latinx family interventions, led by Assistant Professor María Piñeros-Leaño. After spending a year as the social work intern at SeaCoast High School in Revere, his current field placement is as a mental health social work intern at Massachusetts General Hospital.
He is honored to have received the CSWE Fellowship. "It means that I can contribute to the Latinx population," he said, which is a community Lopez sees as particularly vulnerable at this moment. "I want to heal people in the Latinx community as well as to help build a sense of community widely needed across the nation."
Lopez was the first in his family to graduate from high school and college, and in May he will be the first to attain a master's degree. He aims to open his own practice to serve the Latinx community. Before that, though, one more first: Lopez plans to apply to the PhD program at BCSSW for a doctorate in social work.