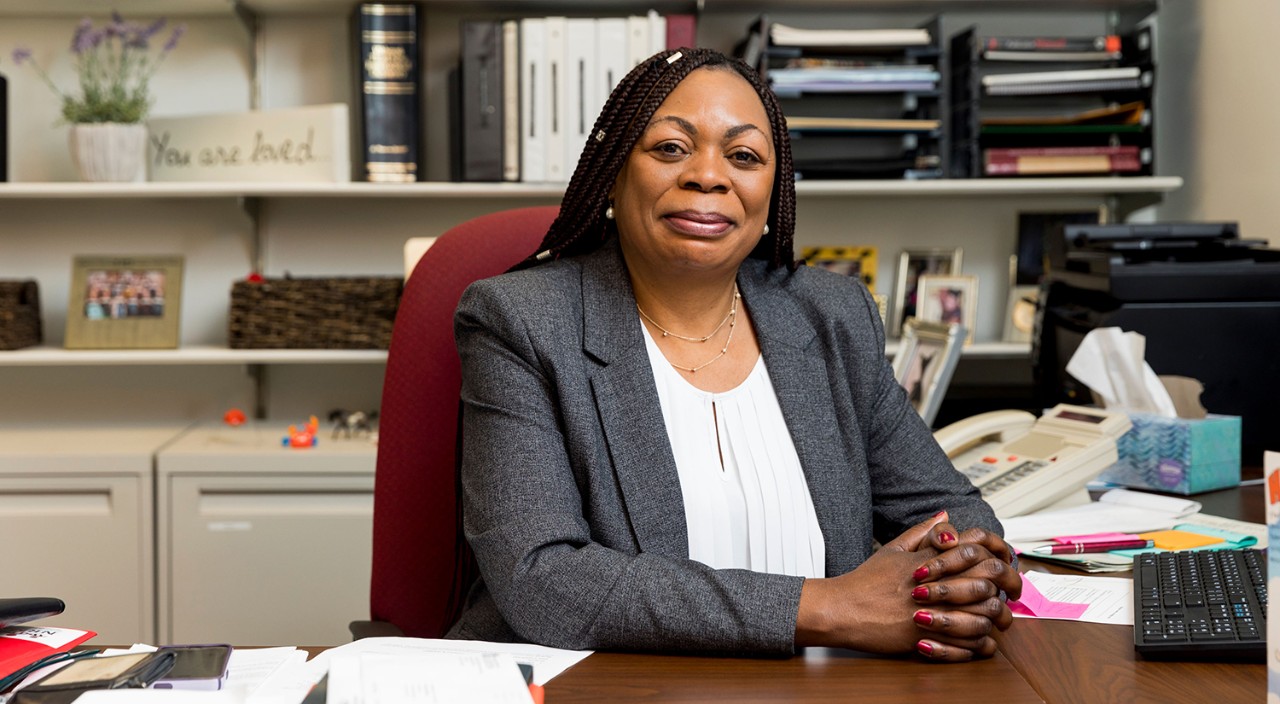 Ndola, Zambia, native Margaret Lombe is having a busy 2018­–19. Among other academic and research projects, the associate professor, who specializes in international social development, recently received a $25,000 Boston College IGNITE grant to develop Project KWACHA, an app-based HIV prevention intervention for girls in Sub-Saharan Africa; she's been named assistant dean of SSW's doctoral program; and is teaching the interdisciplinary seminar "Global Citizenship." We talked to Lombe about her life, research, and her many current endeavors.
Q: What piqued your interest in international social development?
A: I think I've always been a social worker, I just didn't know it. Growing up in Zambia, my family wasn't poor, but there was a big shanty compound close to where I lived. Whenever I saw the children there I asked, "Why don't they have this? Why don't they have that? Why are they poor?" I got answers. I'm not sure I was satisfied.
When I got to Daystar University in Kenya, a lot of those questions resurfaced all in one project, an ethnographic study of Nairobi street children. I was a research assistant and spent a lot of time with them, asking them about their lives and their aspirations for tomorrow. One of the things I struggled with was that some of the younger children were brought to Nairobi and abandoned by their parents, some of whom just gave their child a loaf of bread and said, "I'll be back in a minute," and then left forever. That was my turning point. I began to think differently about my faith, about humanity, about parents, about Africa and Africans. Africans take pride in their children. Children belong not just to their parents, but to their entire community. Why would a mother bring a child into the city and leave the child? I also struggled with the idea of a loving, compassionate God, a creator who loves everyone and values everyone, even the poor.
When I was at the end of the project, I made dinner for the children. At the meal they said to me, "This is a very unusual, special day in our lives." I realized how very different their values and standards were from typical children. They value survival. Even children as young as seven know survival is paramount. Soon after I changed my major from communication to community development. The street children really made me a social worker.
Q: How did Project KWACHA develop?
A: Well, even now I struggle with understanding a compassionate God. That's part of it.
I was invited by UNAIDS to contribute a chapter on Sub-Saharan Africa in a book on HIV/AIDs (Getting to Zero: Global Social Work Responds to HIV). But what kept coming back to me was I don't live in Sub-Saharan Africa anymore. Where are the voices of communities—African communities? I know I have a different authority than most scholars have on Africa because I feel I have moral authority that my "African-ness" affords me. It's a privilege that I acknowledge. But still, I really didn't have an idea what HIV/AIDS is like today. The community lives with the epidemic, the consequences of the disease, and community voices were critically missing from the conversation.
In the summer of 2016, I went to BC's Villa Faculty Writing Retreat and mentioned the struggle that I had in a conversation. Burt Howell [executive director of Intersections, which runs the retreat] suggested I apply for a Kolvenbach grant to explore the issue. I must have mentioned this to my students in the Global Practice concentration course Rights-based Assessment and Capacity Building. Between the grant and paying our way, we decided to go to Zambia to learn from affected communities.
The following year, drawing upon our Jesuit networks, we went to the Chikuni Mission in Monze and asked the community, "Do you have aspirations to get to zero?" We have four key areas in which we are looking at getting to zero, as defined by the World Health Organization and UNAIDS: zero new gaps in care, zero new infections, zero discrimination, and zero new deaths. And as we listened to the community, we realized they believed they could get to zero, but the big problem was the girls. "The younger women, they frequent the hotels used by truck drivers, and then they bring the disease into our homes," they told us.
I saw the emaciated bodies of people living with HIV/AIDs. My students were often moved to tears, and the people of the community said, "Don't cry for us. We are hopeful." Day after day we would go back to the Jesuit compound overwhelmed. We also felt helpless. That's when we felt we could not just write a paper and say this is what we learned. How could we? What do we do with all this information?
I ran across a project that was run by Laura Widman at North Carolina State—Project Heart for Girls. I thought we could adapt it to the local context. I applied for and received an IGNITE grant from the Office of the Provost and Dean of Faculties. Last October, we went to Chikuni and recruited five girls and 15 community members from all walks of life—educators, religious figures, hospital workers. They're helping us do a content review and run focus groups to help us develop a Web-based sexual risk reduction intervention. We've also begun conversations with BC Digital Libraries to help us create an app for this intervention. We're intentionally focusing on pre-adolescent girls because to do anything meaningful, we have to create a different mind-space for them. We have to challenge cultural norms and gender norms that are counterproductive to the welfare of girls.
Now we're working on a National Institutes of Mental Health grant proposal so we can complete our adaptation and get some data on the usability and feasibility of KWACHA as a sex-risk reduction tool for pre-adolescent girls. KWACHA is a Bemba/Tonga word for dawn. It signifies new beginnings for the girls and their communities.
Q: This is your first year as head of SSW's doctoral program. What initiatives are you working on?
A: One of my goals is to bolster our diversity initiative; to be true to the question of diversity in terms of our student body. We're also looking at what we can do to attract and support students who might be first-generation college students. Another goal is to keep the doctoral program rising. Our students are very gifted, and they have the capacity for extraordinary growth. We're committed to producing scholars who can not only go on to top research institutions but also make meaningful, relevant contributions to solving global issues and challenges.
Q: This spring you're again teaching the "Global Citizenship" seminar with Law Professor Mary Holper and School of Theology and Ministry Professor André Brouillette. What's the value of the interdisciplinary approach to this?
A: It is a testimony to the interdisciplinary nature of global interventions. Social problems, social issues—those aren't disciplines, and they're impossible to solve in your isolated field. We have to learn to work together to build these interventions. Take the question of food security. When I look at food security from a social work angle, I'm looking at policy. I'm looking at interventions from a social component. But then again, theology and ministry has a lot of say about the issue. What can we learn from biblical interpretations of food security? And law has a different and equally essential component to bring. Global citizenship is by definition interdisciplinary.