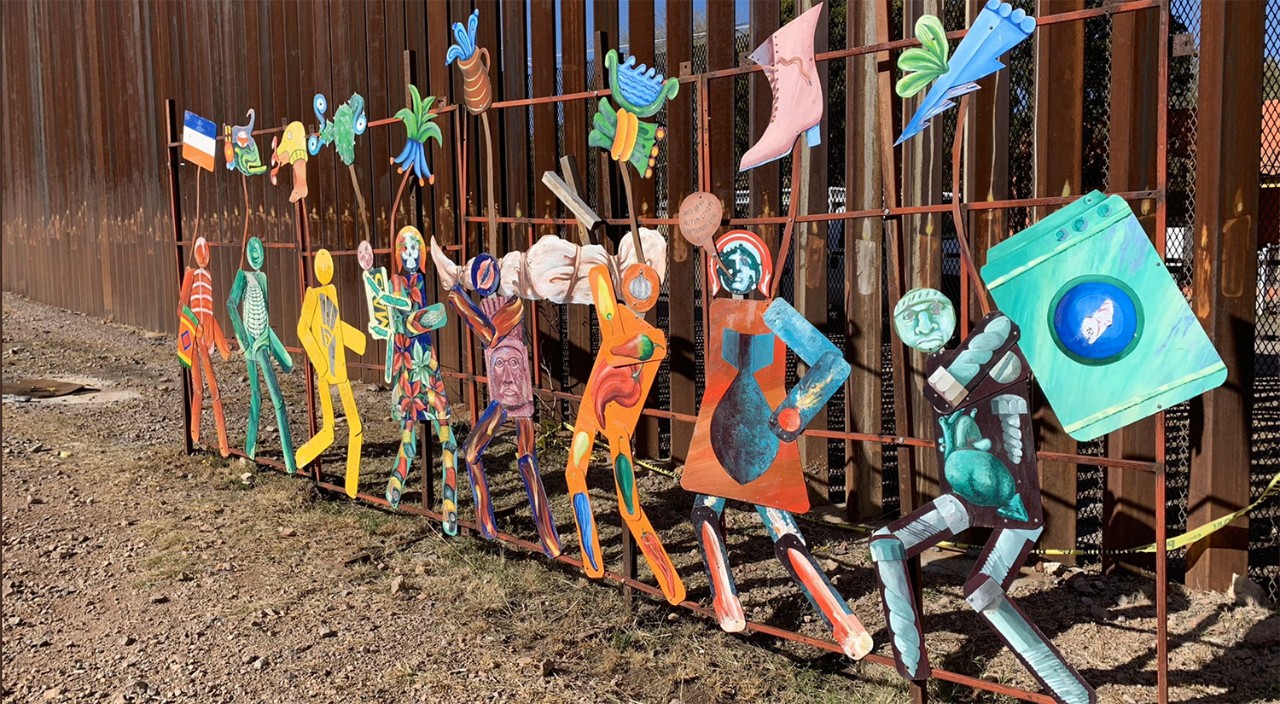 At the start of the spring semester, as thousands of Central American refugees fled their homes on foot, hoping to start new lives in the United States, 12 MSW students from the Boston College School of Social Work (BCSSW) traveled to the Arizona-Mexico border to learn how social work can address asylum-seekers' urgent and complex needs—both at the border and back in Boston.
The students were enrolled in Services to Migrants: A Border Perspective, a 10-day field-based course designed to develop knowledge of the resources that are available to migrants entering the U.S. through Mexico as well as the psychosocial, political, and legal factors affecting their passage. Visiting Professor Maryanne Loughry, R.S.M., chair of the Jesuit Refugee Service Staff Care Advisory Board and a research associate at the Refugee Studies Centre at the University of Oxford, leads the innovative course—part of BCSSW's strategic aim to focus on global social work and social work with Latinx communities.
"We want to develop students' systems thinking about the needs of this population," explains Loughry. "What are the migrants' rights? What are their entitlements? Where does social work fit in? Whether our students go on to work internationally or locally, there is a need to understand the impacts of borders around the world."
"The Border Course," as it's known, was started five years ago by Associate Professor Westy Egmont, director of BCSSW's Immigration Integration Lab, and Vice Provost for Global Engagement and former BCSSW Dean Alberto Godenzi. Egmont invited Loughry to co-teach the course in 2014. This year, Associate Professor of Global Practice Rocío Calvo, director of BCSSW's Latinx Leadership Initiative (LLI), and Alejandro Olayo-Méndez, S.J., a Mexican native and migration scholar, joined Loughry as course faculty.
The course, says Calvo, emphasizes the psychological effects of all stages of the migration process: "pre-migration," or the decision to leave one's country; the journey to and across the border; and resettlement in a new community. "The border is not the endpoint," she says. "Social workers working with these families are going to encounter the compounded trauma of the immigration journey daily, wherever they practice.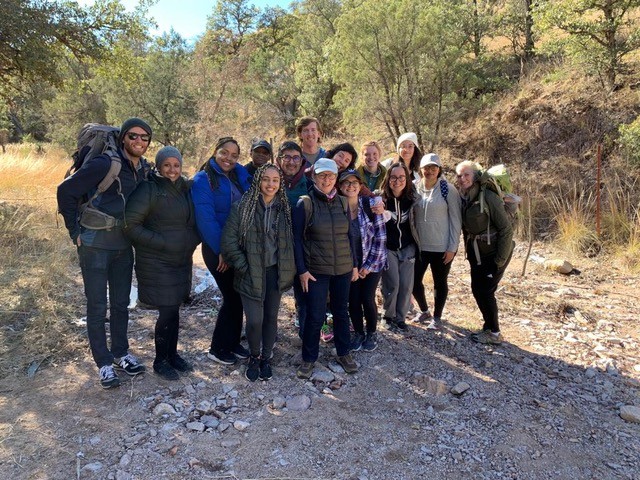 Selected from 60 applicants, the students, says Loughry, formed "a supportive group of learners through living and working closely together." After a two-day orientation in Boston, they plunged into a varied and rigorous itinerary in and around Tucson and Nogales, Mexico. As part of the on-the-ground activities in Arizona, they learned about deaths along the migrant trails from the Pima County medical examiner and a forensic anthropologist; attended immigration proceedings at the Pima County Courthouse; and walked a migrant trail. They met with officials from the Tohono O'odham Nation, a Native American people residing primarily in Arizona and Sonora, Mexico, and with three BCSSW alumni—Kaitlin Porter, MSW '15, Liz Casey, MSW '15, and Annalise Parady, MSW '17—who work at the Florence Immigrant and Refugee Rights Project, a nonprofit that offers free legal services to migrants in U.S. immigration custody.
Across the border, the group served meals to migrants in a dining hall in Nogales. They also volunteered with the Green Valley-Sahuarita Samaritans, an organization that leaves food and water along the routes used by migrants in the Sonoran Desert.
Jake Savage, MSW '20, an LLI student who has worked in outpatient mental health with Spanish-speaking migrants, found that the course offered a "balanced" and "eye-opening" exposure to life on the border. "It helped me to understand experiences that I had heard about secondhand but had not witnessed," he says. For example, while returning through the desert with the Samaritans, an ICE agent on a four-wheeler approached and questioned the group—they had set off a sensor placed by the U.S. Department of Homeland Security to track migrants' movements. The interaction, says Savage, vividly drove home "the incredible risks that migrants face for a chance at something better in the U.S."
In addition to the field experiences, course faculty gave lectures on a range of interdisciplinary topics, including faith as a resource, the impacts of detention and child separation, and migrants' legal and human rights. To help students process the often intense work, they led discussions and reflective writings. Students also developed knowledge of policies that promote change as well as resiliency-based clinical strategies "to put into practice in Boston," says Loughry.
Savage expects to draw on his experiences in his fall field placement at the De Novo Center for Justice and Healing, which provides pro bono legal and mental health services to low-income Massachusetts residents, including many Central American refugees and asylum-seekers. "The border," he says, "is connected to their histories."

Volunteering at the Border
In an effort to aid migrants affected by U.S. immigration policy changes, three MSW students in BCSSW's Latinx Leadership Initiative (LLI) volunteered at shelters on the U.S.-Mexico border early in the spring semester.
Taiga Guterres, MSW/MA '21, who is pursuing a dual degree in social work and theology and ministry, helped run Casa del Migrante en Tijuana, a 150-bed shelter for deportees, migrants, and refugees in Tijuana, where he had worked previously for a year. Living for two weeks alongside men from Guatemala, Honduras, and El Salvador, as well as Yemen, South Sudan, India, and Eritrea, Guterres prepared meals, assisted with job-hunting, and conducted workshops on human rights and legal issues.
"As an outsider, I'd get asked, 'What are you doing on this side?'" he says. "I was there because I care and I wanted to learn and lift up the men's experience and reality. Whether someone had been in prison for 20 years or traveling for three months, their stories were a constant reminder of their hope and humanity."
For several weeks, Valeria Lazo, MSW '19, and Carolina Velazquez, MSW '20, volunteered at Centro San Juan Diego, an emergency shelter in El Paso, Texas, that receives up to 80 asylum-seekers a day from U.S. Immigration and Customs Enforcement (ICE) detention facilities. The shelter is run by the Catholic organization Annunciation House, which at the time was receiving over 500 guests a day at its three El Paso sites. Their job, they report, was to welcome asylum-seekers and coordinate their travel to sponsors living in other states. They greeted migrants from the ICE buses, handled intake paperwork, assessed medical and travel needs, contacted families and sponsors, and provided meals and clothing.
All the while, says Velazquez, whose specialization is macro/global practice, they were helping "to restore dignity"—replacing children's Mylar foil sheets with blankets, or reassuring people that they could use the bathroom without asking for permission. The migrants arrived from 3-to-10 days in detention, she explains, "with a different mindset. They weren't ready for other interventions. I wouldn't have learned that if I hadn't come."
Lazo, who specialized in clinical/mental health, adds that the LLI's focus on asset-based social work, as well as her field placement at a shelter for homeless women, proved relevant for this work. "It was very helpful to talk about resilience—how much strength the people have to get this far and how much closer they are every day," she says.