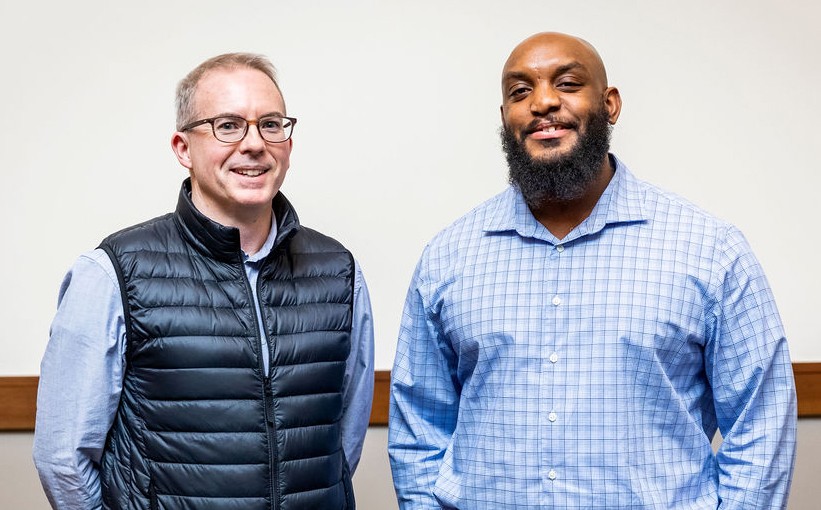 Mentor: Aaron Carter, MSW '10, is a licensed independent clinical social worker (LICSW) in private practice in Somerville and Greater Boston. He meets with adolescents and adults, individually, as couples, and as families.
Mentee: Josh McNeil, MSW '15, is a behavioral health clinician in a Boston hospital and fee-for-service clinician at a local university, where he also leads mental health workshops for students.
In 2018, over the course of about 10 months, Aaron and Josh spoke over the phone, communicating by text and e-mail in between calls to follow up on conversations with questions or useful information. Both men found the interactions extremely rewarding.
Josh signed up for the Mentoring Program for advice about his clinical work as well as his career path, and he received both. He humbly states, "I am always looking to gather wisdom and insights on how to best serve patients. I knew I didn't have all the answers." He explains, "Working with clients, the stakes are high and I needed reassurance. Aaron gave me the confidence to truly be present with my clients and to trust my judgment. He reminded me to embrace the small wins and see them as part of my clinical journey."
Josh also values how Aaron offered practical guidance for how to best navigate his job so he could be most effective in a hospital environment. In addition, Josh appreciated the career guidance he received from Aaron, including ideas for continuing education as well as practical interviewing tips as he investigated working part time at a university.
"I would definitely recommend all recent BCSSW graduates to sign up for a mentor. It's like having a personal coach giving you directions from the sidelines."  

—Josh McNeil, MSW '15
Aaron also found the partnership fulfilling, acknowledging the rewards of supporting someone on his/her professional path and giving back to the community. "I was inspired by Josh. He is thoughtful and passionate about his work. Our conversations refreshed my memories of why I pursued an MSW degree," recounts Aaron.
Aaron recalls several important discussions focused on professional development: identifying what's working well, how to overcome barriers, and how to apply insights from your current job to identify what's important in a future position. He and Josh discussed the importance of finding a good fit work environment, one in which a social worker's voice and perspective are respected.
As a secondary benefit of participating as a mentor, Aaron enjoyed deepening his involvement with BCSSW. He explains, "The mentorship program has connected me with good people while also learning what is happening at the School of Social Work. It feels great to be part of the community again without requiring a large commitment of time."
"As a social worker, I enjoy being part of networks and strengthening relationships. This is what I enjoy most about my work. My connection with Josh, through the mentor-mentee program, is a relationship I value."
             
—Aaron Carter, MSW '10
Join the BCSSW 2019–20 Mentoring Program
For questions and to sign up, contact sswalumi@bc.edu.