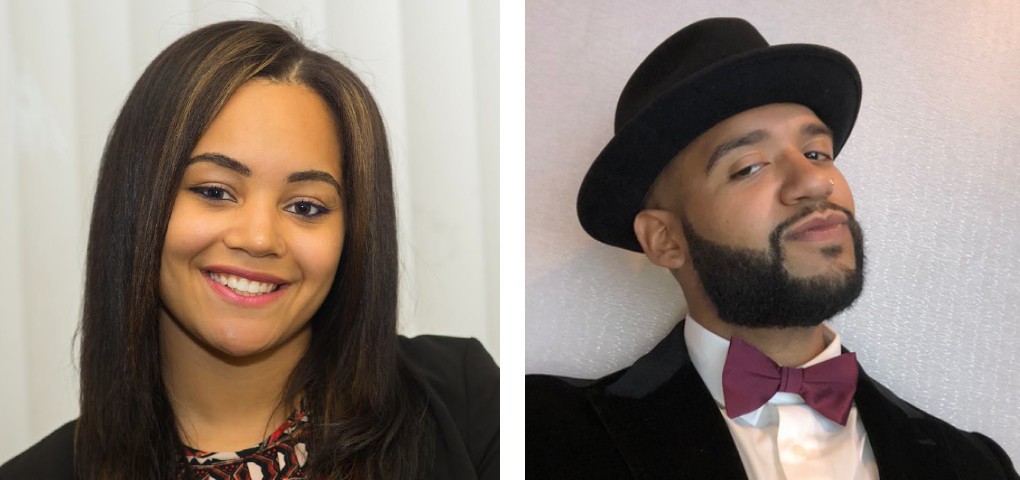 Two MSW students at the Boston College School of Social Work (BCSSW) are among a select group awarded a Rappaport Public Policy Summer Fellowship by the Harvard Kennedy School's Rappaport Institute for Greater Boston.
This is the fifth consecutive year that BC MSW students have been recognized with this prestigious honor that encourages graduate students to spend part of their careers in public service through a paid 10-week summer internship in state and local agencies in Greater Boston. The fellowship program is a seminal initiative of the Rappaport Institute, which, according to its web site, "aims to improve the governance of Greater Boston by promoting emerging leaders, stimulating informed discussion, and producing new ideas."
"It's not surprising to me that BCSSW has had fellows five years in a row," says Professor Tiziana Dearing, co-director of the collaborative initiative Research in Social, Economic, and Environmental Equity and advisor to Rapport Fellowship applicants. "Our students bring talent and high intellectual standards to their work on social justice, and social workers offer a unique perspective on public policy rooted in a code of ethics that prioritizes self-determination, community assets, and raising the voices of the marginalized."
The 2019 BCSSW Rappaport Fellows are Crystal Lopez Haynes, MSW '20, and Dewin Hernandez, MSW/MBA '21. Dearing, professor for the Macro Practice, is not surprised that Haynes and Hernandez stood out among a competitive slate of applicants. "Haynes and Hernandez have already demonstrated their deep commitment to marginalized populations. They both also recognize the specific, powerful role that local government plays in people's lives. I feel very good knowing that they will be helping to influence policy with this fellowship, and that they may go on to careers in government leadership."
Haynes and Hernandez join a cohort of distinguished fellows who are PhD, MD, and MA candidates from other leading Boston-area graduate schools, including Brandeis University, Harvard Medical School, Tufts University, Massachusetts Institute of Technology, Boston University School of Public Health, Tufts University's Fletcher School of International Law and Diplomacy, Harvard Graduate School of Education, Harvard T.H. Chan School of Public Health, and Harvard Kennedy School. 
Rappaport Fellows have worked on a diverse range of projects, including school reform plans, environmental risk assessment, public-private partnerships, community development projects, performance-management systems, racial bias in the juvenile justice system, health coverage for foster children, and reduction plans for greenhouse gases. All fellows participate in a weekly seminar series with leading practitioners and scholars and receive a $7,000 stipend for the summer.
Before enrolling at BCSSW, Haynes, who grew up in Hartford, Connecticut, earned a bachelor of arts in sociology with a minor in psychology from Central Connecticut State University. She maintains a profound gratitude for the transformational guidance she received from a social worker during her youth, which set her on a path to college and served as a catalyst for her work with and volunteerism on behalf of at-risk youth and autistic teens—and contributed to her decision to pursue an MSW. While Haynes assumed she would attend the University of Connecticut for her advanced degree, a professor suggested that she visit other universities too. "I visited BCSSW and researched the Macro curriculum and quickly determined, 'this school is for me!'" explains Haynes.
Haynes is already making a difference in the lives of Boston youth and families—particularly in her work with children and teens. Her field placement internship is at the Massachusetts Head Start State Collaboration Offices in the Massachusetts Department of Early Education and Care. At the state agency, she conducts administrative work that ensures directors of local, regional, and state early childhood systems get the information they need. She also facilitates Head Start agencies' access to and utilization of information and services, and she supports policy, planning, partnerships, and implementation across agency systems.
Haynes also works with Boston Public School (BPS) 7th and 8th grade students as a college-and-career-readiness instructor, teaching a course she designed herself. She looks forward to teaching every other Saturday at BC on behalf of the College Bound program, an initiative of BC's Lynch School of Education and Human Development. "I end each class refreshed as the students move on to social justice courses, which I sometimes co-facilitate," says Haynes. "Working with these BPS teens is incredibly rewarding.
"I applied for a Rappaport Public Policy Summer Fellowship given my desire to design governmental programs and policies that counteract the negative impact of poverty on youth. I want to contribute and make change at a systemic level," Haynes says. Her ultimate career goal is to run a non-profit that provides a network of support for children and families living in poverty so they can thrive.
Hernandez came to BC's School of Social Work and its Latinx Leadership Initiative and the Carroll School of Management with a diversity of educational and professional experiences under his belt. He graduated from Berklee College of Music with a dual major in music business/management and professional music and then went onto work with youth and families in the private and non-profit behavioral health sectors. To date, he has worked in research for a medical imaging company, as a musician, therapeutic mentor, in-home family clinician, and resident mentor at Lawrence Community Works (LCW), a community development corporation in Lawrence, Massachusetts, whose mission "weaves together community planning, organizing, and asset-building efforts with high-quality affordable housing and commercial development to create vibrant neighborhoods and empowered residents."
Hernandez credits his mom, a single mother of five, as well as his formative experiences growing up in Lawrence and his involvement with LCW's Movement City Youth Network—"a safe space for creative young people to explore and develop their talents and passions with a network of like-minded peers and supportive adult mentors"—with fueling his drive to succeed and deep commitment to public service.
"As a first-generation, queer Afro-Latino working in behavioral health, I am personally aware of the inequalities immigrant and LGBTQIA+ individuals face in accessing appropriate mental health resources. And, as an intern at the Massachusetts Department of Mental Health, Child, Youth, and Family Services, I've seen firsthand the challenge of providing culturally and linguistically appropriate mental health services to youth and families as well as gaps in the collection of demographic data that inhibit proper policy development and service delivery to the most vulnerable," says Hernandez.
Hernandez applied for a Rappaport Fellowship with the objective of learning more about the legislative process, particularly how quantitative and qualitative analysis inform policy decisions and strategies that task forces use to engage policymakers, legislators, and community stakeholders. His career goals—to help shape a government that prioritizes social justice, equitable health services, and well-being for all citizens, and to empower young people from marginalized populations to become the leaders their communities need.
Both Haynes and Hernandez are in the process of interviewing government agencies participating in the Rappaport Fellowship to select the summer placements they believe will best prepare them to make their marks on the world.