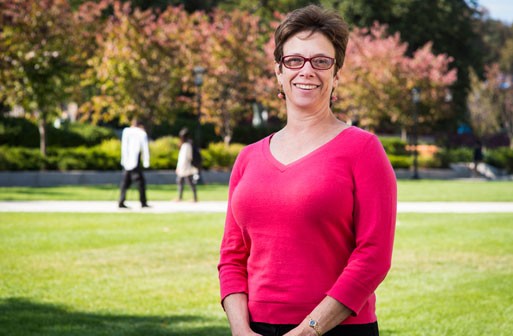 Later this week, Associate Professor Susan Tohn and Boston College School of Social Work  alumna Suelen Yancor, MSW '05, will be offering a free two-day training on Solution-Focused Therapy techniques with a focus on Spanish language interventions, a project designed to help practitioners understand some of the unique cultural competencies associated with best serving Latinx populations. As part of this initiative, Tohn and Yancor also plan to produce a series of Solution-Focused Therapy videos in Spanish over the coming summer.  
Tohn recently sat down with Innovate to discuss the genesis of the initiative on the whole, the workshop and video projects, and her hopes for future adaptations of the idea across the field of social work.
Thanks so much for your time today, Professor Tohn. Tell us how you came up with the idea to work on this project in the first place.  
Susan Tohn: I teach solution-focused therapy at BCSSW, and I also consult with a lot of agencies on the model. In my classes here at Boston College, I have had more and more Latino Leadership Initiative students and other students who work with Latinos in general. Many of these students have begun to provide feedback on the model as I've taught it. For example, "I don't think you can ask this question to a Latina, she would be offended."  Students have been more vocal about what is culturally appropriate, which has inspired me to reflect on how most of the models in our field have been created by white middle-class men. I wanted to figure out, how could I adopt solution-focused therapy to be more culturally and linguistically appropriate? Of course, I needed to work with a Latina on this project, so I contacted alumna Suelen Yancor in California, whom I've supervised on and off (I've also trained the Boys and Girls Club staff where she works in solution-focused therapy) and she agreed to work with me. And so the project was born.  
Tell us about the planned itinerary for the workshop, to take place March 28–29.
ST: We've invited our field education partners first, since they're the ones doing the work in the communities of Boston. Initially, we envisioned 50 attendees, but have now closed off the event at 100! Everyone wants to come. It's so exciting to see.
It's been a great collaborative process engaging the perspectives of Suelen, BCSSW Field Advisor Ximena Soto, and various alumni and field education stakeholders. They've helped us to begin to understand cultural norms and variances, and we're working with a translator to adapt some of the literature we'll be working with.  
The workshop is just the first part of your idea to present solution-focused therapy to social workers who work with Latinx populations. Tell us about your plans to expand upon the workshop.
ST: Yes, phase two gets even better. We're going to create a series of eight videos—videos that are culturally appropriate and language appropriate within a clinical model has never been done before, as far as I know.  We're basing the videos on values and normative beliefs. Early themes include conducting therapy in educated versus non-educated and religious versus non-religious populations. We're also considering investigating differences in immigrant populations versus Latinos who grew up in the United States. These are just a couple of examples.  
What do you envision for the future of your work with solution-focused therapy and Spanish-speaking populations?  
ST: We're currently waiting to hear on applications for a grant to fund our conference and video project, and NASW and CSWE to get accepted to present our work at next year's annual conferences. I'm hoping to work closely with LLI Director Rocío Calvo on early research related to our work.  
Down the road, phase three is to connect with someone on our faculty to conduct more robust research into whether our model, once it's up and running, is working with various communities. To find out, is what we're doing a better match than other models that haven't been adopted? I'd also love to think about whether we should have an elective course on solution-focused therapy for Latinos, and also, consider adapting other clinical models to serve Latinos, as well.
This leads to the high-level view that I'm reflecting on throughout the journey. Is there a process for taking a clinical model and adapting it to a specific population or ethnic group? Then, you could do that for anything, anywhere in the world. Could it be possible to teach people to do this all over the world? That would be exciting.