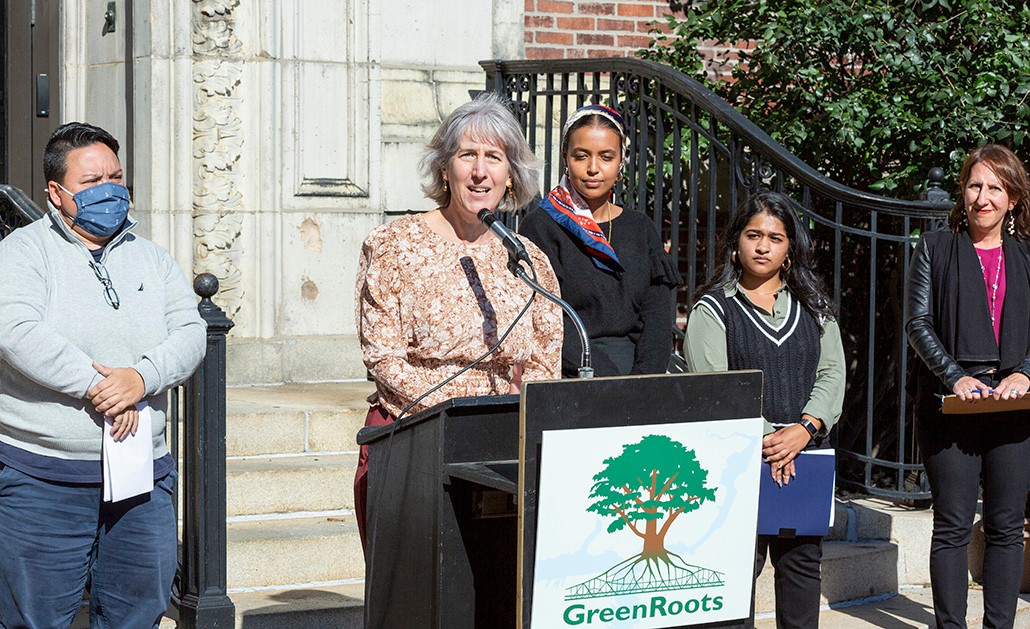 Leslie Dominguez-Santos, MSW'01, has spent her career working behind the scenes to amplify the voices of marginalized people around the world. 
As a volunteer for the Peace Corps in the 90s, she built affinity groups for women in more than 40 rural communities in the Dominican Republic. Some people, she recalls, simply wanted to "get out of the house and chat." Others, she says, wanted to learn how to sew clothes, plant fruit trees, or raise chickens in order to make money for the first time.
As the associate director of policy for the Heartland Alliance, a human rights organization in Chicago, she helped craft legislation to combat human trafficking in Illinois. The law, passed in 2005, paved the way for other states to criminalize the offense of involuntary servitude.
And as the director of development for GreenRoots, a community organization in Chelsea, Massachusetts, she co-authored a 104-page report that looked at how and why the city was hit so hard by the first wave of the COVID-19 pandemic. The report, released in October, told the story through the eyes of the large immigrant and Latinx population in Chelsea, where factors like overcrowded housing, preexisting health conditions, and air pollution contributed to high rates of infection and death. 
Now she has been recognized for empowering historically marginalized communities, receiving the 2022 Distinguished Alumni Award from the Boston College School of Social Work. Dominguez-Santos will accept the award at the annual Equity, Justice, and Inclusion Lecture and Distinguished Alumni Award Celebration on January 31. 
"I'm often the behind-the-scenes person. I don't like to tell other people's stories. I like to hold people up so they can tell their stories," she says. "And I feel like a lot of times those of us who are behind the scenes don't get recognized for it. So it's lovely to be honored this way. I'm really touched by it."
"

I feel like social work training gives us the lens to see and approach the world

"
Dominguez-Santos took a roundabout route to social work. She graduated from Oberlin College in 1994 with a degree in East Asian Studies, which she calls her "entry into a world of different languages and approaches." Then, during her stint in the Peace Corps from 1996 to 1998, she called her parents to ask them how she could continue to help vulnerable people when she returned to the United States. Her mom, she says, sent her an application to the School of Social Work, which included information about a community organizing, policy planning, and administration program. "I was like, 'Oh my God, this is how you do community work in the U.S.,'" she recalls.
At BC, Dominguez-Santos says she learned how to shape policies, conduct community needs assessments, and listen closely to people in need. She credits Marcie Pitt-Catsouphes, now a professor emerita, for giving her the skills to work in the community. She remembers a class taught by Pitt-Catsouphes, the hardest she's ever taken. "We walked in on the first day and she said, 'Pick a community and learn every single thing that you can about it,'" Dominguez-Santos recalls.
She did her first internship with La Colaborativa, a nonprofit in Chelsea that partners with Latinx immigrants to uplift the community. "Here's the immigrant community I've been wanting to work with,'" Dominguez-Santos remembers thinking. "And connections that I made there are the same people I work with now."
Her report on COVID-19 in Chelsea grabbed the attention of Sarah Neville, PhD '22. Neville, who lives in Chelsea, says the report artfully combined data and research to show how "interconnected injustices" turned the city into a hotspot for the virus. "I knew immediately," she says, "that the report was going to be an amazing resource for advocates like me for years to come."
After taking part in an event to celebrate the launch of the report last fall, Neville asked Dominguez-Santos if she could nominate her for the Distinguished Alumni Award. Dominguez-Santos said "yes" and told Neville the story of her career, recalling that it was "so fun to work with her and discuss my years of advocacy." Neville, for her part, describes Dominguez-Santos as "humble, accomplished, and hardworking." She says that social justice "guides her career" as well as the way she "invests in her local community."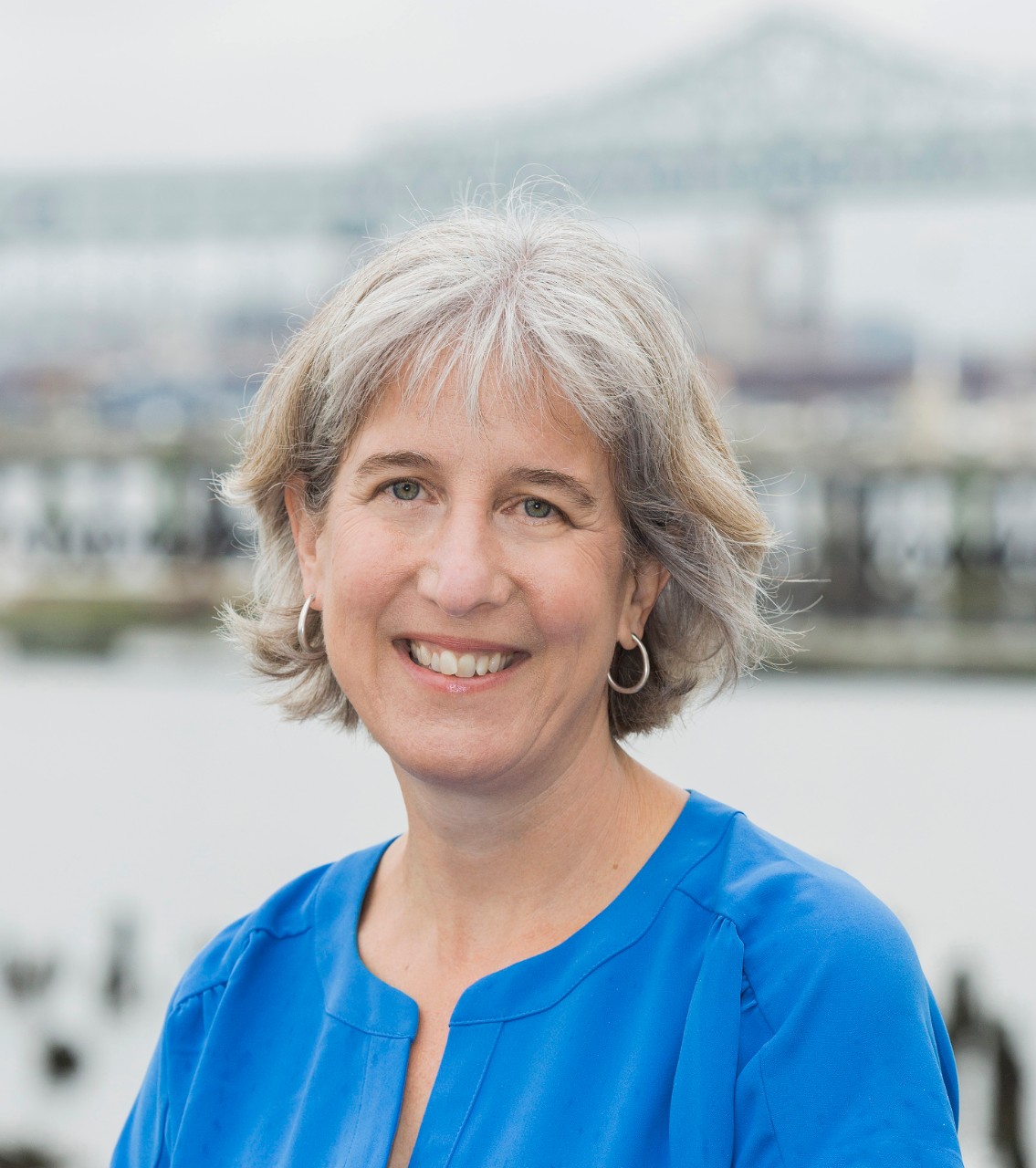 Although she temporarily left the workforce in 2005 to raise three kids, Dominguez-Santos has stayed active in her community on Cape Cod. Over the past several years, she has taught Spanish to schoolchildren, trained people to write letters to newspaper editors, and helped those at risk of losing their homes tell their stories to lawmakers. "Every time that I supported an individual to tell their story to make change felt so good," she says.
Since 2012, Dominguez-Santos has led a troop of Girl Scouts—a role that she has relished perhaps more than any other in her life. The kids in the troop were in first grade when she started 10 years ago and will be off to college in the fall. Her daughter plans to attend Oberlin, just like she did. In a sense, she says, her accomplishments as a macro social worker for GreenRoots and the Heartland Alliance have mirrored her achievements in a less official capacity. 
"Now I have a group of 14 young women who are ready to lead the world, whose minds were opened and who tried new things and went on new adventures," she says. "When you're a stay-at-home mom, your world is smaller and your victories are smaller. So I can talk about this anti-trafficking legislation that has helped people across the country. And then I can talk about these very small things that made a difference too." 
Dominguez-Santos thinks that macro social workers can make a difference in a variety of ways, noting that many of her colleagues in business and government have drawn on their background in the field to better understand the interplay between family, community, and policy. "I feel like social work training gives us the lens to see and approach the world," she says.