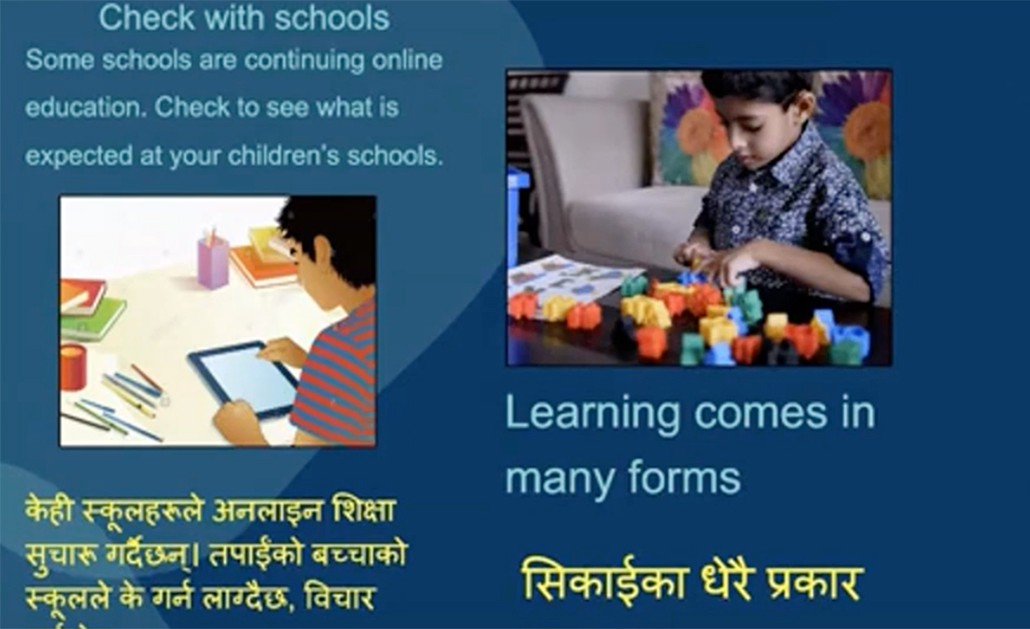 Public health officials have advised everyone in the United States to wear masks, wash their hands, and stay home to slow the spread of the coronavirus. But thousands of refugees from Bhutan who have resettled in the country have struggled to access these guidelines, says Bhuwan Gautam, a researcher who studies the wellbeing of Bhutanese families in Massachusetts.
Many Bhutanese refugees don't understand English and can't read the recommendations provided by the World Health Organization, says Gautam, a refugee from Bhutan who resettled in Massachusetts in 2008. Although the Centers for Disease Control and Prevention provide tips in Nepali, the language Bhutanse refugees speak, many members of the community can't read it, he says. 
"We have tons of information available, but our community members are mostly illiterate in their own language and can't access it," says Gautam, who advises the Bhutanese Society of Western Massachusetts, a nonprofit that supports Bhutanse refugees who live in the region.
Gautam recently teamed up with faculty and staff in the Boston College School of Social Work to solve this problem, creating six videos in Nepali to help Bhutanese refugees respond to the coronavirus in safe, healthy, and productive ways. 
They recruited teachers, epidemiologists, and public health professionals in the Bhutanese community to provide tips to prevent the coronavirus, dispel myths about the disease, and present strategies for parents to help their children cope with the pandemic. The videos, posted to Facebook and YouTube, have racked up more than 50,000 views in two weeks. 
"We felt the urgent need to get out public health messaging that addressed cultural concerns in the Bhutanse community in their native language," says Jenna Berent, who manages the Refugee Behavioral Health Program in the School of Social Work. "We made sure that the videos were led by Bhutanse professionals who could share information through their lens." 
"

We felt the urgent need to get out public health messaging that addressed cultural concerns in the Bhutanse community in their native language.

"
Approximately 85,000 refugees from Bhutan, a small country nestled between China, India, and Nepal, have resettled in the United States over the past two decades. Most of the refugees come from camps in Nepal, where they lived for years following what Berent describes as an "ethnic cleansing" perpetrated by a Buddhist regime intent on forcing Hindu citizens to leave. 
The video series builds on an ongoing project led by the Research Program on Children and Adversity in the School of Social Work to improve the health and wellbeing of families in the Bhutanese refugee community. Well-trained staff affiliated with social service agencies visit the homes of families in the community to help caregivers and their children manage stress, improve communication, and navigate the education system in the United States. 
A study published in the Journal of Adolescent Health found that families who participated in the program argued less compared to families that did not participate. Children showed fewer signs of depression and behaved better than their counterparts who did not receive help. 
Berent says that refugees from Bhutan commit suicide at a higher rate than the general population and often struggle to control their use of alcohol.
"Adapting to U.S. culture here has been difficult," she says. "Dealing with the stressors of resettling has caused substance use, and many live in subsidized housing and struggle to pay rent."
Berent and Gautam hope that the videos will help to inform the decisions Bhutanese refugees make as they navigate life in the middle of a global pandemic. 
In one video, a social epidemiologist described the symptoms of the coronavirus and dispelled myths about COVID-19, such as that eating garlic and drinking warm water can ward off the disease. 
In another video, a high school teacher who founded bhutaneseliterature.com provided tips for parents to help their children continue to learn at home while their schools are closed. He advised caregivers to take virtual tours of museums with their kids, play educational games online, and read books.
A community health professional said Bhutanese refugees could maintain their mental health during the coronavirus by limiting exposure to news focused on the crisis, exercising for at least 30 minutes per day, and checking in with family at least once per week.
"I think people will be better informed about this disease and spread the information by sharing those videos among their networks in an effort to increase public health awareness," says Gautam, who advises the Research Program on Children and Adversity. "I am getting positive feedback from community health centers and Bhutanese community leaders who say that this is the best approach to debunk misinformation."