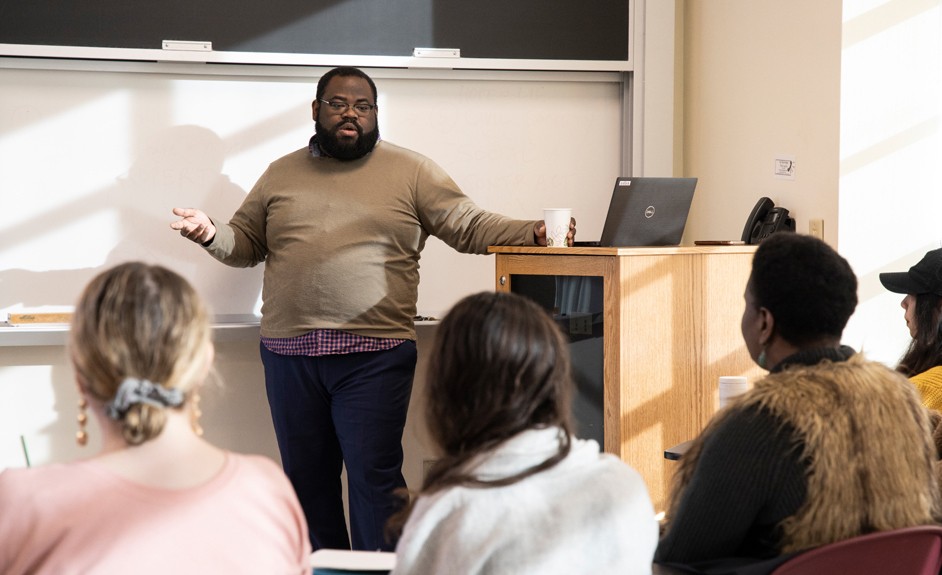 Samuel Bradley, Jr., an assistant professor in the Boston College School of Social Work, scrawled the phrase "Change Transformation Cycle" on the whiteboard in his classroom. 
It was a Friday morning in February, and Bradley was teaching his students how to help their employers cultivate diversity and inclusion in the workplace. 
He advised his students to pressure corporate leaders to consider that the workforce is becoming more diverse. He urged them to connect with colleagues in powerful positions who support their objectives. And he told them, "We need to bring these organizations into alignment with the 21st century."
Bradley's course, "Dismantling Organizational Bias," represents one element of a large-scale effort to infuse the values of equity, justice, and inclusion into all aspects of teaching, learning, and scholarship in the School of Social Work. 
The mission, Bradley said, lies at the heart of the school's five-year plan to reimagine social work education and training, work across disciplines, and develop new partnerships in research and practice.
Bradley helps to oversee the work of more than 50 students, faculty, and staff in BCSSW who belong to the Equity, Justice, and Inclusion Committee, which works to develop policies and practices that promote a caring, respectful, and inclusive community that thrives because of its diversity. The group comprises six sub-committees, including sub-committees dedicated to reimagining the curriculum, measuring campus climate, and training faculty and staff to create an inclusive culture in and out of the classroom. 
Committee members say their work will promote open and honest conversations, foster interdisciplinary collaborations, and expand access to opportunities for historically marginalized groups, including women, racial minorities, and the LGBTQ community. They want to tackle inequalities that contribute to unfair outcomes in the classroom, better prepare students to work with diverse populations around the world, and create a culture steeped in mutual respect and lifelong learning.
"In 10 years from now, I want Boston College leading and redefining social work practice for the entire country," Bradley said. "This isn't diversity, equity, and inclusion for the sake of lip service. This is diversity, equity, and inclusion for the sake of leadership."  
How to 'transform institutions'
One group of students, faculty, and staff is working to craft a statement that will describe the steps the School of Social Work will take to actively oppose racism and promote justice. The school might incentivize research focused on equity, justice, and inclusion, Bradley said, restructure courses to accommodate different learning styles, or reconsider the need for doctoral students to take the graduate records examinations, a standardized test that often fails to predict academic success.  
"We're acknowledging that folks are different and we're going to take an evidence-based approach to make sure we construct policies and practices that make us anti-racist," Bradley said. 
Rocío Calvo, an associate professor in the School of Social Work who sits on the sub-committee dedicated to reshaping the curriculum, said that people who have diverse social, cultural, and ethnic backgrounds should play a major role in helping to eliminate systemic racism and inequality in the workplace and on college campuses. 
"What transforms institutions is to invite a diverse group of individuals to the table to share their ideas," she said. "If you're serious, you're going to bring in people who have thought leadership, who have the imagination to think about these issues very differently." 
"

In 10 years from now, I want Boston College leading and redefining social work practice for the entire country. This isn't diversity, equity, and inclusion for the sake of lip service. This is diversity, equity, and inclusion for the sake of leadership.

"
A sub-committee dedicated to helping students present their work to the general public proposed the School of Social Work form a partnership with The OpEd Project, a nonprofit organization that trains under-represented experts to share their ideas with the world. 
Cal Halvorsen, a member of the group, wants The OpEd Project to train students to write op-eds in an effort to strengthen the reach of their voices and boost their confidence in promoting social justice. 
"We want to provide ways for students to learn how to communicate their own experiences, skills, and knowledge, to identify social inequities, and to offer workable solutions," said Halvorsen, an assistant professor who published op-eds in Forbes, Fast Company, and Next Avenue as a participant in The OpEd Project's Public Voices Fellowship. "It's a great vehicle to help students understand their experiences and learn how to craft arguments to make more people understand social justice issues."
The sub-committee dedicated to measuring the success of the initiative is designing a survey to better understand how students, faculty, and staff perceive the current state of equity, justice, and inclusion in the School of Social Work. The group recently consulted with the Boston College Law School to appraise the quantitative and qualitative tools available to evaluate campus climate. 
"It's a way to assess what the experience and sense of belonging are like in the classrooms and hallways here," said Bradley. "Our hope is to lead through an innovative practice." 
Liz VanderLaan, a student in Bradley's class, wants faculty to facilitate conversations that invite students to challenge and overcome their own biases. "If I make a statement, someone could follow it up with a question such as 'Why do you think that?'" said VanderLaan, MSW '20.
'Courageous conversations'
The School of Social Work has a long history of promoting equity, justice, and inclusion, said Marcie Pitt-Catsouphes, professor and associate dean for faculty development and academic affairs.
Professor Paul Kline and Professor Emerita Ruth McRoy pioneered the effort starting in 2006, working to plan, implement, and evaluate initiatives designed to build a community that welcomes all people and prepares students to work with diverse populations. The school, Pitt-Catsouphes said, now hosts annual events, guest lectures, and training workshops to facilitate conversations about race and promote scholars who embrace social justice.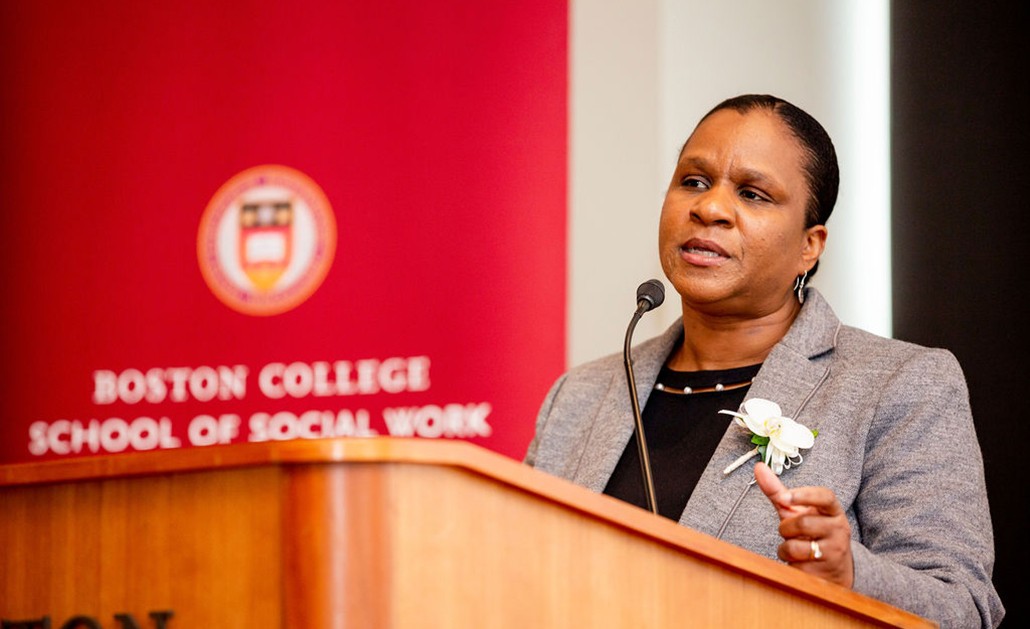 The Pinderhughes Diversity Lecture Series, which launched in 2007, has featured doctors, anthropologists, and journalists who have reflected on topics like poverty, racism, and same sex marriage. The lecture is named in honor of Elaine Pinderhughes, a professor emerita of the School of Social Work whose seminal research revealed that race, ethnicity, and power strongly influence how social workers interact with clients. 
"Elaine Pinderhughes stimulated conversations about diversity and inclusion with her provocative scholarship," said Pitt-Catsouphes.
In 2017, BCSSW surveyed leaders at field agencies and other schools of social work to help identify innovative ways to improve educational programs, research, and community partnerships, Pitt-Catsouphes said. In 2018 and 2019, she led a study to assess the factors that affect the extent to which BCSSW is an inclusive place to learn and work. And in the fall of 2020, the school plans to release its first annual equity, justice, and inclusion report. 
"The School of Social Work has consistently pursued strategies to embed issues related to equity, justice, and inclusion in the educational experiences for our MSW and PhD students, the research questions of faculty members, and the school's learning and work environment," Pitt-Catsouphes said.
David W. Robinson-Morris, an assistant professor at Xavier University who uses non-Western philosophies to explore what it means to be human, delivered the keynote address at the 2020 Equity, Justice, and Inclusion Lecture and Distinguished Alumni Award Celebration in January. Kenneth V. Hardy, a relationship expert, hosted five daylong workshops in 2019 to help students, faculty, and staff develop new tactics for talking about race. He guided more than 150 participants through exercises designed to challenge their assumptions about race and pushed them to express how they feel when they discuss oppression and power dynamics at work and in the classroom.    
"It's hard to have conversations about race that are meaningful and progressive and sustainable if we have not spent time thinking about who we are racially and where our biases come from," said Hardy, a professor of family therapy at Drexel University who directs the Eikenberg Institute for Relationships in New York City. "When we think of racial issues as outside of ourselves, it's much harder to have meaningful, progressive conversations."
Pitt-Catsouphes said training workshops help students, faculty, and staff deepen their awareness of the issues, extend their knowledge, and build new skills that they can apply to their work. "These training experiences are designed to help people engage in courageous conversations related to equity, justice, and inclusion," she said.
A whole new world
The Latinx Leadership Initiative exemplifies the ethos of the School of Social Work: The best way to create sustainable solutions to complex problems is to work with the people who live those problems every day.
Calvo, who directs the initiative, said students enrolled in the Latinx Communities field of practice develop a nuanced understanding of the barriers that prevent Latinx communities from accessing equitable education, social services, and healthcare. They take courses in Spanish, complete internships in schools, hospitals, and prisons around the world, and conduct cutting-edge research that shapes the strategies social workers use to support Latinx clients. 
Calvo said students take a holistic approach to working with Latinxs, considering spiritual beliefs, financial status, and family dynamics. "They take into account everything that is going on in the lives of clients," she said. "It's not just, 'let's talk about your mental health.''
More than 10 percent of all graduate students enrolled in the School of Social Work choose the Latinx Communities field of practice. And the majority of students who complete the program identify as Latinxs. "We are training people to become leaders of the transformation in their own communities," said Calvo. "They know their communities, they come here to hone their leadership skills, then return to the community to lead the agencies at which they work."
Pitt-Catsouphes echoed Calvo. "Individuals with the right skills and passions can be catalysts for change in their own organizations," she said.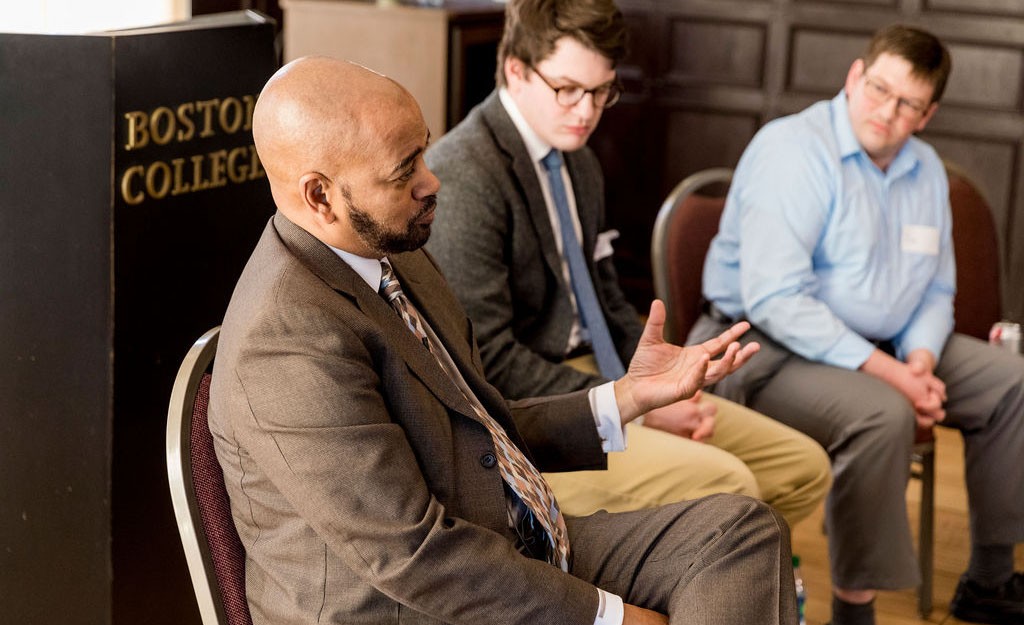 Bradley is working to create a certificate program that will prepare social workers to direct equity, justice, and inclusion programs at colleges, public agencies, and companies in the private sector.
"There is a gap in academic programs that are preparing professionals to do this work," he said. "The idea is to create courses that challenge students to think in different ways around these really important subjects." 
The program will comprise three courses: "Re-thinking Diversity: Systems of Oppression and Privilege," "Creating the Inclusive Workplace," and "Dismantling Organizational Bias," which Bradley is piloting this spring.  
"Re-thinking Diversity," which is currently called "Diversity and Cross-Cultural Issues," explores the root causes and consequences of oppression and privilege based on race, ethnicity, age, gender, identity, ability, religion, and sexual orientation.  
"If you understand how the system works, if you are able to deconstruct it, you will be able to build something different, more equitable," said Calvo, who teaches the course.
"Dismantling Organizational Bias" prepares students to manage diverse teams, resolve conflicts in the workplace, and coach executives to integrate equity, justice, and inclusion into their business practices, Bradley said. 
Students consult with nonprofit organizations and then write papers to articulate what they've discovered. They study the leadership styles of men and women in top positions and then share their findings in oral presentations. And they say they've applied what they've learned in the class to improve their work with clients in the field.
Caity Vogt, who works with young people of color at an elementary school, said she learned how to address the racial differences between her clients and herself. Vogt, MSW '20, practiced what she would say to clients if the topic of race came up in their conversations and then used that language to help her navigate the issue. 
"As a white woman, I recognize that I'm not necessarily the person to process racial trauma with my clients," Vogt said. "When it comes up in the clinical practice, I hold space for it, name it, and say I understand that I will never know your experience."
Takia Myers, who works in healthcare, tries to connect with her clients by asking pointed questions that cut to the core of their humanity. "First of all, I want to know your name and what you care about," said Myers, MSW '20. "Shifting the questions that we ask can get to parts of people that are more meaningful." 
Myers chairs the Student Collective, which oversees nine student groups and committees dedicated to promoting acceptance and inclusion in the School of Social Work. Spectrum, for example, provides a space for LGBTQ students and allies to reflect on issues such as diversity, sexuality, and gender identity. Umoja, which means "unity" in Swahili, increases awareness of issues related to race. 
"One of the things that is really important to me is making sure that everyone who participates in these conversations and programs, particularly those that surround redefining institutional and organizational practices, feels valued and realizes that they have a voice that can and will make a tremendous impact," Myers said.
Erin McBrady, a student in "Dismantling Organizational Bias," echoed Myers. "Everyone comes with their own unique lived experiences," said McBrady, MSW '20. "Everyone deserves to be validated for that and to have their voices and opinions heard in a way that's fair."  
Students, faculty and staff said that social workers who incorporate the values of equity, justice, and inclusion into their practice will be perfectly positioned to help improve the lives of people around the world. The code of ethics for the National Association of Social Workers, they remind each other, describes social justice as a core value of the social work profession. 
"We have to work through our history together to get to a point where we can have conversations that push us further into a place where opportunity is accessible to everybody," said Nicole Shanelle Haynes, a student in Bradley's class who is scheduled to receive her master's degree in social work in May. 
"We often accept the world as it is and respond reactively," Bradley added. "Imagine what it could look like if social workers took the lead on these issues?"