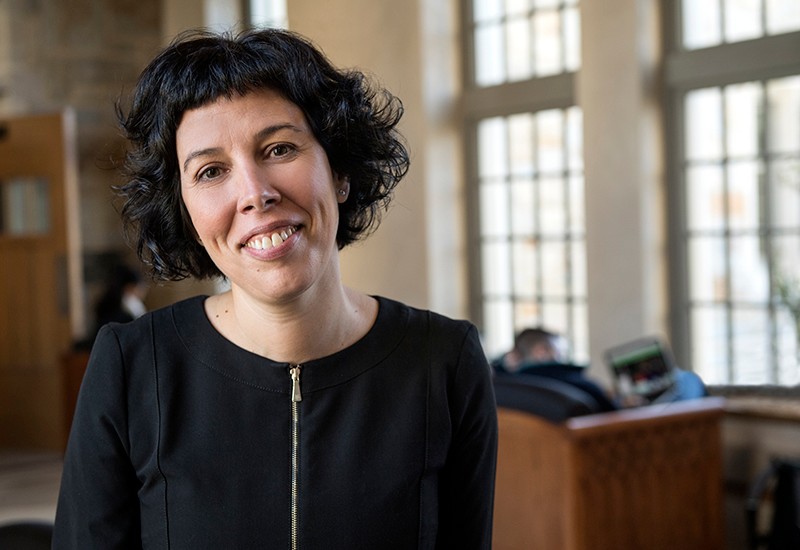 Associate Professor Rocío Calvo was elected president of the Association of Latina/o Social Work Educators (ALLSWE) at the organization's annual meeting in Orlando, Florida, in November. She succeeds Dean Jorge Delva from Boston University's School of Social Work in the association's top spot and commences a two-year term this month.
"I'm very excited about this opportunity to advance the work of the ALLSWE," says Calvo. "I want to recognize all that the ALLSWE board and the past presidents have been doing," she says. "Taking over a body of work from such trailblazers is very humbling."
ALLSWE supports the advancement of Latinx social work education. Its membership includes social work schools, professors, educators, and practitioners from across the U.S. For Calvo, who conducts research with Latinx communities and is the founding director of the Latinx Leadership Initiative at the Boston College School of Social Work, the appointment presents an opportunity to work with a national board to address the dearth of Latinx representation in social work education.
"This past year, there were only 17 Latinx recipients of PhDs in social work," says Calvo, citing data from the Council on Social Work Education. "Additionally, less than six percent of full-time social work faculty are Latinx," she says. "This underrepresentation is particularly striking given that, if current demographic trends continue, one in four Americans will be of Latinx descent by 2060.
"The significance of this transformation means that when we talk about advancing the well-being of Latinx communities in reality we are talking about advancing the well-being of the country. It is time to shift the discourse. Latinxs are the cornerstone on which the future of the United States is being built as we speak. As social workers, it is our job to work with the community to overcome systemic barriers for advancement, such as low-quality education and health care, substandard employment, discrimination, and criminalization."   
Increasing the presence of Latinxs in social work education will be a major focus of Calvo's presidency. "I want to strengthen the pipeline from doctoral students to faculty members to administrators in positions of leadership," she says. "I would also like to focus on career development. It is not enough to increase the number of Latinx faculty—we also want to ensure that they reach the highest ranks of academia." She also endeavors to boost the numbers of Latinxs in positions of leadership throughout all professional associations.
Calvo is meeting with the ALLSWE board later this month. Initiating a strategic plan to help achieve these objectives will be a top agenda item.