Graduate Alumni Profile: Yuan-Ming Lu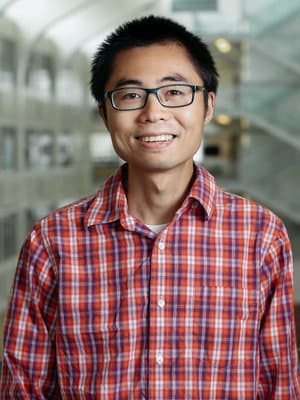 Dr. Yuan-Ming Lu was a graduate student in the BC physics department from 2007-2011. During that time, he performed theoretical research on topological phases of matter under the supervision of Prof. Ziqiang Wang and in close collaboration with Prof. Ying Ran. After obtaining his PhD in 2011, he became a postdoctoral scholar at UC Berkeley. He joined the faculty of The Ohio State University in 2014, where he is now an associate professor. Prof. Lu has made seminal contributions to the study of topological phases and strongly correlated systems and is the recipient of the NSF CAREER award in 2017.
How do you reflect on your time as a physics graduate student at BC? 
I really enjoyed my days in BC. BC was my first impression of the foreign world since I have never been to another country outside China before my PhD. I started to like Boston after the harbor tour for incoming students: it was quite spectacular for a kid new to America. I was in Ziqiang Wang's group and spent most of my time on research, and both Ziqiang and senior students in the group were extremely nice and helpful for an incoming student, both in research and in life.
Later when Ying Ran joined the department, he quickly became a big brother of mine and taught me so many lessons on all kinds of things. I still remembered the days when we discussed and worked overnight and he drove me back at 1 or 2am.
I also bonded strongly with other students and postdocs that overlap with me at BC, mostly from physics and econ (my housemate was an Econ PhD candidate), and some of us still keep in close touch nowadays. I played tennis and soccer a lot at BC, and I still miss the weekend soccer games we had in Brighton. My time at BC was definitely a special period that will not fade away easily.
How did your experience at BC contribute to your current career? 
In retrospect, my professional trajectory would be completely different if I did not get into BC. I have nothing but gratitude to everyone during my years at BC and I wouldn't have been who I am without them. Admission of BC really opened the door for me to start an academic career in the United States. I felt very lucky that Ziqiang was quite open to my collaborations with other PIs, such as Xiao-Gang Wen at MIT and Ying Ran after he joined BC. What they taught me at that time shaped the very foundation of my understanding of physics. Ying Ran also recommend me to his former postdoctoral advisors Dung-Hai Lee and Ashvin Vishwanath at UC Berkeley, who later became my postdoc mentors. This connection turns out to be a crucial move in my career.