Training Your Way
Do you have a learning goal for yourself or your team? We (and LinkedIn Learning) can help. 
LinkedIn Learning offers a Content Mapping service. They are the experts with all the available content and can sort through it for you to find the best fit to help you meet your goals and/or those of your team.
Review an example of a completed request form, provided to us by LinkedIn Learning, which shows you how you can fill it out, as well as what it will look like when LinkedIn returns it to you.
Use this blank form to provide your information to LinkedIn Learning. Select the the button below to open the form.
In the form, select File/Download/Microsoft Excel (.xlsx) to make your own editable copy of the file.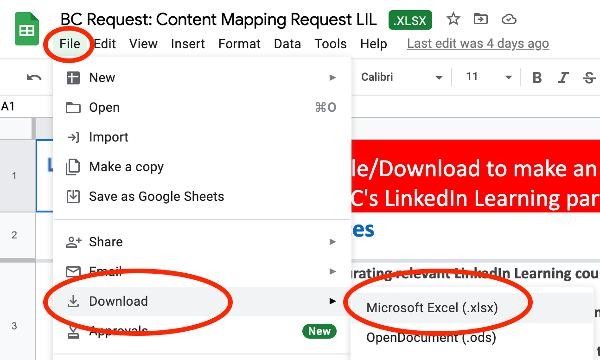 Complete the form and email it to the address included on the form.