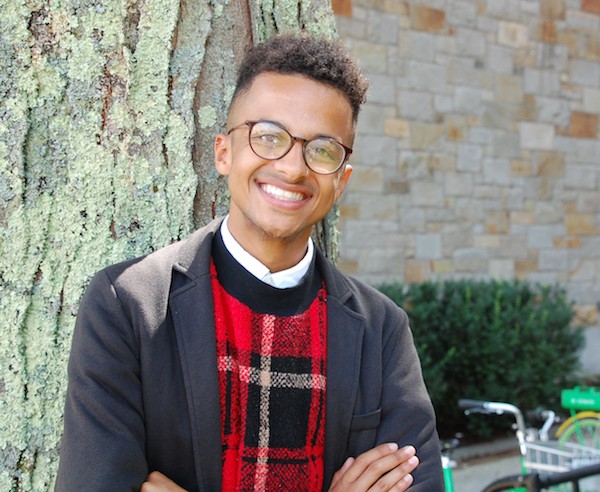 Ryan McElhose, MSW '20, grew up with a nine-word mantra that motivates him to this day: "Create opportunities beyond those that are given to you." That's the parental advice he received repeatedly while growing up in a small town in Iowa and internalized over a 25-year life journey that's led him to Boston College School of Social Work (BCSSW).
McElhose is pursuing a clinical specialization focused on Health. "My goal at BCSSW is to gain the skills, knowledge, and confidence necessary to guide people through tough times, particularly through trauma," he says. His other interests include decriminalizing HIV, environmental science, and rights for those seeking asylum.
He was working  as a public policy fellow for AIDS United in Washington, D.C., when he was accepted to BCSSW. Intent on also joining BCSSW's Latinx Leadership Initiative (LLI), McElhose deferred his enrollment for one academic year and moved to Santo Domingo, Ecuador, to improve his Spanish. "The LLI is a huge reason why BCSSW stood out for me for graduate school," he says. "No other school I applied to offered as many graduate-level courses in Spanish and seminars focused on the Latinx experience."
While in Ecuador, McElhose spent six months at Fundación Hombro a Hombro, a social-service organization that focuses on community-based health and wellness programs. He supported the foundation's medical teams and volunteers working in the Amazon rainforest, including many from U.S. universities, the non-profit Timmy Global Health, and Microsoft. "I was impressed with the effectiveness of Hombro a Hombro's model: prioritizing community partnerships to effect change at the local level," he explains. "It was important to me to learn from a clinic that strived towards community-centered and led care. This was also a major growing period in my life. It was the first time I was living by myself and in a country that was new to me."
During his first year at BCSSW, he completed a field placement at the Criminal Justice Initiative (CJI) at Harvard Law School, supporting the social service needs of people facing misdemeanor allegations in the Roxbury and Dorchester divisions of Boston's municipal courts during arraignment and trial proceedings. "My internship at CJI actualized the obligations, advantages, and limitations of lawyering and of social work," explains McElhose.
In his current placement at Cambridge Health Alliance, he supports both the Zinberg Clinic and the adult outpatient psychiatric unit as a clinical social work intern. "I value being a part of a multidisciplinary, multicultural, and multilingual team to provide high-quality patient care," says McElhose. In advance of his clinical internship, he accepted a full scholarship to attend the United States Conference on AIDS in Washington, D.C., as a health policy scholar through the National Black Gay Men's Advocacy Coalition.
McElhose also participates in two graduate assistantships. One is at the Massachusetts Institute of Technology, where he coordinates logistics for a campus-wide innovation challenge that fosters community-betterment projects. The other—a BCSSW assistantship—supports the chair of the Equity, Justice, and Inclusion Committee, Professor Marcie Pitt-Catsouphes, who is also the associate dean for Faculty Development and Academic Affairs. "I was drawn to this role to help improve how diversity is discussed in the classroom, to help refine the BCSSW curriculum, and to enhance the student experience for future cohorts who enroll at Boston College," he says.
At BCSSW, he co-leads SPECTRUM, a student-interest group for lesbian, gay, bisexual, transgender, queer, questioning, intersex, asexual, non-binary, gender nonconforming, and pansexual students and allies. SPECTRUM provides community engagement and social action opportunities to help educate the larger social work community about gender and sexual diversity, cisgenderism, and heterosexism and offers a space for students to discuss a variety of intersectional topics.
In what little free time he has, McElhose enjoys playing soccer and running throughout Boston as he trains for races, including 10Ks, half-marathons, and his first full marathon in mid-October, where he placed in the top 100.
McElhose is exploring career possibilities in public policy, clinical social work, and law in advance of his May graduation. While not certain of the exact path he'll pursue, he's eager to see how his future unfolds and aiming to create opportunities beyond those given to him.