Graduate Alumni Profile: Lucas Lindsay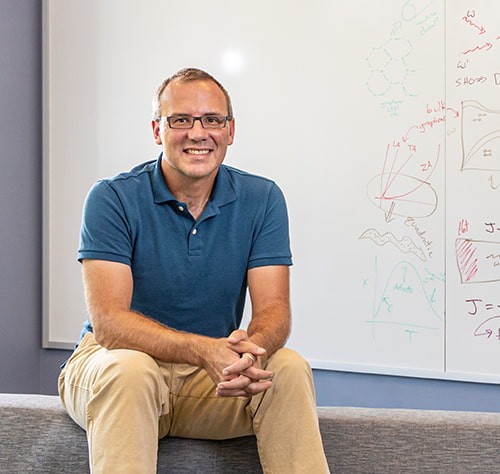 Dr. Lucas Lindsay was a graduate student in the BC physics department from 2004-2010. Under the guidance of Prof. David Broido, Dr. Lindsay developed theory and first-principles calculations to describe the lattice thermal conductivities of carbon nanotubes and graphene. After graduation, Dr. Lindsay taught physics for two years at Christopher Newport University in Newport News, VA. Afterwards, he started a fellowship at the US Naval Research Laboratory, where in collaboration with Prof. Broido and Dr. Thomas Reinecke, he made the first prediction of ultra-high thermal conductivity in boron arsenide, which has since been experimentally confirmed. Since 2014, Dr. Lindsay has been a scientist at Oak Ridge National Laboratory, where he continues to predict and optimize materials for thermal management on some of the most powerful supercomputers in the world. In 2019, Dr. Lindsay was awarded a Department of Energy Early Career Award.
How do you reflect on your time as a physics graduate student at BC?
First and foremost, the time went so quickly – from an interview with my mother in tow and tour guided by a recently doctored Cyril Opeil (now Prof. Opeil) to defense and farewells. I recall sitting in classrooms learning the importance of good erasers and the fluctuation-dissipation theorem from Prof. Kalman and wondering of the importance of Clebsch-Gordan coefficients in class with Prof. Broido. I recall standing in classrooms learning to 'teach' physics and learning humility, particularly in the face of the triangle inequality and Prof. Herczyński. Graduate school friends were so diverse in background and interests and brought joy to learning and humor to research. They taught my new wife and I the meaning of Boston sport fanaticism, how to survive the chill of a Boston winter, how to survive each other, and helped in the grand learning process of raising a baby. I remember walks in the snow from office to gym to coffee and back (pastry in tow), games and colloquia, cozy nights in pubs with friends, football games with wins over Clemson (once dragging a buddy from the STM), and the simple comfort of feeling in the right place at the right time.
How did your experience at BC contribute to your current career?
Where to begin? Before joining BC I had no idea what condensed matter physics was, now the backbone of my work. Some professors taught me how to think; some taught me how to share what I think, while others were simply patient enough to let me think. Prof. Broido helped me overcome my fear of vast arrays, subscripts, sums, and 'supercomputing' so that now I can toy with the biggest compute machines in the world. More generally, BC taught me how to behave around science bigwigs, the joys of committee work (bit of sarcasm), how to stare in astonishment at the enormity of cutting-edge experimental characterization tools, and how to put pen to paper (and ultimately to computers) to fiddle with equations. These experiences stoked my curiosity and provided a foundational research capacity to support me through an ever-winding career mixed with teaching, management, and the pursuit of novel little mysteries.