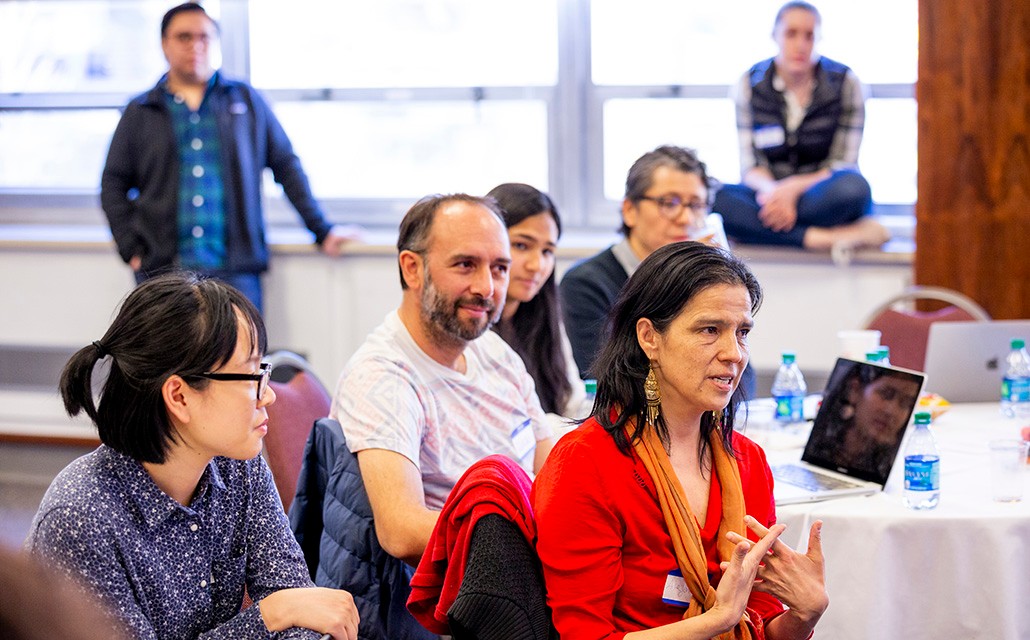 On April 6, 15 doctoral students in social work from Boston College and other graduate programs in New England who identify as first generation and/or people of color participated in a daylong professional development seminar.
Titled "Transforming the Ivory Tower: A Seminar to Help First-Generation and/or Doctoral Students of Color Thrive," the event was organized by four Boston College School of Social Work (BCSSW) doctoral students under the guidance of Associate Professor and Assistant Dean of the Doctoral Program Margaret Lombe. Funding for the conference was provided by the Boston College Center for Teaching Excellence, whose mission supports instructors throughout their careers in order to foster engaging and inclusive learning environments for students.
"I am grateful to the Center for supporting this important seminar, to the student organizers for their enthusiasm and commitment, and to the professors who graciously gave of their time on a weekend to connect with students of color," said Lombe in her opening remarks. The BCSSW student organizers and Lombe designed the seminar to provide information and insights they consider critical to navigating the beginning stages of a post-doctoral career. Featured topics included: pursuing non-academic and academic tracks, finding and applying for grants, publishing, building classrooms as minority professors, and interviewing for and negotiating the terms of initial positions.
Conference organizer Abril Harris, PhD '21, said her motivation for organizing the conference stemmed from "an effort to bring a collectivist spirit to an often individualistic environment where information is guarded and monitored by those in power." Conference organizer Smitha Rao, PhD '21, saw it as an opportunity to build community: "Academia can be a lonely, difficult, and competitive place so it is good to make intentional spaces to network and share resources." For conference organizer Pooja Paul, PhD '21, practical support is essential. "Students of color need tips and tools to navigate academia," she said.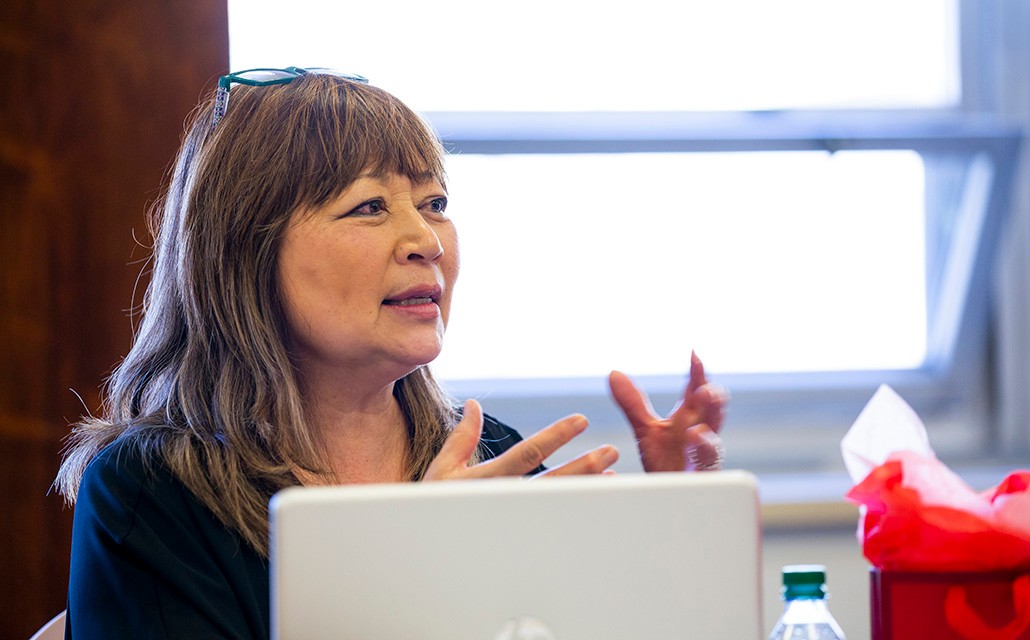 The seminar began with a presentation by career consultant Amy Yamashita, who advises doctoral candidates about managing their careers, including the job search process. Yamashita stressed the importance of students gaining clarity about their goals, actively adopting the role of CEO of their own careers—including assembling their personal board of directors and seeing their journey as a set of clusters, not a linear path. "Don't rely on one data point. You would never do that as a researcher, so don't with career guidance. Cultivate a network of support to help you succeed," said Yamashita.            
BCSSW Professor David Takeuchi, Dorothy Book Scholar and associate dean for research, followed with a presentation about navigating the job application process. His recommendations included completing as many job search tasks as possible during the summer, submitting applications as early as you can, focusing on preparing for job interviews, and being thorough in preparing one's "job talk." Takeuchi urged students to video job-talk practice runs in order to perfect their deliveries. He concluded his session with cautionary advice: "Don't forget to be absolutely honest with yourself as you work diligently during the search process. Be sure to ask yourself if the people, the university, and the location truly offer what you need professionally and personally."
In her session, Assistant Professor Jessica Shaw engaged students in an interactive activity to identify the classroom culture each aspires to shape, discussed the importance of making room for dissenting opinions within agreed upon ground rules, and highlighted the unique challenges professors of color face. "If you don't acknowledge up-front with your students the issues of race, gender, and sexual orientation," Shaw said, "you recreate a system of oppression by omission."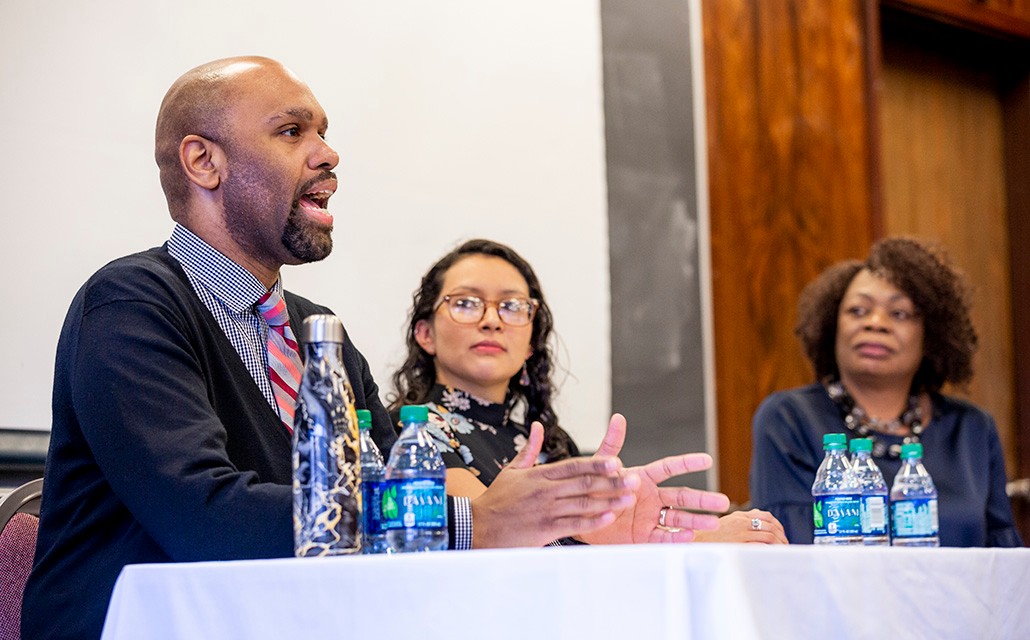 The seminar concluded with a panel session staffed by two BCSSW professors of color who recently navigated the academic job market: Assistant Professors Tyrone M. Parchment and María Piñeros-Leaño. The two stressed the importance of marketing and owning your professional experience prior to and during your doctoral education, scheduling informational interviews the year prior to entering the job market, knowing your market value as a candidate of color with a social work doctorate, tapping into personal networks for opportunities and advice, and negotiating aspects of the job offer—such as the anticipated amount of research funds or required teaching course load. "Deans know how hard it is to get faculty members of color in our field," said Parchment. Piñeros-Leaño advised the group to remain true to their academic and personal goals. "Honor your work and what you have to offer. Nobody is doing you a favor," she said.
Additional topics covered included: viewing networking as both a give and take exchange, creating a five-year personal plan, evaluating post-doctoral teaching and research opportunities, and adopting strategies for reducing stress. For Javier Martínez Reyes, PhD '20, an international social welfare student with double matriculation at BCSSW and Universidad Iberoamericana Ciudad De México, the Parchment and Piñeros-Leaño panel was key. "It's extremely helpful to listen to the actual experiences of recently appointed assistant professors, their processes, and their expectations," he said.
Fourth-year doctoral student at Boston University School of Social Work Mihoko Maru pointed to another shared benefit: "What I enjoyed the most was to be able to meet and share the space with other doctoral students of color. The field is predominantly racially white, so having these spaces is valuable."
Conference organizer Dale Dagar Maglalang, PhD '21, valued the support from BCSSW faculty throughout the event. "I appreciate that the BCSSW doctoral program is responding to the needs of first generation and/or students of color. In a field where we are largely underrepresented, I am thankful that we have champions like Dr. Lombe and the speakers who facilitated the workshops, investing their knowledge and time to help prepare the next generation of scholars. Moreover, it shows that the BCSSW doctoral program truly values and practices equity and inclusion."
Dr. Lombe and her team are already brainstorming follow-up seminar sessions with a focus on how to prepare a compelling job talk and how to build a research agenda as a junior scholar. "It is an honor to support the dreams of the next generation of minority scholars," she says.