Like many first-year MSW students, Rebecca (Becca) Wefald's fall was abuzz with classes, a field placement, and learning all about a new school and career path. For Wefald, however, it was also full of event planning and organization: October is Domestic Violence Awareness Month, and Wefald is a co-founder of the Survivor Leadership Collective (SLC).
The seed of what would become the SLC bloomed in 2016 when Wefald, a survivor of domestic and sexual violence, co-facilitated an art therapy workshop at the Center for Violence Prevention and Recovery (CVPR) at Beth Israel Deaconess Medical Center in Boston. "I discovered a love for visual art in my own recovery at CVPR," says Wefald. "It was a way to represent my lived experience and the traumas that were unspeakable." She and a CVPR social worker developed a workshop curriculum in which participants transformed purses and bags into representations of their burdens. "What We Carry/On Our Shoulders" was displayed, along with previous works by Wefald, for a week at Beth Israel Deaconess Medical Center.
She and a workshop participant, Cynda,* found themselves in continuing discussions about the scarcity of post-recovery resources. "Survivors face systemic oppression as well as disadvantages that are very difficult to overcome without assistance," explains Wefald. They started sketching out the basic concepts of what a new organization could provide, and met with CVPR staff members who had offered assistance and advice. "We wanted a space for survivors of domestic and sexual violence to find advocacy as well as access to career and skill development, training, and workshops," says Wefald. Shortly thereafter, they founded the Survivor Leadership Collective with financial and practical support from CVPR, and another group member from CVPR, Eve,* joined the new team.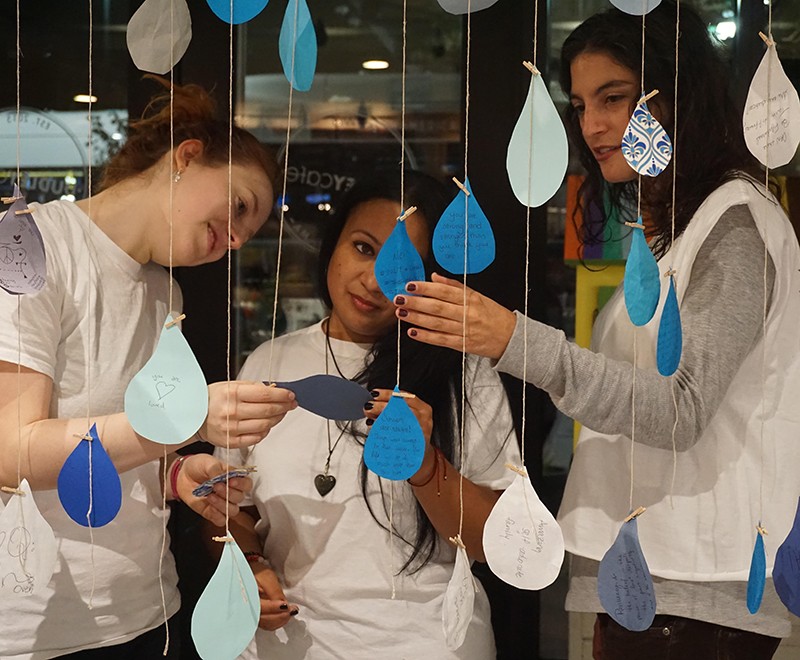 The following October, the SLC hosted two interactive community art exhibitions and open mic events. "A Veil of Tears," at the Dudley Cafe in Roxbury, featured colored paper teardrops hanging from the ceiling, each with the name and date of death of a Massachusetts victim of domestic violence. Participants wrote messages of encouragement to survivors on blank teardrops and attached them to hanging strings with mini clothespins. "People were adding names we had missed," recalls Wefald. "It was incredible to see people honoring their loved ones and so powerful to read the statements of solidarity and advocacy."
More workshops, open mic events, a spin class fundraiser, a website, new members, and a video followed. The video, "We Need You To Listen," was accepted into the American Public Health Association's (APHA) 2018 Global Public Health Film Festival. In November, Wefald traveled to the APHA annual conference in San Diego to represent the film and sit on a Q+A panel. Inspired by the experience, Wefald now wants to make a documentary for medical professionals who might encounter patients with a history of trauma. "I'm interested in looking at medical school curricula and how much time, or lack thereof, is spent on this subject. I want to interview doctors and social workers, collect data and research, and explore best practices," she says.
Add classes and a field placement with Tufts University Counseling and Mental Health Services, and one wonders how Wefald makes it all work. "Organization, advance planning, and teamwork," she says with a smile. "It's my passion so I just fit it all in somehow." Wefald's experience at the SLC also supports her learning. Just as she had volunteered to design an organizational chart for the SLC, she learned about the concepts behind them in Basic Macro Skills. "It's been an incredibly useful class; I can directly apply the lessons to what I'm doing right now," explains Wefald.
Wefald is excited—and determined—to grow the organization, to grow as a social worker, and to build transformative social justice through the intersection of art and macro social work. "It's been an incredible journey to make these connections and collaborations," she says. "It's been astonishing that a few determined people can do so much. I can't wait to see where we go, what new members will bring to the organization, and what future projects, documentaries, events, collaborations, and partnerships are next. I'm just really excited."
*Last name omitted to maintain confidentiality.