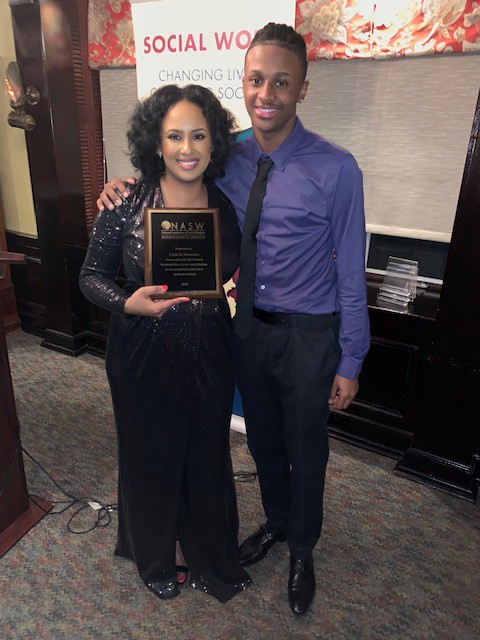 When Carla Monteiro, MSW '19, learned that she won the 2019 Future of Social Work Award from the Massachusetts Chapter of the National Association of Social Workers, which recognizes the contributions of an exceptional social work student in the Commonwealth, she allowed herself a rare moment of quiet and found herself in tears. "I never live in the moment, I'm always looking at what I should do next," says Monteiro. "Getting this award finally made me stop and realize that I had actually accomplished many of my goals. I finally felt proud of myself."
Nearly 20 years ago, as a new single mother, Monteiro put aside her dream of an advanced degree. She raised her son, supported her family, and bought a home in Dorchester. Along the way, she nurtured aspirations for a career as a police officer while working in various roles at a major telecommunications company, rising through the ranks to become a manager. Anticipating a round of layoffs in the spring of 2013, Monteiro, amid an extensive home renovation project, transferred work locations and applied and was accepted to the Boston Police Academy. She left her job and began her police academy training. Soon, however, Monteiro experienced creeping anxiety that manifested in an acute episode.
With the help of a therapist and the support of her son, mother, and fiancé, Monteiro realized that the combined stress of a job change, home renovations, and police academy training had been too much. "It was a pivotal moment, getting into the career I always wanted and then falling apart. But that experience made me think about the field of mental health, and I decided to go back to school," says Monteiro.
The following spring, she was on the Quincy College stage as a student commencement speaker, receiving her associate's degree in human services, magna cum laude, as well as a certificate in substance abuse counseling. She next enrolled in Bridgewater State University to pursue a bachelor's degree in social work, and graduated magna cum laude in 2017.
Monteiro is currently enrolled in BCSSW's accelerated 12-month Advanced Standing Program in clinical social work and set to receive her MSW in May, making her not only a first-generation college graduate but also the first in her family to earn a master's degree. By day, she works as a full-time clinical transition specialist at the Brigham Health Bridge Clinic at Boston's Brigham and Women's Hospital, where she helps clients transition to the next step of their substance use treatment plan. She has managed to conduct both of her field placements at Brigham and Women's, which has made all the difference in managing them with a 40-hour work week, since each clinical placement requires a 24-hour weekly commitment.
She is matter of fact about her intense schedule as she describes a typical week. "The Advanced Standing Program is a full-time program. I go to school nights after a full day at either my job or my field placement. And my field placement is three days per week, totaling 24 hours. My managers have been very flexible in allowing me to work evening and weekend shifts to ensure I complete my 40-hour work week on top of my placement."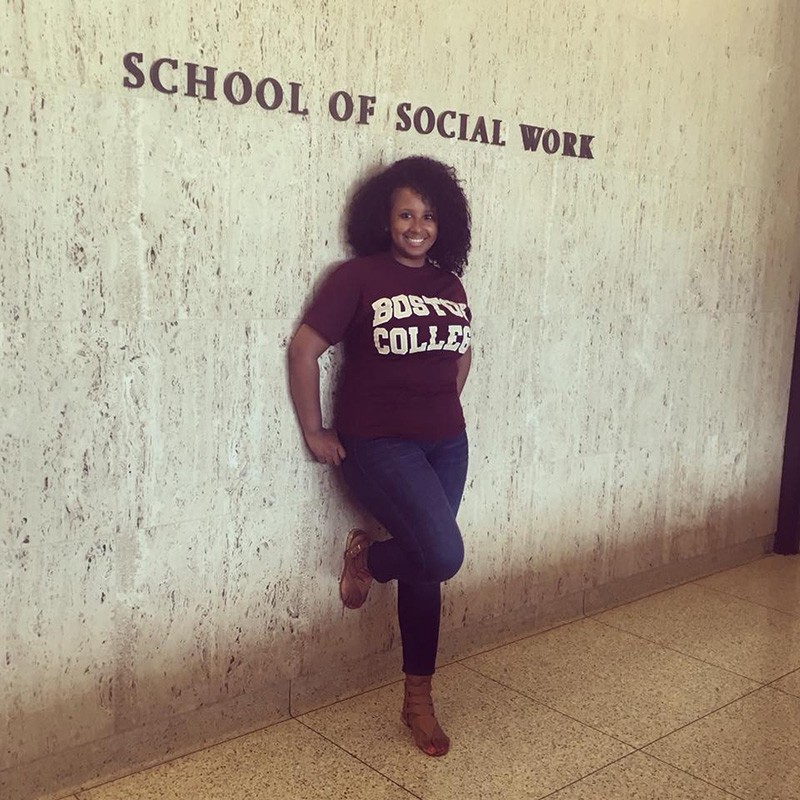 In her summer field placement with the neurology department, Monteiro worked with patients experiencing dementia and non-epileptic seizures. Her supervisor, Jeff Robbins, a clinical social worker and lecturer at Brigham and Women's, co-nominated Monteiro for the NASW award with Christin Price, director of the Bridge Clinic. "It isn't usual for a supervisor to have a student who has as much to teach as she has to learn," says Robbins. "Carla's commitment to being an advocate for the underserved and disenfranchised is unparalleled. It has been an honor and a privilege to know and work with her." Price concurs: "In my nine years as a physician, Carla is on path to rank in the top 1 percent of social workers I have ever had the pleasure of working with."
Monteiro's current field placement in Brigham and Women's emergency department is exposing her to patients with a wide range of traumas and associated mental health issues, and she is grateful to be paired with experienced social workers. "I'm learning so much about ED work, gaining new skills, and discovering coping mechanisms for the intense emotions that come from helping families through such extreme trauma," says Monteiro.
Add in classes, any lectures or workshops that she can squeeze in, and her family, and you might think Monteiro has enough on her plate. And yet last year, she established the Cape Verdean Social Workers Association to educate her community about mental health conditions and connect individuals with licensed clinicians.
"Our culture does not talk about mental health. Initially, I didn't know how to explain my own experience with anxiety, so I want to educate my community and help future generations," says Monteiro. She has recruited a dedicated group of social workers, community police officers, and nurses, and together they are deciding how to best combine their knowledge and resources. She credits her program evaluation curriculum at BCSSW with giving her the expertise to advance this initiative.
"I've wanted to do this based on my own experiences with mental health, but needed to learn more about how nonprofits worked," Monteiro says. "At BC, I'm learning all about philanthropy and social work and mental health policy, so it's been extremely helpful."
On track to complete her third degree in four years, Monteiro is already considering adding another. "I'm always trying to get to the next step, so I'm thinking about a PhD," she says. For now, though, she's excited about advancing to a new role as an addiction social worker at the Bridge Clinic following graduation. "Carla was doing such a fabulous job in her current role that when the social worker position became available, I knew she would be a perfect fit once she graduates and obtains her LCSW," says Price.
She also looks forward to some time to focus on her personal life. "I've been engaged for three years, so I need to get married finally," she says with a laugh. And without skipping a beat, she adds, "I want to explore how to translate my volunteer counseling practice into Creole. How do you conduct Cognitive Behavioral Therapy in Creole? I don't know. It'll be a long process, but I'm excited."