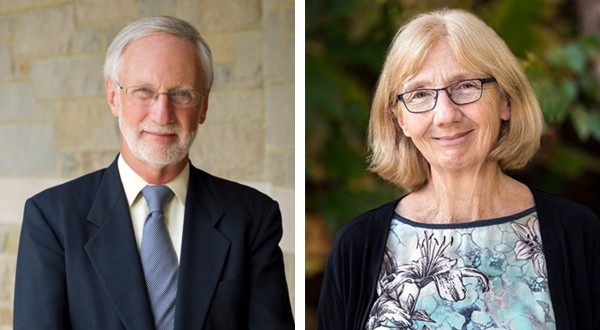 Boston College School of Social Work (BCSSW) Professor Emeritus and Founding Director of the National Resource Center For Participant-Directed Services (NRCPDS) Kevin J. Mahoney and Boston College Connell School of Nursing (CSON) Associate Professor and Department Chair Ellen K. Mahoney are key contributors to the Journal of Gerontological Social Work Special Issue on Self-Direction in Long-Term Services and Supports published by Taylor and Francis in March.
Kevin Mahoney is the guest editor of the issue, lead author on one article, and a co-author of all six articles within; Ellen Mahoney is the first author of three of the articles. The Mahoney siblings have been frequent research collaborators, including their study of the self-directed care model—an alternative model that promotes personal choice and control of who provides services and how those services are provided to people with disabilities. "Interdisciplinary research and partnerships are pivotal to solving the complex problems society faces," says BCSSW Dean Gautam N. Yadama. "This collaboration between the BC School of Social Work and Connell School of Nursing is a perfect example."  
The Special Issue showcases recent BC-driven research of home and community supports for people with disabilities approximately ten years after the results of The Cash and Counseling Demonstration and Evaluation (CCDE), a seminal study of 6,700 Americans in three states using self-directed services, was published and now that more than a million Americans in all 50 states are self-directing their long-term services.
"I am excited that this special issue has the potential to change policies and practices as well as the education of future social workers," says Kevin Mahoney. "I am working to make sure it reaches people who can use it to improve supports for people with disabilities and make the self-direction option available more widely."
Demand for the issue is already high. Various foundations, including the Retirement Research Foundation and federal agencies led by the Administration for Community Living, are sharing the articles, buying open access, or requesting copies. Ellen Mahoney adds, "The research presented expands the popular concept of person-centered care to include family centered care to populations dealing with disabilities. This promising new emphasis is being utilized by AARP Public Policy Institute and the Family Support Research and Training Center."
The Special Issue includes findings on unmet needs even among those who can manage their own budgets; participants' and caregivers' opinions on the types of support broker activities that help (or hurt); and the results of a project to develop modules for training future social workers on person-centered planning and participant direction involving the Council of Social Work Education and nine schools of social work.
"Ellen Mahoney's research featured in this issue on this important and emerging care model exemplifies our school's commitment to preparing nurse leaders with the expertise and proficiency to change health care," says CSON Dean and Professor Susan Gennaro.
Undergraduate and graduate students from both BCSSW and CSON worked with the two professors and are also co-authors of the special issue articles. "It was a wonderful opportunity to have students learn from one another and engage in research to make a difference, says Ellen Mahoney. "The power of story is compelling. People living with disabilities and their caregivers shared their experiences dealing with extraordinary challenges. They want their stories to help others."
Kevin Mahoney is known for his translational research linking research and practice, specifically on participant direction of home and community-based services and supports for people with disabilities, and financing of long-term care. He founded and has served as Director of the National Resource Center for Participant-Directed Services (NRCPDS) since its inception in 2009. In 2012, he was selected as a Fellow by the board of the American Academy of Social Work and Social Welfare (AASWSW) for his distinguished accomplishments and dedication to social work.
Ellen Mahoney focuses her extensive research on promoting quality of life and quality of services and supports for individuals living with chronic illness or disability and their family caregivers and in developing and evaluating innovative interventions to improve outcomes and impact practice and policy. She has co-authored numerous research articles and in 2004 received the Outstanding Alumna Award from University of Pennsylvania School of Nursing.