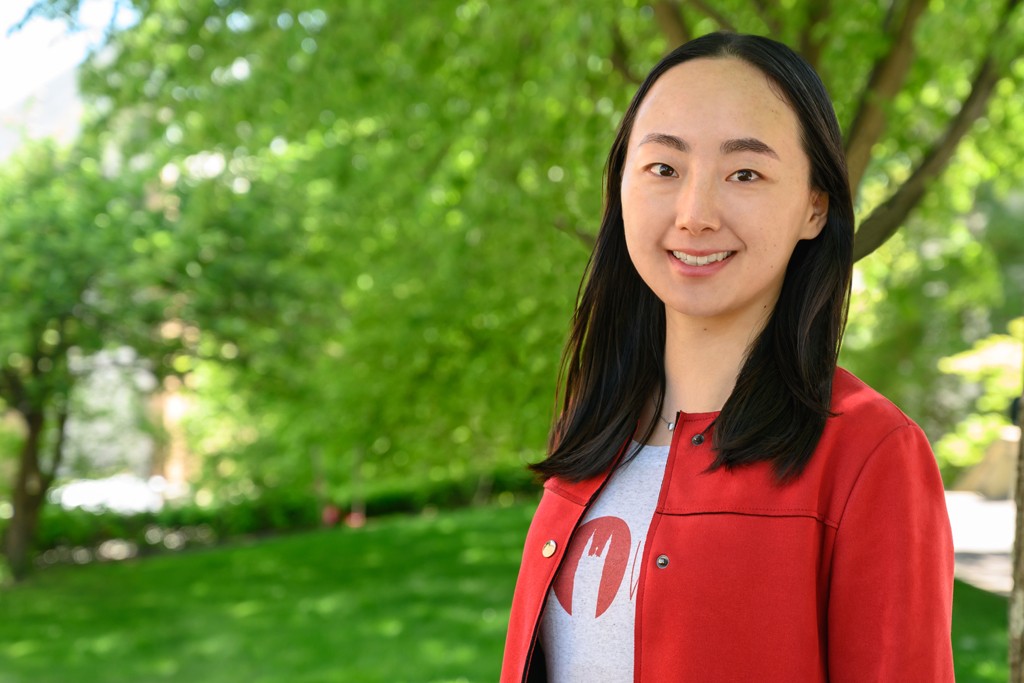 Wendan Xiao, MSW '19, had had enough of economics after earning a bachelor's degree in it at Beijing Information Science & Technology University. "Actually, I'm not that into math," she says with a laugh. "For graduate study, I decided I'd rather focus on humanistic subjects than more mathematics."
What sparked her interest in social work was an internship at New Citizen Program (NCP), a nonprofit that promotes equitable education and well-being for Chinese migrant children. Beijing, a city of 21.5 million, erects barriers to citizenship, denying migrants access to some city services, including public schools. In consequence, millions of children who live in the city but are originally from mostly rural Chinese provinces attend generally inferior private schools.
During her NCP internship, Xiao supported teachers who sought to improve the quality of Beijing's schools for migrants. "The work," says Xiao, "clarified my goals to help advocate for education and wellness for migrant children in China."
When researching graduate social work programs in the U.S., something about Boston College reminded her of her junior year of undergraduate study as a visiting student at University College Cork in Ireland. "It had a familiar feel," she says.
Coming to the Heights in fall 2017, Xiao chose BCSSW's Children, Youth, and Families field of practice, although she doesn't limit herself to those categories. "As a macro social worker, I'm very interested in policy," she says. "A policy design cannot just cover one population; you have to think about the bigger picture, of the whole society."
In fact, Xiao worked with adults and older adults in two different field placements. Her second-year internship was at Inquilinos Boricuas en Acción (IBA), the community development corporation of the Villa Victoria housing development in Boston's South End. "The community work is huge and complex, because residents have diverse needs and many are underserved and underrepresented," says Xiao.
While Villa Victoria is known as a tight-knit Puerto Rican community, it hosts a growing Asian population. So Xiao's supervisors in resident services were lucky to have her there in many meetings. In one case, she helped a woman navigate the affordable housing system, although the outcome was still up in the air at the end of Xiao's time at IBA. That experience was an up-close lesson in how policies designed broadly can fail individuals.
"She was suffering from domestic violence, and we were helping her find a safer place to live. We almost had an apartment set up for her," but it was contingent on the salary she was making in her longtime job at a hotel. Yet "with age, working in the hotel is very tiring for her," Xiao relates. The woman told Xiao she hoped to get a relatively less strenuous job in a restaurant, but since she would be starting over, that might pay less. "And then she wouldn't qualify for this apartment."
It was in Xiao's previous placement that a specific career goal coalesced. She interned at the Riverside Community Care Elliot House Clubhouse, an employment and recovery center in Needham.
"The Clubhouse is a significant model, and an international model," says Xiao. "The focus is on providing a safe environment for adults and older adults with mental illness, where they can have recreation, learn life skills, and find employment and a meaningful life."
Clubhouse participants are referred to as "members," not "patients" or even "clients." Xiao supported staff as they helped members regain confidence in their own ability to work, in fields ranging from data entry to food services to newsletter production. She participated in board meetings of the Massachusetts Clubhouse Coalition with her supervisor and helped facilitate the 2018 Annual Employment Celebration Event with Clubhouse staff.
There are a handful of Clubhouses in China, but Xiao would like to grow the model there, where she feels it's sorely needed. She hopes to find a job in government to help facilitate that growth. Not that she'll limit herself career-wise either. "Long-term goal, I hope to be a great leader and to make some systemic change and social impact in whatever setting it is where I can make the decisions."
Did the Boston College School of Social Work prepare her to pursue those goals?
"Definitely," Xiao says. "Learning social work has given me a broader view of topics which are most important to everyone's lives, such as education inequity, child abuse, domestic violence, criminal justice, health, and mental health. And more—hunger and immigration and migration, human rights. At least in China, we didn't learn or have enough awareness about these topics. And in business settings, people talk more about chasing the material side of life. They care less about the other side, people living under oppression. They don't pay much attention to inequity.
"After studying social work," Xiao continues, "you have the knowledge and skills to look at the larger picture of society from a holistic perspective, not just focus on your own individual life from a short-sighted perspective."