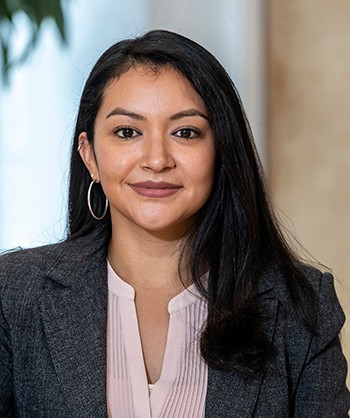 Boston College School of Social Work (BCSSW) Assistant Professor María Piñeros-Leaño is included among El Mundo Boston's Latino 30 Under 30, an annual roster of influential young Latino leaders who are making a difference in Massachusetts and the world.
El Mundo Boston, a Latino media outlet serving Boston and New England, describes the Latino 30 Under 30 as honoring "individuals making an impact on the Massachusetts Latino community in a variety of fields including, but not limited to, business, sports, community service, and fine arts. The list serves to highlight the growing and invaluable impact of the Latino community in Boston, the state, and world." Piñeros-Leaño is grateful for the recognition, and says, "being part of the Latino 30 Under 30 is a meaningful affirmation that the work I am doing to improve the well-being of Latinx communities is recognized by others as important."
Associate Professor and founding director of BCSSW's Latinx Leadership Initiative (LLI) Rocío Calvo nominated Piñeros-Leaño. "María joined the faculty in August 2018, and within a year she has already created long-lasting impact in the lives of her students, working closely with them in and outside of the classroom," says Calvo. "As a professor in the LLI, María is helping to prepare the next generation of social workers, the majority of whom are Latinx themselves, to understand the intricacies of human development and how many of the prevalent theories need to be revisited to fit within a more culturally diverse context."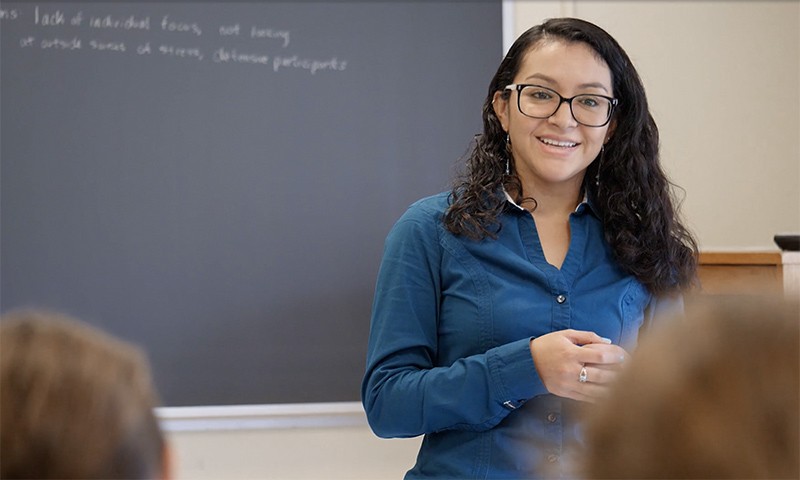 Piñeros-Leaño says the LLI was the most compelling reason behind her decision to join the BCSSW faculty. "Teaching a class in Spanish, my native language, is a dream for me," she says. "I was born in Bogotá, Colombia, and came to the U.S. with my family when I was 17 years old. My father was pursuing a master's degree at the University of Illinois at Urbana-Champaign. While my family returned to Colombia after two years, I stayed in the U.S. to attend college."
Piñeros-Leaño obtained her PhD, MSW, MPH, and BS from the University of Illinois at Urbana-Champaign. As a student, and to this day, she focuses on improving the lives of Latinx immigrant communities. Her scholarship aims to better understand the links between maternal mental health and child health. She is currently investigating the role of maternal depression on the development of childhood obesity among minority groups, and is also working on culturally adapting interventions for Latinx populations. She is co-principal investigator in a transnational study between the United States and Mexico that examines the repercussions of acculturation on the body weight of mothers and children.
Based on the success of programs she launched in Illinois with immigrant mothers as well as Latinx families, Piñeros-Leaño is working with social service agencies in East Boston to develop interventions to improve the mental health of children and families who have faced high levels of trauma from the migration experience. Her goal is to extend similar services to other predominantly Latinx communities in Massachusetts and abroad.
"I am excited to have launched a partnership between BCSSW and the Colombian Family Welfare Institute (CFWI) in Bogotá, Colombia," explains Piñeros-Leaño. "Working with Salem Professor in Global Practice and Director of the Research Program on Children and Adversity Theresa Betancourt and two undergraduate students—one at BC and one in Colombia—we are testing and implementing culturally adaptive interventions to improve the mental health outcomes of children and families who have been impacted by more than 50 years of civil war. We are also developing and setting up the infrastructure to place MSW Global Practice interns in Colombia."
A reception honoring the Latino 30 Under 30 is slated for November 9 at the Royale in Boston. Piñeros-Leaño will be joined at the reception by her parents—traveling from Colombia—BCSSW colleagues, including Rocío Calvo, LLI Assistant Director Ximena Soto, and many LLI students. "I am appreciative of having this group, especially my parents and students, share in my joy."