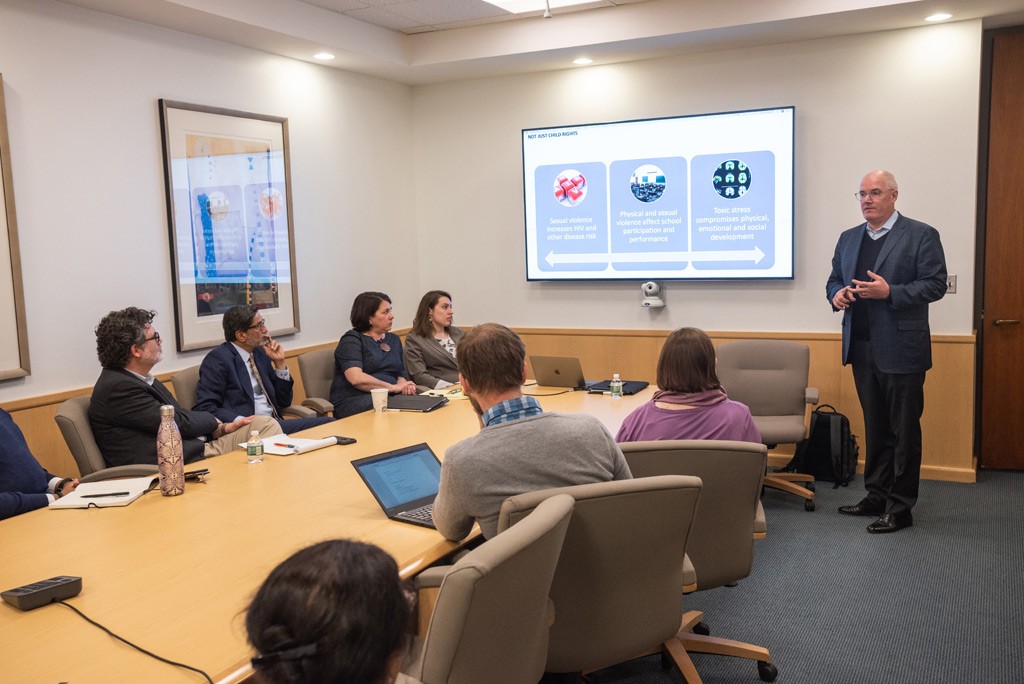 On April 29, Boston College School of Social Work (BCSSW) hosted a day of learning and affirmed a strategic partnership with a team from Maestral International, a global child protection consulting firm. President and Founder Philip Goldman and Senior Associate—and former BCSSW Global Field Advisor—Beth Bradford spoke to BCSSW faculty, administrators, and other members of the BC community about global trends in child protection; the challenges of delivering effective, sustainable care; and how social work practice is becoming a crucial part of those efforts.
Goldman discussed the systemic issues affecting a lack of funding and effective investment for children and families in the international development dialogue. "Families are a defining part of who we are and how we develop as societies. That translates into kinship networks and how communities are formally and informally governed. Families have to be understood if we're to be effective."
However, he says the protection of children and family strengthening have received neither the attention nor funding they need, partly owing to the international development community's perception of them being solely the responsibility of human-rights based relief organizations. "These agencies are fragmented and under-resourced," says Goldman, making progress very difficult to achieve.
Goldman says that view is beginning to change as arguments about the importance of child protection, family strengthening, and human capital are resonating with governments and other stakeholders. Holistic thinking and the skills of social workers, he says, are gaining traction as essential components in developing the expertise necessary for responding to today's global demands. "We try to think multi-sectorally—social welfare, education, health, justice—a comprehensive and coordinated response to child protection. Social work, says Goldman, "is the best place to develop linkages with other sectors. There are not enough experts in social welfare, child protection, child welfare, and family strengthening. It's decades too late, but agencies are starting to understand that their capacities have to be built up."
Bradford spoke about family-based care and described the Changing the Way We Care initiative, a partnership between Catholic Relief Services, Lumos, and Maestral, which received $15 million as a finalist in the MacArthur Foundation's 100&Change Competition. (BCSSW Dean Gautam N. Yadama is a member of the initiative's advisory board.) The organization is working to shift perceptions, funding, and policies away from the institutional care of children and toward family-based care environments.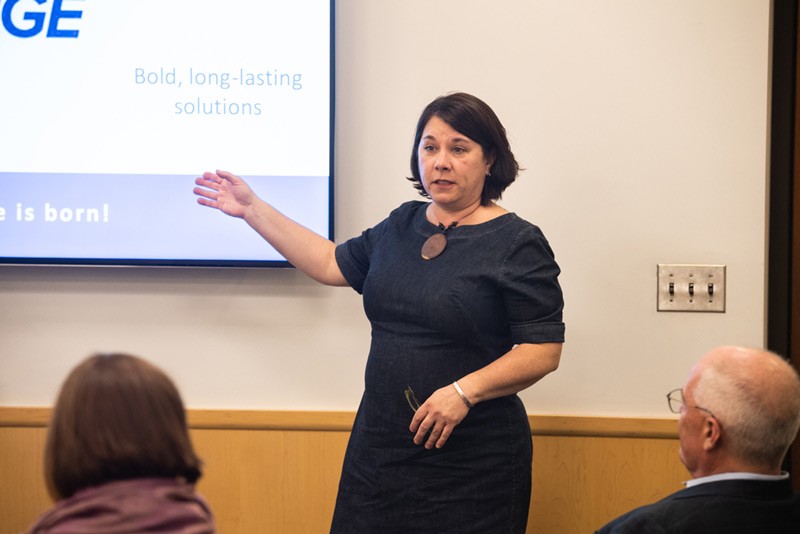 "Families want to care for their children," said Bradford. "We have to get at why they aren't getting the internal and external resources they need.
"Eighty to 90 percent of children living in residential institutions have at least one living parent," she continued. "That goes up to 96 to 97 percent if we look at living relatives. More than 80 years of research shows that care for children outside of families negatively impacts their development. Even with that research, there are many countries around the world where institutions are the primary model of protection and care for children."
Bradford echoed Goldman's assertion that global trends are shifting toward a system-based approach. "We're seeing more talk about how to best support a whole system, integrating health, education, child protection, family strengthening, and preventing children from entering institutional systems while working to bring them out."
Following the presentation, Goldman and Bradford took questions from the attendees and opened the conversation to a broader discussion of the challenges in supporting international, family-based care initiatives and opportunities for multi-sector collaboration to affect substantial change.
The day closed with conversations about strengthening and growing the collaboration between Maestral and BCSSW, first formalized in 2014 with a Memorandum of Understanding (MOU), which describes a robust partnership that calls for joint research, the development and implementation of projects of mutual interest, and the creation of new training opportunities for BCSSW students. The MOU also calls for initiating a forum for the exchange of academic- and field-based expertise among BCSSW faculty, staff, and students and Maestral's associates and advisors.
BCSSW's renewed partnership with Maestral directly aligns with the school's strategic aims to strengthen existing partnerships and develop new alliances with communities, government agencies, NGOs, and for-profit organizations to develop, adapt, and implement evidence-based interventions and to build and disseminate research expertise and knowledge.
Photos by Christopher Soldt.