On April 25, Associate Professor of Clinical Practice Kerry Mitchell welcomed the Boston Bulldogs Running Club—a non-profit that provides a community of support for people adversely affected by addiction—and Boston Bulldogs President and Founder Mike Ferullo, MSW '82, to his class, "Advanced Clinical Skills with Adults: Assessment, Intervention, and Evidence-Based Practice." Mitchell coordinated the visit to correspond with his unit on substance abuse.
"I believe the best way to teach clinical practice is to show examples from my own clinical practice," says Mitchell. In his practice, he often refers patients who are dealing with addiction or have a family member struggling with it to Ferullo, a clinical social worker who specializes in treating individuals and families coping with addiction.
Ferullo's personal struggle with addiction began when he was 15 years old. He credits running and the support of a community of runners as central to his own recovery and continued wellness. "Running is all about showing up and sticking with it, self-leadership principles. And then, there's the authentic connection to others in the group as well as to ourselves," says Ferullo. "People heal when they feel safe, supported, and non-judged. And that's how we operate."
Runner's World, the go-to monthly magazine for all things related to running, recently profiled "Coach," the moniker given to Ferullo by Boston Bulldogs members, and described how he incorporates running into his approach to wellness. "Addicts gravitate to something that feels good immediately, so I tell them 'go on a run instead.'"
Mitchell invited the Boston Bulldogs to speak to his class with a specific aim in mind. "As a teacher," he says, "it is important to me that the substance abuse segment of my course is impactful. While social work professionals value evidence-based interventions, I want my students to see a successful program at the case study level of evidence. Fifteen years from now, the positive role of running in recovery will likely be considered best-practice."
The Boston Bulldogs host weekly group runs in Chestnut Hill, Plymouth, Scituate, and South Boston for runners of all levels—from first-timers to those who have completed marathons. Participants include people struggling with addiction and who are in recovery, their family and friends, and members of the clinical community.
The club's integrated approach to wellness is based upon the principles of self-leadership, transparency, and giving back. It offers running buddies, wellness mentors, and a Full Circle Program for members who want to set wellness goals and mentor others.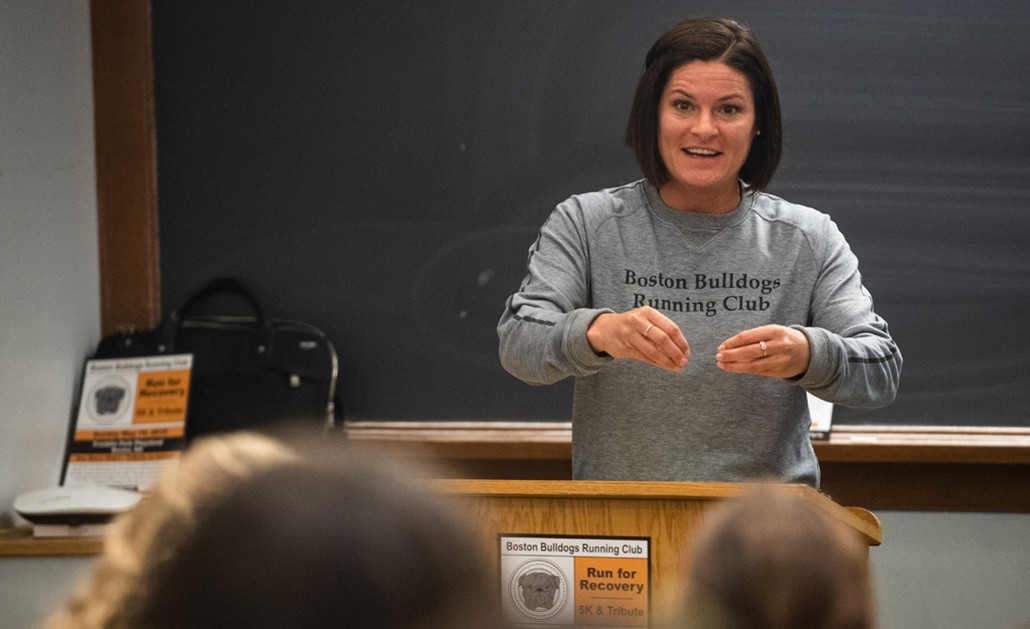 Four Full Circle members accompanied Ferullo to BC and spoke earnestly to Mitchell's class about the life-changing support Boston Bulldogs provides members on their journey to recovery. "I started with pot, went to cocaine, then ecstasy, and ended up on heroin. I dropped out of college, couldn't reach a goal," says one Full Circle member. "Now I am part of a community of people who want something better in their lives, a community that has helped me transform. My first time running with the Bulldogs, a guy stayed shoulder to shoulder with me as I jogged around the reservoir. I subsequently learned that he was a marathon runner, but he never showed it."
"Our goal is to take this organization to a new level so that more people around the country struggling with addiction can turn their lives around using our approach," says Ferullo. "For that to happen we know we need to have research-based documented proof. And that takes time and money."
Ferullo ended his presentation by thanking the BCSSW students for their time, remarking on his own affinity for the University. "I love Boston College. They took a chance on me, a high-school dropout. They believed in me and gave me a shot. I am really happy to be able to give back to the BC community. And I hope to see fellow Eagles at our annual 5K fundraiser on May 19 in Franklin Park."
Learn more about the Boston Bulldogs Run for Recovery 5K & Tribute event.
Photos by Chris Soldt.