This fall, the Boston College School of Social Work welcomes three new faculty members: Kirsten K. Davison, who works closely with underserved children and their families to build healthy lifestyle habits; Alethea Desrosiers, who is working to scale up employment programs for youth in Sierra Leone; and Alejandro Olayo-Méndez, S.J., whose research and teaching focus on Mexico-U.S. migration and the lived experience of asylum seekers.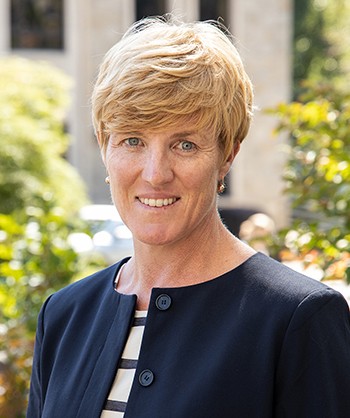 Kirsten K. Davison
Donahue and DiFelice Endowed Chair
Associate Dean for Research
Kirsten Davison comes to BCSSW from the Harvard T.H. Chan School of Public Health, where she was the Donald and Sue Pritzker Associate Professor of Nutrition and Social and Behavioral Sciences from 2011–2019. At BCSSW, she holds the Donahue and DiFelice Endowed Chair and is the new Associate Dean for Research. Kirsten directs a research program focused on parenting and child health outcomes with a focus on underserved families in a domestic setting. It currently includes three NIH-funded investigations: a study testing the efficacy of a childhood obesity preventative intervention for low-income families implemented by Head Start, a national study examining the role of fathers in childhood obesity prevention, and a study examining the links between sleep and growth in children from birth to age two. Davison earned her PhD in Human Development and Family Studies at Penn State University and has extensive experience leading transdisciplinary postgraduate training programs and mentoring undergraduate, graduate, and doctoral students.

Alethea Desrosiers
Research Assistant Professor
Alethea Desrosiers's extensive research and clinical work has focused on delivering evidence-based mental health interventions to underserved youth in the U.S. and in regions as far ranging as Africa, East Asia, Russia, and the Middle East. She brings her expertise to BCSSW's Research Program on Children and Adversity (RPCA), where she is co-leading, with Salem Professor in Global Practice Theresa Betancourt, an NIMH-funded trial called Youth FORWARD, which endeavors to scale up cognitive behavioral therapy-based interventions in the context of employment promotion programs for at-risk youth in Sierra Leone. Desrosiers's other current research interests include implementation science research methods and applying user-centered design to the development of evidence-based mental health interventions. As a consultant to the World Health Organization, she is collaborating to improve well-being and sexual and reproductive health service usage among young, female Syrian refugees in the Middle East. Prior to her research appointment at the RPCA, she held visiting scholar positions at Boston College and the Harvard T.H. Chan School of Public Health, and worked as an associate research scientist at Yale University. A licensed psychologist with extensive clinical practice experience, Desrosiers received a PhD in Clinical Psychology from Columbia University.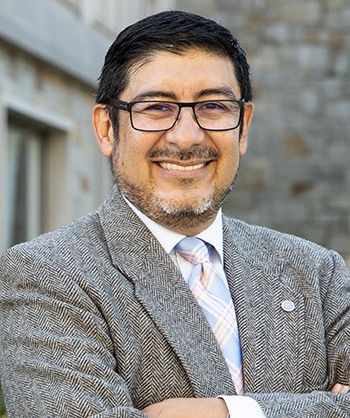 Alejandro Olayo-Méndez, S.J.
Assistant Professor
Alejandro Olayo-Méndez, S.J., recently completed his DPhil in International Development at the University of Oxford, where his research project focused on the lived experience of migrants in Mexico and their interactions with aid organizations. His expertise on this timely issue grew out of his commitment to social justice and his professional experience counseling immigrant families while working for Jesuit Refugee Service in India and Colombia, and conducting ethnographic research along the Mexico-U.S. migration corridor for Jesuit Service to Migrants. At BCSSW, he is expanding his research to study the implications of the United States' Migration Protection Protocols and humanitarian interventions for asylum seekers waiting at the border between Mexico and the U.S. as well as the effects of these policies on Mexican border communities. This fall, he is teaching a course called Migrant and Refugee Issues. For Olayo-Méndez, this is a homecoming of sorts: prior to pursuing his doctorate, he earned an M.Div. and an STL at Boston College's School of Theology and Ministry as well as an MSW from Loyola University Chicago.