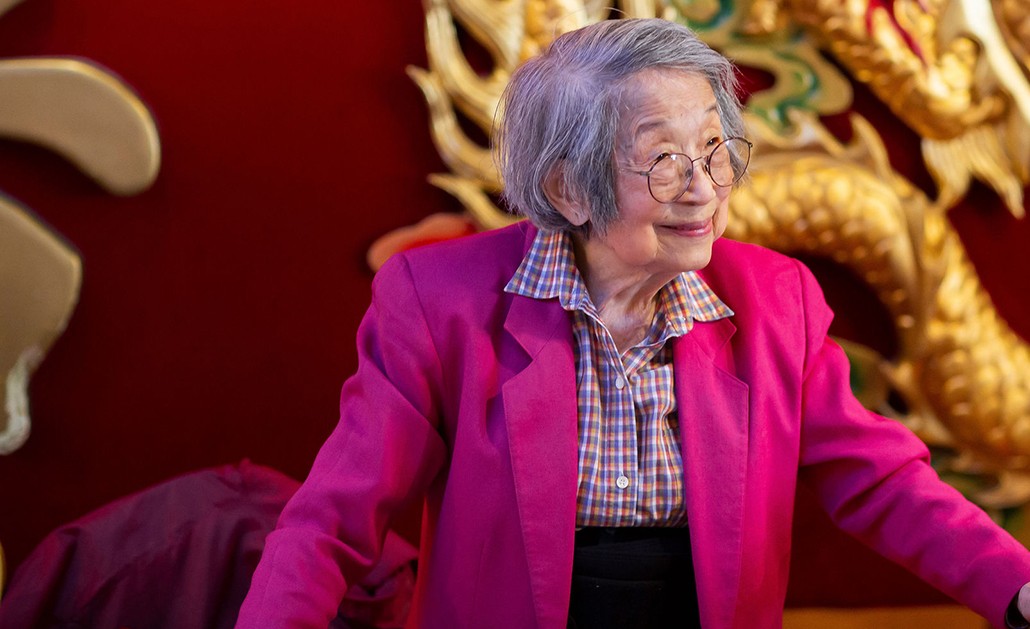 On a raw spring day, Amy Chin Guen, MSW '52, H '17, arrives, cane tapping, past a noisy construction site and into the lunchtime clatter of the Hei La Moon, a sprawling dim sum restaurant a block from Boston's Chinatown Gate. She makes her way to a far table, weaving by waitstaff pushing steam carts of dumplings, chicken feet, dim sum, and buns.
Guen is there to meet Boston College School of Social Work (BCSSW) Dean and Professor Gautam N. Yadama, who has helped her to organize a lunch with current BCSSW students, a recent BCSSW alumna, and several other social workers working in Chinatown. The topic of the gathering: Guen's pioneering career as a social worker and activist and the evolving needs of the city's Chinese American community.
"I like to hear what the young people are doing," says the 95-year-old Guen, taking a seat along a wall dominated by golden Chinese calligraphy characters, which translate to "blessing," "longevity," and "prosperity." She pulls her BCSSW graduation class photo from her tote bag and shares it with the students as they arrive. "We had 46 students," Guen tells them, "but only 39 graduated."
Sixty-seven years later, Guen is a well-recognized and deeply respected figure in Chinatown, where her family has lived since 1885. Known as "Auntie Amy" in the community, she has fought for culturally and linguistically sensitive health care and advocated for the betterment of the neighborhood. In 2016, Guen was honored with the Chinese Historical Society of New England's Sojourner Award for her contributions to improving health care in Chinatown; a year later, she received an honorary doctorate from Boston College in recognition of her community activism.
Yadama, who speaks often with Guen, tells the group their hope is that attendees will enjoy "good dim sum and good conversation." Around the table are Jenny Chiang, MSW '17, who specialized in macro social work and is now the executive director of the Massachusetts Asian American Commission, and three clinical students: Muling Cai, MSW '19, and Xiyue (Leslie) Zhai, MSW '20, recent interns at the Boston Chinatown Neighborhood Center, and Hannah Fitzsimons, MSW '20, who interned at the Josiah Quincy Upper School, a Boston Public School in Chinatown.
Rounding out the group are Agatha Tong, MSW '93, social worker and field placement supervisor at the Josiah Quincy; Mary Chin, chief executive officer of the Asian American Civic Association; and Perrie Mo, Asian program coordinator and hospice social worker for Good Shepherd Community Care in Newton.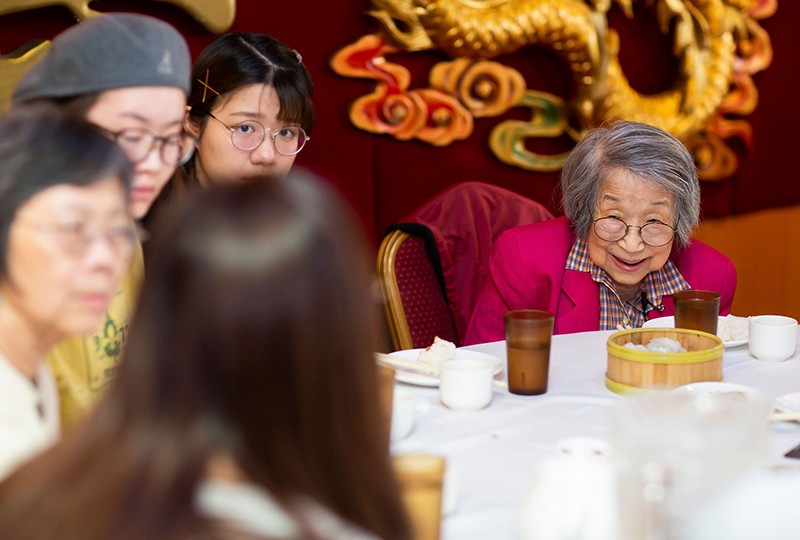 Over baskets of dumplings and pots of tea, Guen opens the conversation by speaking about the very different education that social workers received in the 1950s at Boston College. A medical social work major—one of four concentrations offered then—she explains how Boston's many hospitals frequently doubled as BCSSW's classrooms. Her weekly four-hour Medical Information course, for example, was held at the Peter Bent Brigham Hospital (now Brigham and Women's) and taught by a professor who was a medical doctor. Students had to understand, she adds, "the social implications" of different diagnoses such as cancer, stroke, and heart disease—not only for patients but also for each family member involved in the patient's care. A similarly structured course, Psychiatric Information, took place at Boston State Hospital, a psychiatric facility.
As part of these courses, Guen reports, students were rigorously trained in interviewing methods. While the professor and a multidisciplinary team interviewed patients at the bedside or in the clinic, the students observed and took notes. "Knowing how to use information," she says, "was very important in my BC days."
Guen completed her field placements at Catholic Charities of Boston and Massachusetts Memorial Hospital (now Boston Medical Center), where she handled cases across different medical specialties.
Yet not all social workers entered the field with the same preparation. "Many people," she says, "only had a high school certificate." As a member of the first social work licensing committee in Massachusetts in the early 1970s, Guen worked with the state legislature to better define the profession and to establish clinical practice requirements. After seven years, she says, "we finally negotiated." The state created three social work licenses based on education level, including a "case aide" license for professionals with associate degrees.
While director of social service at Youville Hospital in Cambridge (now Spaulding Hospital), where she worked for 22 years, Guen also served on the board of New England Medical Center (now Tufts Medical Center)—a role that proved pivotal for her most visible accomplishments. Fluent in English, Cantonese, Mandarin, and Toisanese, she implored the hospital to hire Chinese-speaking health care professionals—"social workers, nurses, anybody," she says—to better serve the needs of patients in nearby Chinatown. At the same time, she gained extensive knowledge of hospital management; so much so that she decided, with civil rights attorney and activist Caroline Chang, who also grew up in Chinatown, to join a task force forming to build a new health center for the community.
In 1973, Guen and Chang co-founded the South Cove Community Health Center on South Street, where it still stands, just around the corner from the Hei La Moon. For the first time, residents of Chinatown could receive health care from providers who knew their language and culture. Today, South Cove runs five clinics and an after-school program in the Greater Boston area, serving approximately 32,000 people annually, according to its website. It is the largest Asian community health center in Massachusetts.
"This is what you can do when you get into the board level," Guen tells the group.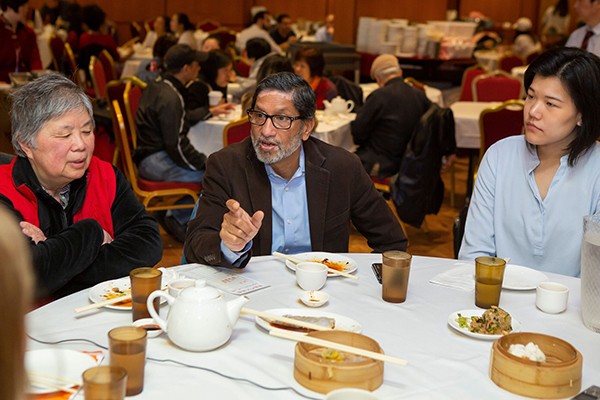 In the next decade, Guen oversaw the construction of South Cove Manor, a nursing home designed to serve Chinese-speaking elders who at the time had no other long-term care options in Boston. It, too, took years to establish—Guen reports that seven years of fundraising passed before her team could even break ground. "A lot of people gave up and did not want to support my dream anymore," she says. Yet the facility finally opened in 1985 on 120 Shawmut Avenue. Five years ago, it moved to a new $33.7 million building in Quincy Point, which U.S. census data indicates has the largest population of Asian residents in the state.  
A graduate of Regis College, Guen was also involved in the establishment of several nonprofits, including the Chinese American Civic Association (now the Asian American Civic Association) and the Greater Boston Chinese Golden Age Center, which offers a range of programs and services to the area's elderly Asian community. In addition, she became an early advocate for hospice care in Massachusetts.
Guen's experience sparks a range of conversation topics among the group—the current state of bilingual social work, the need to increase voter turnout in Chinatown, the ongoing struggle to define social work's role on multidisciplinary teams. BCSSW students Cai, who is from the city of Changsha in Hunan province, and Zhai, who grew up in Beijing, also talk about the different approach to social work in China, where, says Zhai, "the focus is more on social welfare."
Threaded throughout the discussion is an emphasis on the importance of on-the-ground community organizing and activism as well as macro social work—which Yadama describes as "the roots of our profession." Guen, for instance, speaks of trying to better engage state legislators who attend festivals in Chinatown but not community meetings. She and Chin are also working with the City of Boston to improve the cleanliness of the neighborhood's streets.
"We have to mobilize ourselves and make our own changes," says Chin, prompting a nod and smile from Guen across the table. "It's up to us. Amy's been doing this her whole life and now it's becoming my whole life."
While the group finishes dessert, Guen asks Chin to hand out the latest issue of Sampan, the bilingual Chinese American newspaper that the Asian American Civic Association has published since 1972. Chin has brought a stack at Guen's request.
"You should be so proud that you chose the right profession," says Guen to the group. "Once you become a social worker, there is plenty of work for you to do."
As if to illustrate this point, Guen is not done for the day. Several lunch attendees join her for the two-block walk to the South Cove Community Health Center for a presentation by Catherine Vuky, director of the center's behavioral health services. Past a beeping dump truck, over plywood boards and broken sidewalk, and around orange traffic cones, Guen leads the way, cane tapping.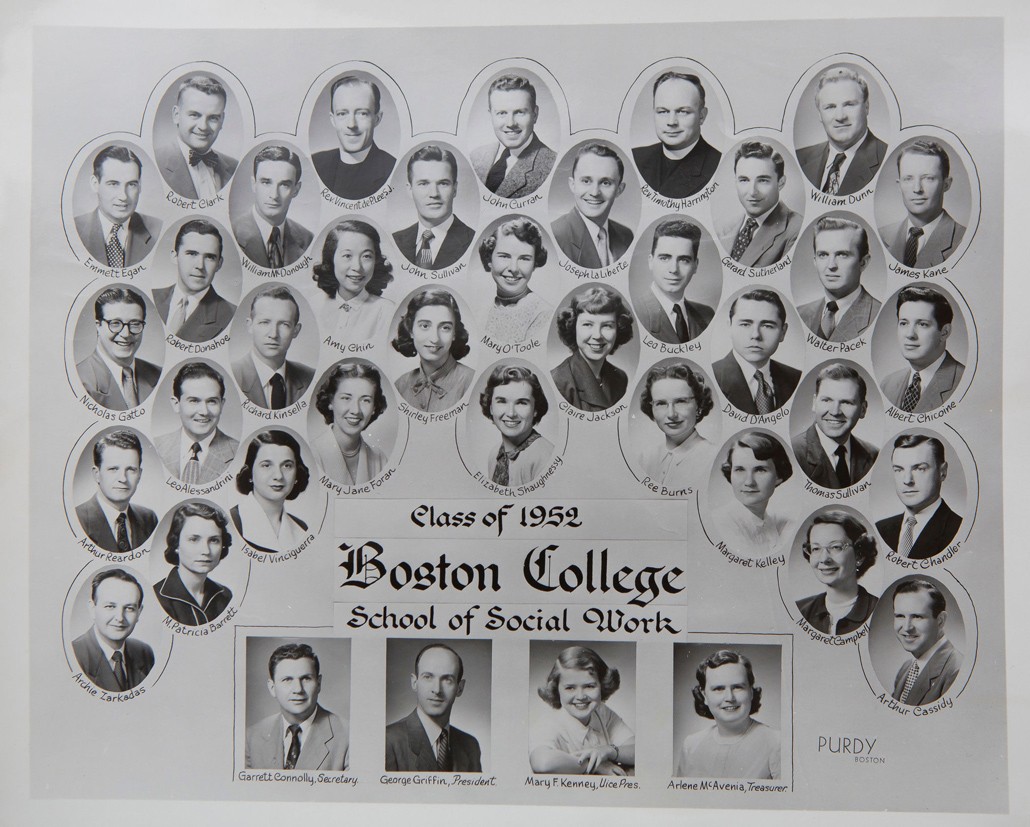 Photography by Tim Correira