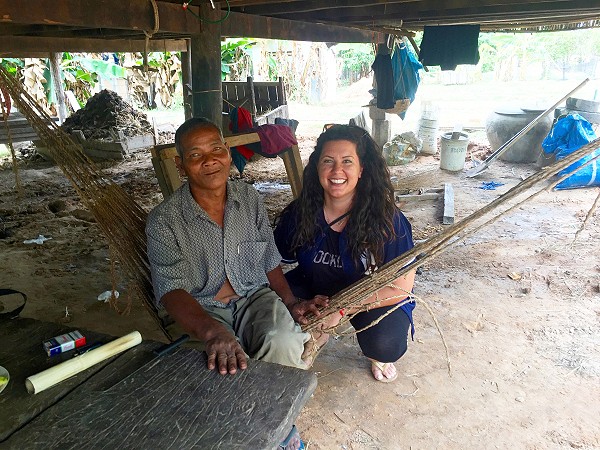 (Dispatches from the Field is a recurring feature designed to showcase the school's commitment to fostering, through field education, fruitful relationships with organizations, both in Boston and around the world, that are providing critical services to those living at the margins of society. This post is from Krystalbella Murnane-Victorelli, who is working at the Centre for Peace and Conflict Studies in Siem Reap, Cambodia.)
My relationships have been my greatest asset and tool for learning and growth since I have arrived. I expected to come and develop my career but never anticipated that I would gain so much on a personal level. A blog does not provide ample space to tell about all the fantastic people who have come into my life so I will talk about a few of the significant connections I have made.
I settled into my apartment just three short days after my arrival here. I chose my apartment for one simple reason, my landlord. I could tell from the moment I met him that he was an incredibly kind man and he spoke English fairly well. Choosing my living arrangement based on this quick assessment was one of my best ideas. Mr. Hour has become my Khmer father (driving me around, cooking me dinner, inviting me to family outings and parties, filling up my bicycle tires with air, and killing big spiders are just a few of his contributions to making my Cambodian life a bit easier). I have grown very close with his entire family and love learning Khmer from his 3 small children and helping them with their English. The rest of my neighbors turned out to be fantastic as well. They are from various places in the world and we often share our international cuisines on the rooftop for Sunday dinner.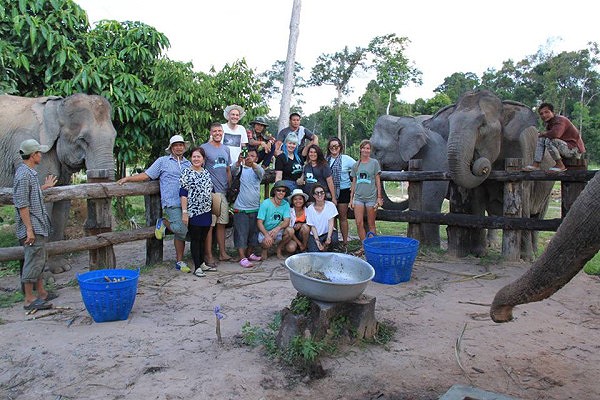 My second weekend here I decided to go on a yoga retreat for 3 days. I arrived at Blue Indigo Yoga, a secret garden filled with cute little cottages right in the middle of the city. Here I was able to further explore the local culture of meditation and yoga. A week after my stay the Peace Museum hosted a community event and each and every person I met at Blue Indigo showed up to support me. It was exactly what I needed! I have been going to yoga classes ever since and I formed a little community of friends among the yoga teachers and long term guests. On Saturday night myself and the teachers go out to get dinner and then go salsa dancing (not something I expected to be doing in Cambodia!). Another local sport that I was interested in is Khmer boxing. This is how I met my trainer Makara. I meet with him 4 times a week and I have honestly never had so much fun exercising in my entire life! We laugh the entire time. Makara is a former Monk so we also have some incredible conversations on spirituality and life here in Cambodia. My training sessions are an hour and a half but I usually spend 3 hours at the gym talking with the owner Mr. Ly and all of the other guys who go there to train. Makara has introduced me to his children and even accompanied me to get a sacred sak yant tattoo and blessing.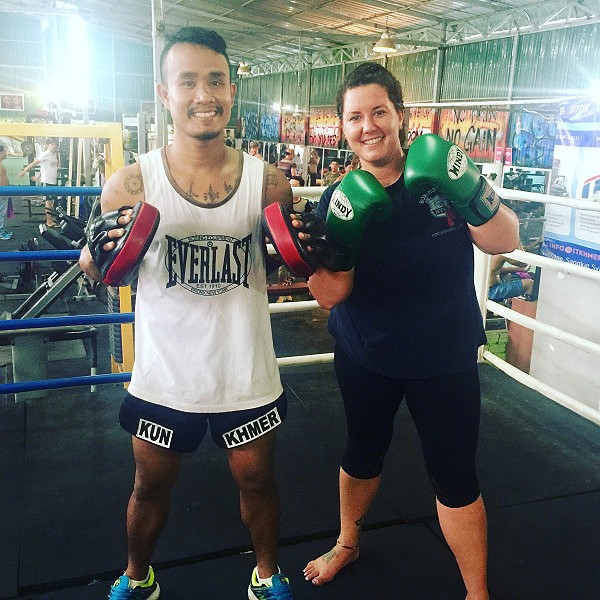 The last relationship I would like to talk about is that of me and my best buddy here Haeng. I met Haeng at my apartment building one day, he was one of my neighbors' tuk-tuk drivers. I was laying out by the pool and he just casually sat down next to me and began talking. I don't think I have gone a day without seeing or at least speaking with Heang since. We eat lunch together every day, I have visited his village that is outside of the city several times, gotten to know his wife and son (I was the first western person his son has ever seen, he cried hysterically the first 3 times I met him), and Haeng is the only person that I wanted to spend my birthday with. We could not have grown up any more different but we are able to talk about anything and everything.
My life has been so full here in Cambodia! The biggest gifts and lessons I will take home with me come from the close relationships and bonds I have formed. Leaving is certainly going to be incredibly difficult but I know the bonds I have are strong and will withstand time and distance. I am a much better person for the people who have come into my life here and for that I will forever be grateful and I know I will be back!!!