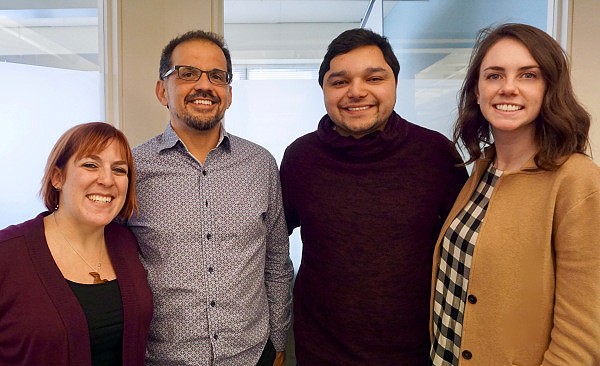 (Dispatches from the Field is a recurring feature designed to showcase the school's commitment to fostering fruitful relationships with organizations, both in Boston and around the world, that are providing critical services to those living at the margins of society.)
Student
Katelyn Teague
Agency Partner
Cambridge Health Alliance (CHA), in the department of Community Health Improvement.
Responsibilities at the Placement
Katelyn helps coordinate and develop programs for the CHA's Volunteer Health Advisor (VHA) program. The VHA program is a volunteer-driven, multicultural education and outreach program dedicated to improving the health of underserved communities. Volunteer Health Advisors are trained by public health and medical professionals to educate community members about the availability of free and low cost health care coverage available through the state.
What I Learned
"Through my role," explains Katelyn, "I am able to see how the programs I support and implement on a micro level are reinforced and maintained by macro level interventions. Innovative programs like the VHA support Massachusetts' shift from a volume-based care system to value-based care system, an important development in addressing the needs of the Commonwealth's most vulnerable and complex patients."
Career Aspirations
Katelyn says that her experience at the CHA has helped to shape her future career goals working in behavioral and population health. "My career in social work is inspired by the idea of creating a healthcare system equipped to keep people healthy, rather than just treating individuals once they are sick," she explains. "My experience working at the CHA is allowing me to apply the knowledge and the skills to build the relationships necessary to make this happen."
She is grateful to the support given to her by both her field supervisor at the CHA, James Figueiredo, and her advisor at Boston College, Joe McLaughlin, both of whom have provided mentorship around Katelyn's interests in public health and health disparities. "Joe believed the CHA would be a great fit for me in terms of my career goals and values, and he was right," she says. "At the CHA, I am able to support and implement programs dedicated to improving the health for the most vulnerable populations in the greater Boston area. I am confident I will continue to utilize the knowledge and skills I have learned at the CHA in my social work career."