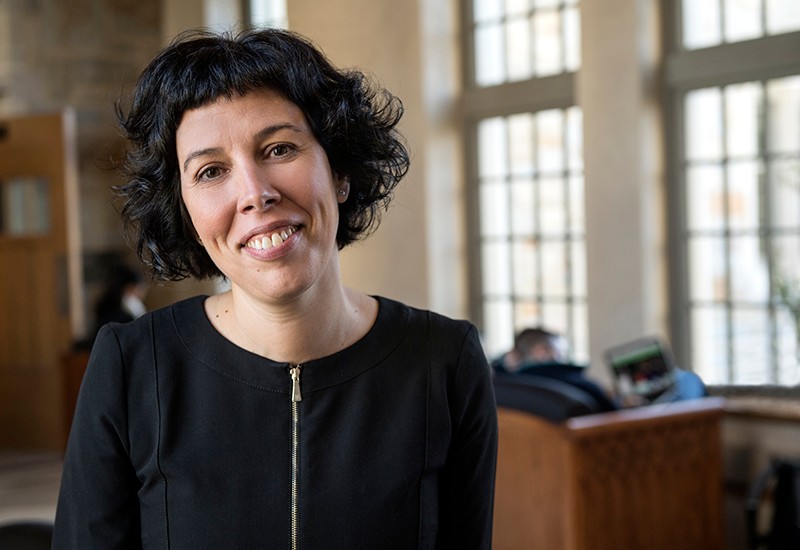 In October, Rocío Calvo will receive the 2019 Distinguished Recent Contributions to Social Work Education Award presented by the Council on Social Work Education at their Annual Program Meeting. The award recognizes Calvo as "a leading scholar in the field of immigration and social welfare whose work on the role of social services on the integration of immigrants has become a model of positive disruption in the field." Calvo was drawn to social work because of a desire to address issues of systemic inequities "with solutions that come from the community, not from me," the associate professor of global practice is quick to add.
With her latest work focusing on how older Latinx immigrants navigate social service systems, her ethos is deceptively simple: the best way to create sustainable solutions to complex problems is to work with the people who live those problems every day.
To this end, she founded BCSSW's Latinx Leadership Initiative (LLI) in 2013. The LLI recruits Latinx students into the Master of Social Work (MSW) program to train them on effective interventions with Latinx populations. About 25 students graduate from the program every year. Through the LLI, students take classes in Spanish and complete their field practice training with Latinx communities in preparation for working with Spanish-speaking clients using evidence-based interventions.
"My research shows that ethnic-concordance in the provision of services improves outcomes, especially among Spanish-speaking communities," Calvo says. "The LLI cultivates the future Latinx leaders of social service agencies because, for the most part, these agencies are not led by members of the community that they work in. So, students in the LLI are agents of transformation of how social work with Latinx communities is done in this country."  
LLI students and alumni, who now number more than 130, are also an integral part of Calvo's latest investigation. In June, she was awarded a Russell Sage Foundation grant, funded in part by the Carnegie Corporation of New York, for her research project with Harvard University Professor Mary C. Waters that will investigate how older Latinx immigrants in Boston and Miami access social services and how their interactions with service providers impact their sense of belonging in America. Calvo says, "The project moves the focus to a group that has not been explored, yet is the fastest growing segment of the older population in America.
"Given their lifelong experience with low-wage employment and lack of access to preventative care, Latinx immigrants tend to reach later life with more functional limitations but also with fewer resources to face long-term care than any other population in the United States."  
Calvo seeks to understand how older Latinx immigrants are faring: How do immigrants find social programs? How do they understand eligibility and navigate complex application processes? What is the impact of access to benefits, or lack thereof, on immigrants' socio-economic and health-related well-being? Extensive interviews with members of the Dominican, Puerto Rican, Cuban, Salvadoran, and Mexican communities in each city will seek to answer these questions. Given the current immigration climate and the personal nature of the questions, LLI students and alumni who live and work in these communities will be instrumental in helping collect the data.
 "We cannot turn our heads and say, 'Oh, who cares. I'm not Latinx. This doesn't affect me,'" Calvo says. "It does if you live in this country. Given the growth of the Latinx population and the barriers they face to access opportunities for advancement, such as quality health care or education, this implicates you as well. This is not a Latinx problem, this is a U.S. problem." The study will be conducted through 2021.