Flow Cytometry
What is Flow Cytometry?
Flow cytometry uses fluorescent probes to identify and characterize cells or particles in suspension (e.g. cells, nuclei or chromosomes) by virtue of size, granularity and fluorescence (auto-fluorescence or fluorescence after immunolabelling or staining). Cells or particles tagged with fluorescent molecules enter the flow cytometer via a fluid stream. The cells then pass by a laser, which emits a specific wavelength of light. The fluorescent probes are excited by the laser and then emit light. The fluorescent signal is detected and amplified, then translated into an electronic signal, which is sent to the computer. The result is a visual presentation describing an individual or group of cellular events. The cells or particles can be separated by sorting, or the information can be collected and analyzed.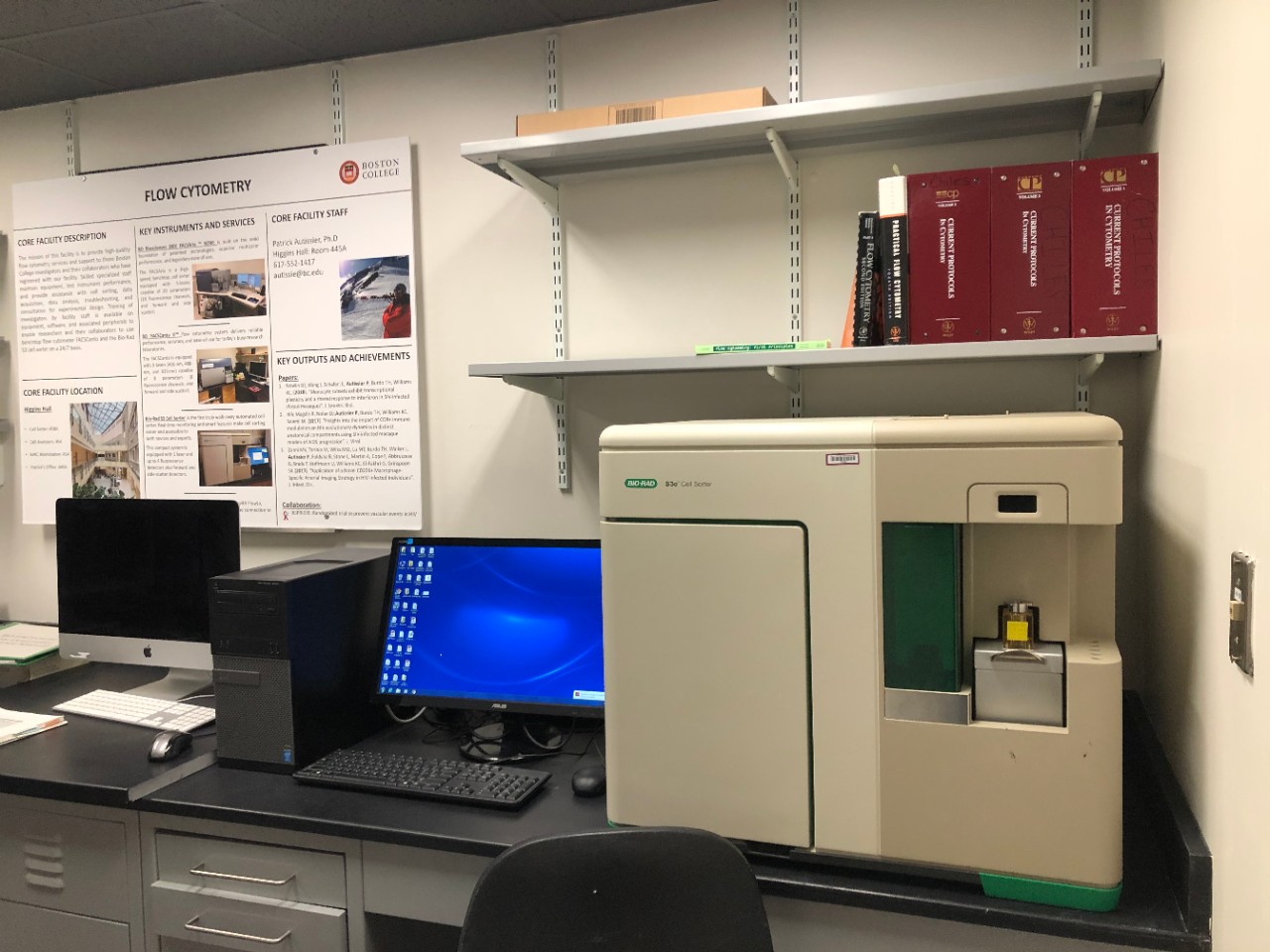 The Bio-Rad S3 is located in Higgins 454. Self-use and available 24/7 after training.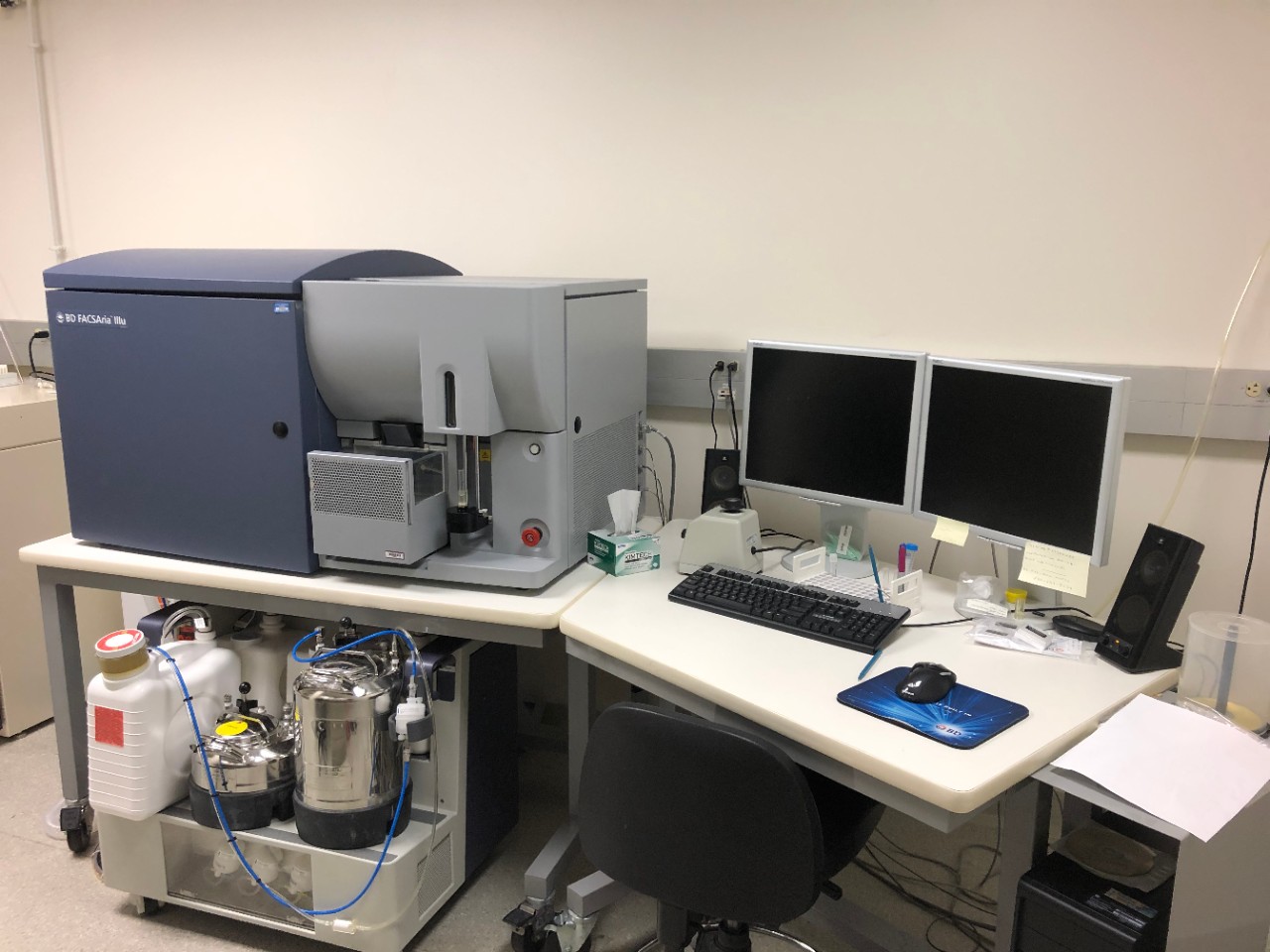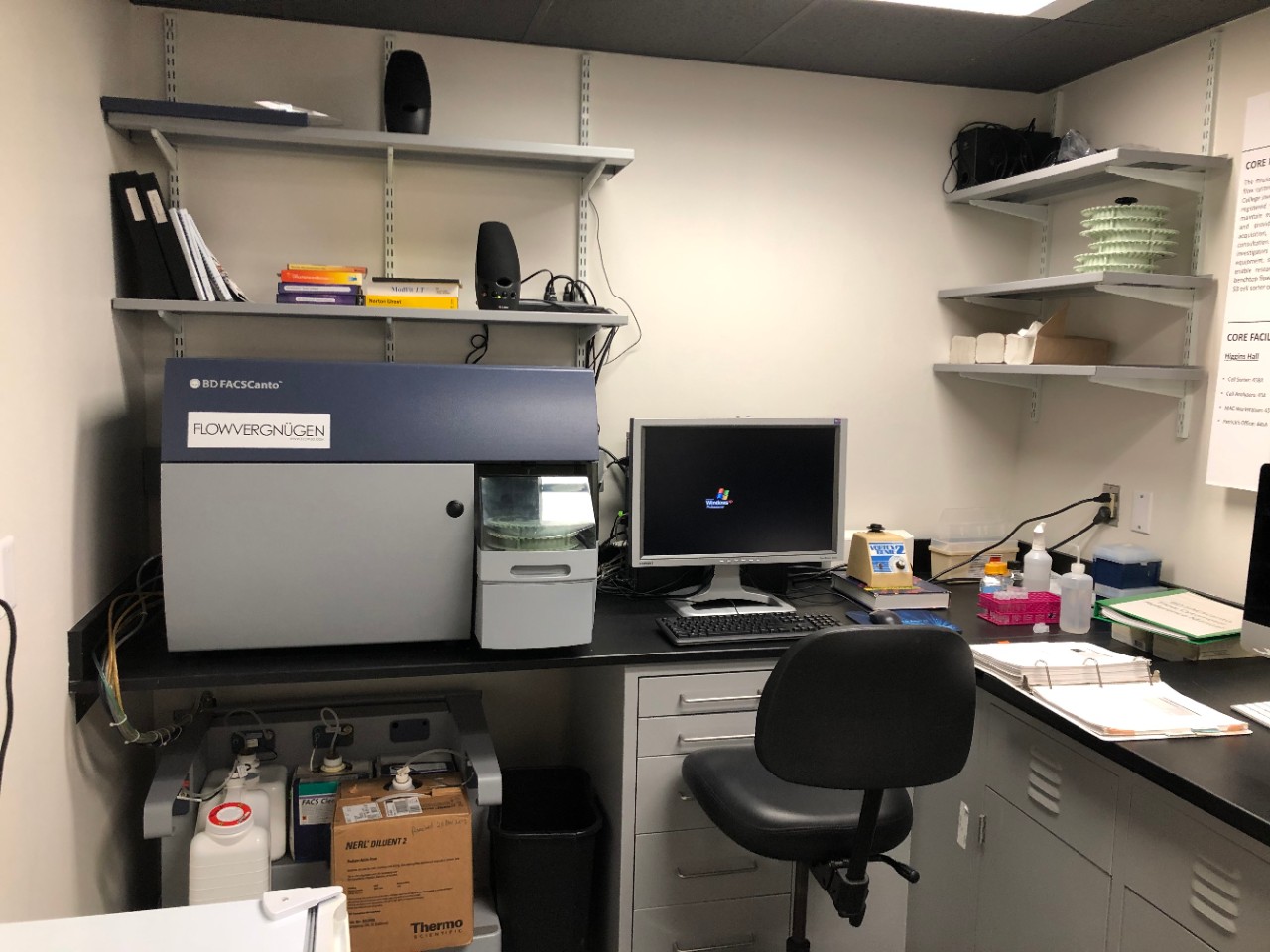 The BD FACSCanto™ Flow Cytometer is located in Higgins 454. Self-use and available 24/7 after training.
Advances in cell sorting instrumentation have enabled this technology to be applied to a wider array of cell biology areas, such as hematology, immunology, microbiology, cellular signaling, and parasitology.
---
Facility Documentation
Flow Cytometry Biosafety Protocols
Please note that all work performed in BC core facilities and recharge centers should always be appropriately acknowledged.  If you are publishing or presenting data acquired in BC core facilities and recharge centers, please include the following statement in the Acknowledgement section of your manuscript/poster/presentation, "The authors would like to thank the Boston College <insert facility name> for assistance with the work presented in this paper/poster/presentation*."
* Delete as appropriate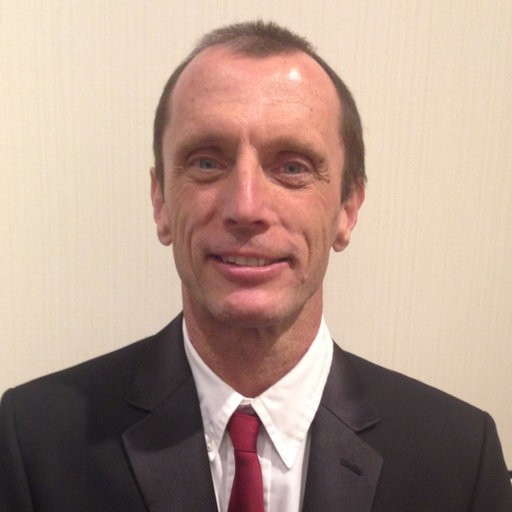 I am a biologist with over 25 years of flow cytometry and cell sorting experience. I received my Ph.D. from the C.N.A.M. in Paris, France, where I developed a 12-color flow cytometry panels to study immune cells in both humans and monkeys. I authored or co-authored more than 40 scientific articles.
My family and I moved to the US in 2001, where I was hired by the Division of Viral Pathogenesis at Beth Israel Deaconess Medical Center in Boston, to run the Cell Sorting Facility. I worked there for 7 years prior to joining Boston College where I am in charge of the Flow Cytometry Core facility.
My most important contribution as a technical expert and collaborator has led to the discovery of the TRIM5α protein (capable of blocking HIV infection in monkey cells), a groundbreaking advance in AIDS research published by M. Stremlau in the journal Nature in 2004.  This study has been widely reported in the mainstream press and has been cited over 800 times in scientific journals since publication.  Over the last 18 years, I have acquired a broad knowledge in Immunology, first at the Division of Viral Pathogenesis at Beth Israel Deaconess Medical Center, and at Boston College. First, I worked extensively on measuring immune response on lymphocyte subsets during HIV or SIV infection studies in humans and monkeys. Then at Boston College, I focused my work on monocyte/macrophage subset, a cell population thought to bring HIV or SIV in the brain that induce encephalitis and neuronal damage.
As a Director of the BC flow cytometry facility, I interact with many researchers and students. In addition, I manage the scheduling of the facility, the budget and the ordering of reagents. Finally, as a collaborator I helped many researchers designing their flow cytometry experiment so that their research project would be successful.
Flow Cytometry
Patrick Autissier, Ph.D
Director, Flow
Cytometry Core Facility
617-552-1417
autissie@bc.edu
Higgins Hall: Room 445A