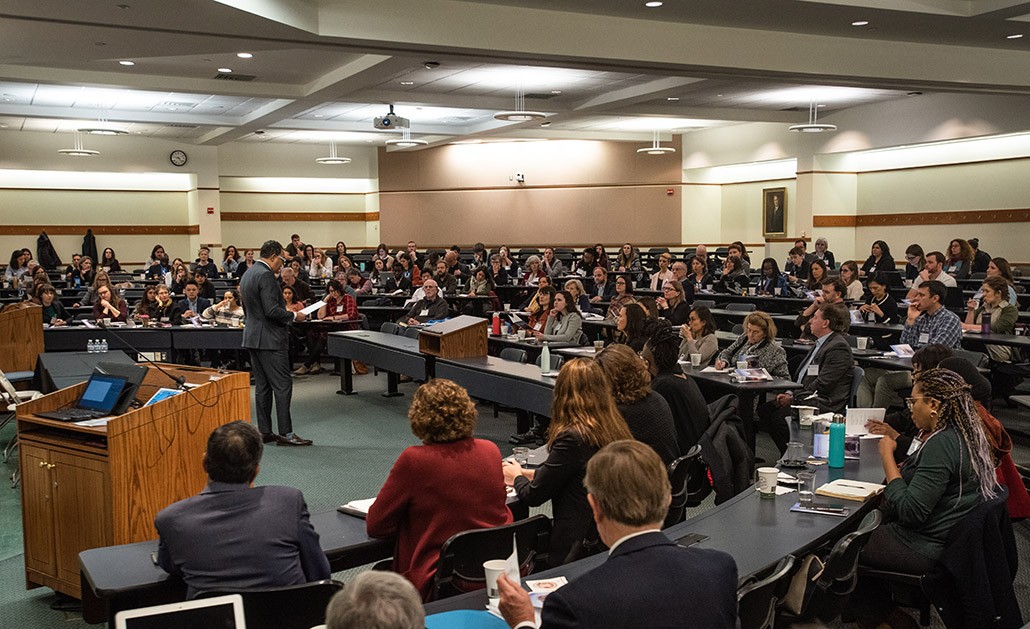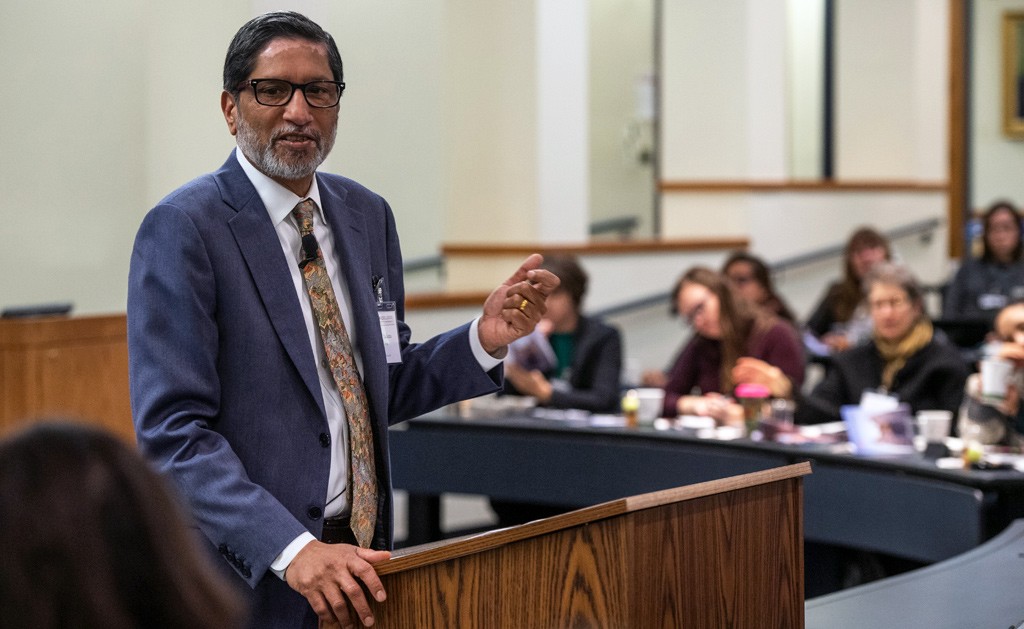 "The notion of human rights builds on our shared humanity. These rights are not derived from the citizenship of any country, or the membership of any nation, but are presumed to be claims or entitlements of every human being," said BCSSW Dean Gautam N. Yadama, quoting Nobel Prize-winning economist and philosopher Amartya Sen. With those words, Yadama, with BC Law Dean Vincent Rougeau, welcomed attendees to the Boston College Global Migration Conference: Inclusion and Exclusion, held on April 11–12, 2019, at BC Law's Newton Campus. "I know that we will be examining all these facets of human immigration today and tomorrow," he continued. "We need the two professions of social work and law to advocate, temper, and champion the rights of the displaced and dispossessed."
The conference, explained Rougeau, was the result of years of increased collaboration between BC Law and BCSSW and "reflects the higher goals that we have to join together the kind of extracurriculars and academic initiatives that build upon our Jesuit roots and values: academic excellence; respect for the dignity of all people, particularly the poor and marginalized; and a firm commitment to building a more just global society together."
For two days, academics, policymakers, activists, refugee rights advocates, and mental health professionals from around the world examined the rise of exclusionary politics and considered how the fields of law and social work can shape and reform research, policy, and practice to protect the rights of migrants worldwide.
In the first of three plenary lectures, E. Tendayi Achiume, assistant professor of law at the UCLA School of Law; research associate of the African Center for Migration and Society at the University of Witwatersrand in South Africa; and the UN Special Rapporteur on Contemporary Forms of Racism, Racial Discrimination, Xenophobia and Related Intolerance, spoke about the colonialist roots of borders and migration, and the implications of that history on the present and future in "De-Imperial Migration."
"Most debates treat borders themselves as immovable facts," said Achiume. Rather, she believes it is the movement and numbers of people—and governmental policies—that are debated and subjects of attention. Achiume argued that those borders, as determined by imperialism and empire-building, act as sites of injustice and inequality.
"Migration is responsive to political subordination," said Achiume. "It is action that seeks to counter those imperial forces that curtail the self-determination of those who are dominated by them. A significant fraction of contested and unauthorized migration is best understood as de-imperial, and a failure to engage in it as such is to sustain the unjust operation of borders today."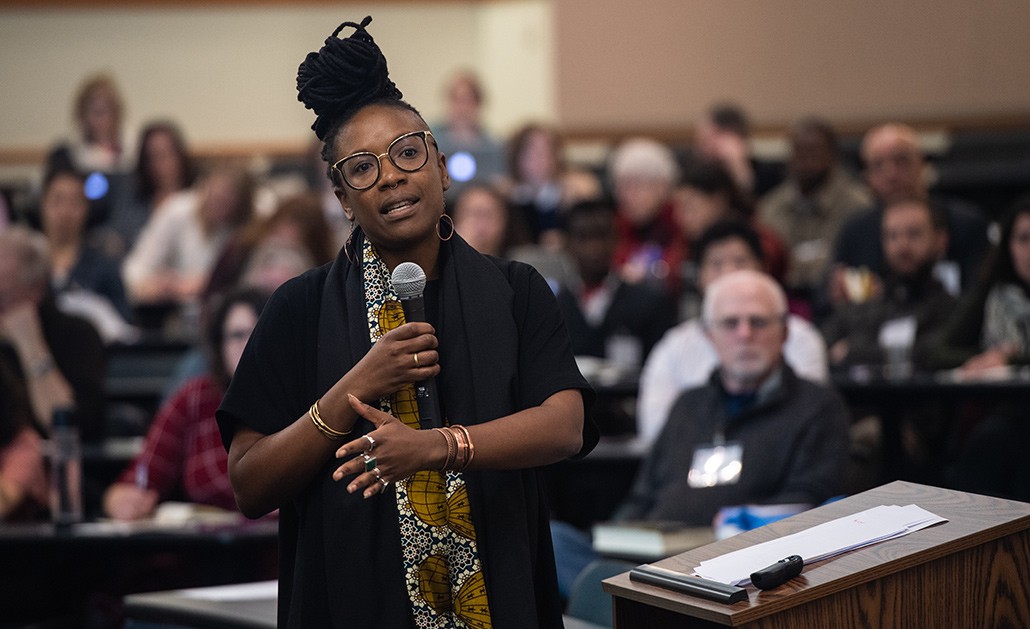 "Migration is responsive to political subordination," said Achiume. "It is action that seeks to counter those imperial forces that curtail the self-determination of those who are dominated by them. A significant fraction of contested and unauthorized migration is best understood as de-imperial, and a failure to engage in it as such is to sustain the unjust operation of borders today."
Following sessions on international approaches to migration control, admission and exclusion, and naturalization, attendees gathered for the second plenary, "Inclusion and Exclusion: Global Impact on Migration," by Marcelo Suárez-Orozco, UCLA Wasserman Dean of the Graduate School of Education and Information Studies.
In her introduction, BCSSW Salem Professor in Global Practice Theresa Betancourt noted that Suárez-Orozco "has contributed a vision of how migration is what it is to be human, the lifeblood and identity of this nation, and the truth of our diverse and vibrant world."
Suárez-Orozco's talk focused on the fundamental unit of migration: the family. Defining migration as "an ethical act by and for the family," he went on to cite statistics and the history of mass migration and displacement, and expanded on the ethical obligations of addressing these humanitarian challenges. "To migrate today is to displace families," he said. "Together we must continue to endeavor to identify needs and new models to address the health, education, and well-being of those forced to seek shelter and live lives in the shadows."
Suárez-Orozco's plenary was followed by three concurrent sessions on the human rights of migrants (moderated by Daniel Kanstroom and Katharine Young); rights and public benefits (moderated by Westy Egmont); and detention (moderated by Mary Holper).
The day closed with a final set of sessions: "Does Migration Help or Hurt the National Labor Market?" and "Approaching Migrant Communities from Trauma-Informed Yet Strengths-Based Approaches," moderated by Theresa Betancourt.
The second day of the conference began with the final plenary, "Humanitarian Responses to Migration," a panel with Sean Callahan, president and CEO of Catholic Relief Services (CRS), and Thomas H. Smolich, S.J., the international director of Jesuit Refugee Service (JRS), moderated by Thomas Crea, assistant dean of global programs, associate professor, and chair of the global practice at BCSSW.
In a wide-ranging conversation about their roles, opinions, and experiences, Callahan and Smolich discussed the imperative of shifting the narrative. "We have a management crisis; a spiritual crisis; but seven billion people should be able to figure out a way of supporting 68 million people," said Smolich. JRS, he explained, is focused on a long-term approach to education, protection, livelihood, and reconciliation. Callahan concurred: "We have a crisis of narrative. Eighty-five percent of refugees are in developing countries—they don't come to the US. We have a protracted crisis of housing, shelter, education, and employment for long-term migrants who are increasingly living in cities, not camps. One of our big investments is helping people not to have to migrate—to change the narrative to young people being a power and an engine, not a problem. The false narrative is the crisis we face." CRS, said Callahan, is working on a two-pronged approach: providing opportunities for refugees that enhance and benefit their country of residence, and assisting countries in crisis and avert the need for migration.
Callahan and Smolich talked about the need to balance immediate humanitarian aid with longer-term development aid. "Education, for example, acts as an immediate protection measure by keeping children safe, providing structure and a sense of normalcy while also providing preparation for the future," said Smolich. They went on to discuss the role of faith in uniting communities in crisis, and their efforts to serve both the host community and refugees through such measures as building schools and housing and providing teacher training. "There's a lot of thinking out there right now that says 'If I give you a piece of the pie, I'm going to have less'; when, as a matter of fact, the pie is dynamic. By sharing and building, and by creating opportunities, cohesion, and rehabilitation, we move to an understanding that if we work through it, it benefits us all," Smolich said.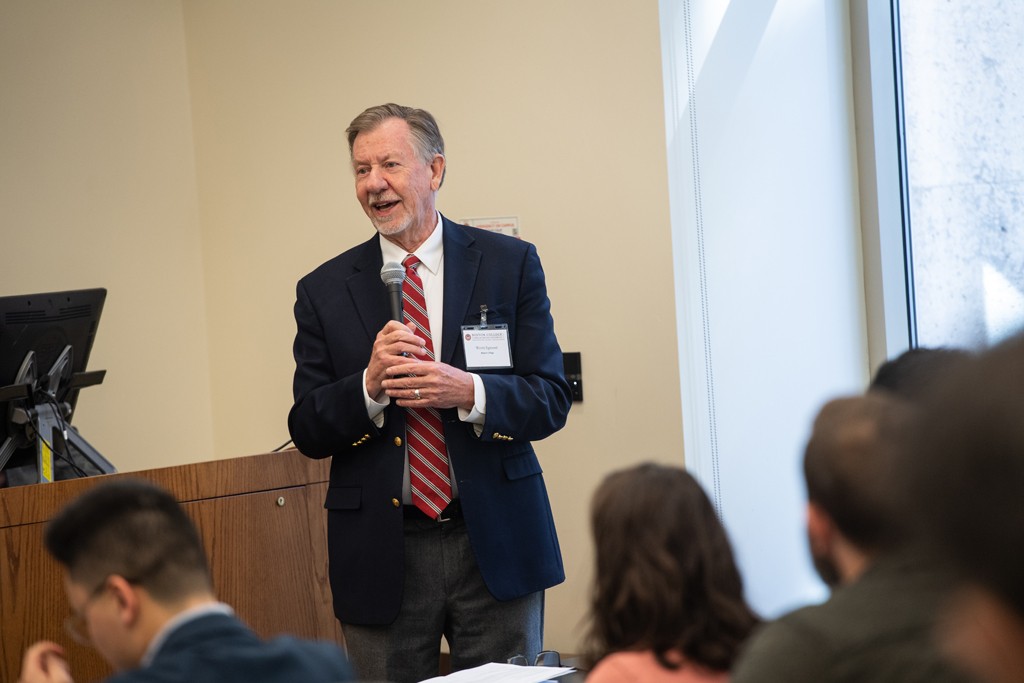 Following the plenary was "From Aspiration to Realization: Envisioning and Piloting New Models of Interdisciplinary Collaboration," a panel with Mary Holper, Westy Egmont, and BCSSW Assistant Director of the Latinx Leadership Initiative Ximena Soto, moderated by BC Law Assistant Clinical Professor Claire Donohue, JD/MSW '05. Each shared their experiences and perspectives in creating and sustaining the interdisciplinary experiential education model between BC Law and BCSSW, with particular focus on serving the immigrant community, the challenges of addressing intersectionality, and the imperative of being cross-trained when on the front lines of client care. "It's critical to have an ally and navigator in the process of succeeding at what [immigrants] are trying to do on life's journey, which is to find wellness and a door through which they can pass that will lead them to a better life and fuller opportunity," said Egmont.
The conference concluded after two final sessions, "Five Decades of Exclusion: Immigrants and Health Care," moderated by BCSSW Associate Professor and Assistant Dean of the Doctoral Program Margaret Lombe, and "Whose Business is Immigrant Integration?," moderated by Westy Egmont.
This year's conference united two of BCSSW's primary strategic goals: global social work practice and the use of innovative, interdisciplinary practice and research to improve vulnerable lives. The faculty planning committee for the conference included BCSSW Salem Professor in Global Practice Theresa Betancourt; BC Law Professor Daniel Kanstroom, co-director of the BC Center for Human Rights and International Justice; BC Law Associate Professor Katherine Young; BC Law Immigration Clinic Director and Associate Clinical Professor Mary Holper; BCSSW Professor, Associate Dean for Research, and Dorothy Book Scholar David Takeuchi; and Immigrant Integration Lab Director and BCSSW Associate Professor Westy Egmont.
For more information on conference sessions and speakers, please visit the Global Migration Conference website.