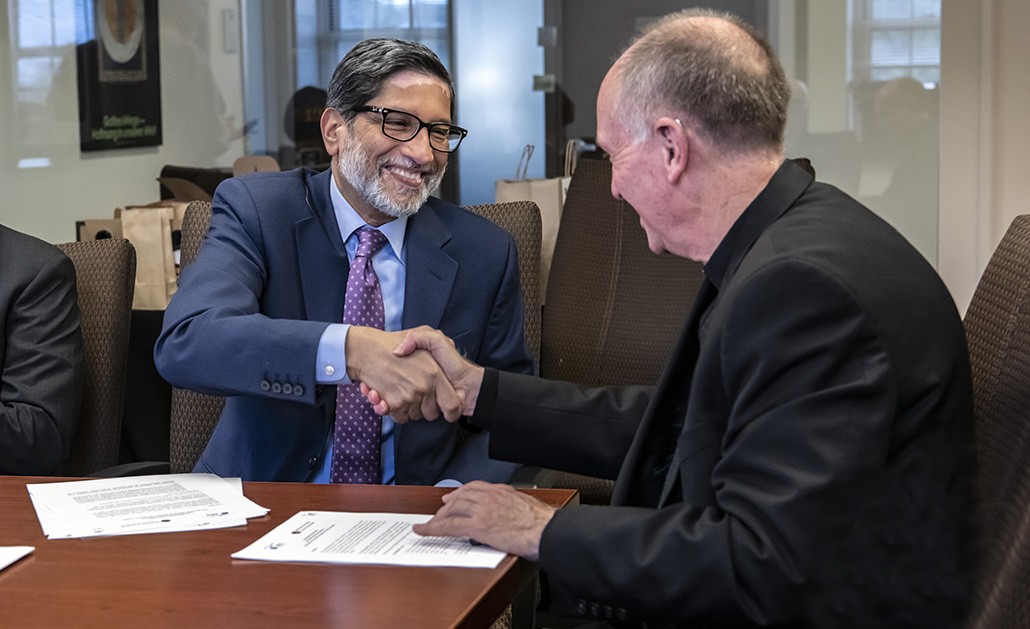 Boston College School of Social Work (BCSSW) and Jesuit Refugee Service (JRS) have signed a 10-year Memorandum of Understanding (MOU) to collaborate on a range of initiatives aimed at assisting refugee populations and displaced persons across the globe. The MOU was formalized at an April 12 signing ceremony in Boston College's Simboli Hall by BCSSW Dean Gautam N. Yadama and JRS International Director Thomas H. Smolich, S.J. Also during the ceremony, University President William P. Leahy, S.J., signed a MOU with JRS on behalf of Boston College.
The partnership calls for BCSSW–JRS collaboration in five key areas: project development and implementation; research and evaluation; internships and the creation of a young professionals program; a staff well-being project; and a post-secondary and professional education program. In addition to new projects and research, the collaboration will continue to yield numerous internship opportunities for BCSSW students—at present, JRS is working in 52 countries on approximately 150 projects.
Over the past 11 years, more than 30 BCSSW Global Practice students have held JRS field placements in Kenya, Malta, Nigeria, and Italy. Further, the MOU calls for formalizing a young professionals program that has taken root over the past 18 months. To date, 12 BCSSW students have worked as JRS interns for four to six months, and, following their graduation, remained on as full-time staff for an additional year. The young professionals cohort is working with JRS to develop self-care strategies for the organization's global field staff. "We're training and sending students to become fully functional professionals, with opportunities for further professional development," says Associate Professor and Assistant Dean of Global Programs Thomas Crea. "That's unique among social work schools in the US."
Opportunities to study and conduct research on refugee education programs for adult refugees and migrants are also anticipated as a result of the partnership.
"We are committed to understanding and helping resolve the humanitarian challenges resulting from the forced displacement of more than 68 million people worldwide," says Yadama. "We have worked closely with JRS for many years and are so pleased to formalize this relationship through a partnership that strongly supports our school's strategic aims to help address conflicts and crises worldwide."