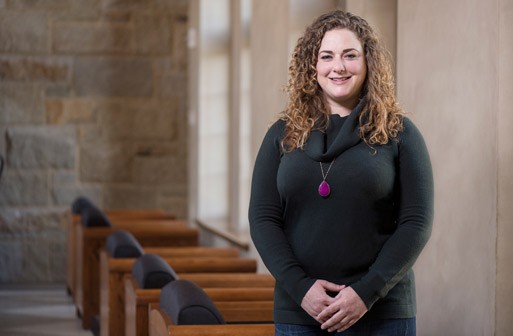 Boston College School of Social Work Assistant Professor Jessica Shaw has been awarded a $313,558 grant by the United States Department of Justice (DOJ) Office on Violence Against Women for her project "Evaluation of a Cross-System Cooperative Response to Adolescent Sexual Assault Victims." It is the first time a BCSSW professor has earned a grant from the DOJ.
Shaw seeks to better understand mandated reporting procedures for adolescent victims of sexual assault in one jurisdiction in Massachusetts, and whether the process, which differs from other communities across the United States, leads to better support services for victims, and more instances of prosecuted assaults. Ultimately, she hopes to provide invaluable information that can be used to inform the development of better-coordinated interventions across medical, legal, advocacy, and child protective systems that best address the needs of survivors, while improving upon a criminal justice system that has dismally low rates of prosecution and conviction nationwide.
"Shaw's study moves beyond the usual focus on an individual or single agency's handling of sexual assaults against adolescents and turns attention to the multi-sectoral engagement in responding to survivors and their families," explains Associate Dean of Research David Takeuchi. "It has the promise to highlight how the system can work better and more effectively to respond to the unique needs of adolescents who have been victimized."
A statewide, multidisciplinary taskforce, organized by the Massachusetts Sexual Assault Nurse Examiner (MA SANE) program and assigned with developing discipline-specific best practice guidelines for coordinated, cross-system responses to adolescent sexual assault, was the impetus for this project. Shaw is a member of the taskforce, and observed the need among policymakers and practitioners for more information on the impact of mandatory reporting procedures across the Commonwealth. "Shaw has been an invaluable member of the MA SANE Adolescent Taskforce for the past two years," explains Joan Meunier-Sham, the Director of the MA SANE Program. "The information that she will glean through this important research will be critical to these efforts."
Shaw is taking a mixed methods approach to analyze how the Massachusetts system responds to adolescent victims of sexual assault. (In short: Massachusetts practice differs from other communities across the United States in that it is standard practice to complete a mandated report for all patients under the age of 18 who report being sexually assaulted when they present for post-assault medical care. A more robust process of cross-system information-sharing and collaborative services follows, as well.) Working closely with MA SANE as well as a local rape crisis center and prosecutor's office, Shaw will interview adolescent survivors who seek post-assault medical care to begin to understand their experiences. The quantitative arm of the study will rely upon medical and prosecutor records to learn whether the more direct and cooperative response of MA SANE, the Department of Children & Families (DCF), and Massachusetts' district attorneys' offices leads to more instances of prosecution.
Shaw's co-investigator on the project is Megan Greeson, assistant professor of psychology at DePaul University. Greeson's own research expertise includes community response to sexual assault and victims' help-seeking.
"I am thrilled to be collaborating with Dr. Shaw on this project," said Greeson.  "The study provides a unique opportunity to understand how policy affects sexual assault survivors and prosecution rates. It will also provide unique insight into how police, forensic nurses, and prosecutors can effectively meet the unique needs of adolescent sexual assault survivors."
It is this opportunity for insight that in the end, says Shaw, is what gets her excited about doing the research. "This is the kind of place- and partnerships-based project that can really make a difference in how our field responds to the needs of people on the ground," she explains.
"I'm hopeful we can provide useful information to the practitioners addressing sexual assault in their everyday work, as well as to the policymakers and other critical decision-makers who are positioned to change and define system policies, practices, and coordination. I believe that, above all, research gains much of its value in its ability to inform policy and practice. Thus, we need to be involved in efforts to solve problems, towards better serving individuals and whole communities."