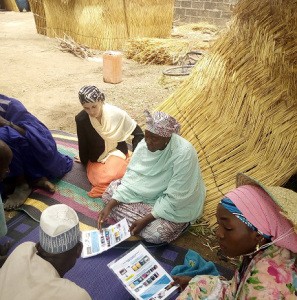 Two recent BC Social Work alumni were awarded Catholic Relief Services (CRS) International Development Fellowships designed to further train those individuals interested in pursuing careers in global relief. Those alumni were Ashlen Nimmo, '16, who recently completed her 10-month fellowship in Abuja, Nigeria, and Maya Perlmann, '17, who this August will embark upon her work in Cairo, Egypt.
Nimmo and Perlmann were among 20-30 fellows chosen annually from all over the world. It's a prestigious honor to be named a fellow – the acceptance rate hovers around a mere five percent. Following completion of the program, many of the fellows are retained for future employment directly with CRS.
During her fellowship, Nimmo has been working on the Feed the Future Nigeria Livelihoods Project, which is a five-year agriculture-led venture that aims to improve the economic wellbeing of rural households.
Some of her responsibilities have included serving as a gender focal person on the project, overseeing aspects of the case management component, program quality reviews of partners' work, developing communications materials, working on donor reports, and providing overall support. Also, she explains, all fellows are expected to gain experience in multiple areas of programming and operations, including: finance, procurement, human resources, MEAL (monitoring, evaluation, accountability, and learning), partnership, program management, and emergency response.
Nimmo says that she first found out about the fellowship opportunity through BC Social Work. In addition, she says that, "BC helped prepare me in terms of the knowledge and skills that I gained from the program. Each day I put to use things that I learned in the classroom- program design, logic model development, negotiation skills, budgeting, research, rights-based programming, monitoring and evaluation, among so many others. While at BC, I was able to hone my writing skills as well, which is something I leverage on every day, whether that is working on donor reports, writing success stories, working on a proposal, or just communicating with other staff and partners. Overall, I think that BC helped bolster the passion that I have for this field, but paired it with the practical skills and knowledge I needed to be more effective."
Perlmann, for her part, is set to begin her fellowship in Cairo next month. She recently graduated from BC Social Work in May, finishing her Boston College tenure at a global field education placement in Brussels, where she did research for the International Catholic Migration Commission on refugee sponsorship.
While she doesn't yet know a lot about the details of what she'll be doing in Egypt over the coming year, she does know that she'll be training in international development, while getting to know the organization as well. She also says that the office in Cairo does a lot of refugee education and protection work, two areas of significant interest for Perlmann.
"Ashlen and Maya are perfect candidates for the CRS fellowship," says Global Practice Chair Tom Crea.   They both combine intellectual curiosity and a hard work ethic with humility and deep respect for other cultures. In their unique ways, Ashlen and Maya each exemplify the researcher-practitioner model of global social work that we strive to develop at BC."
Crea adds that he hopes that future BC grads will continue to apply for this prestigious award, and he recognizes the myriad benefits of working closely with an organization like CRS.
Catholic Relief Services also appreciates the synergies of working closely with Boston College, explains Neda Sobhani, International Development Fellows Program Manager at CRS:
"The Boston College/Catholic Relief Services partnership is natural. At an organizational level, for example, the missions of CRS and BCSSW have several commonalities. In addition, social work students find a good match for their skills in CRS projects overseas such as serving vulnerable populations, children, etc. With this, BC students find a natural home at CRS.
One great entry point for BC students is CRS' International Development Fellows Program. The BC students tend to do very well in their fellowships and move on to program manager positions with CRS. We are looking for candidates who are aligned with our agency's mission and who are passionate about using their skills to serve vulnerable populations, and so BC students are in demand. In short, this is a partnership that we look forward to expanding."
For more information on the Catholic Relief Services (CRS) International Development Fellowships, including information on how to apply for next year's fellowships, visit: https://www.crs.org/about/careers/fellowships