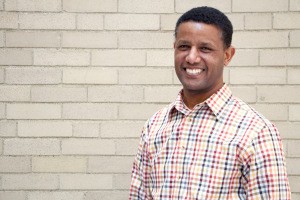 Alumni board member Bisrat Abebe, MSW/MA in Pastoral Ministry '05, LICSW, has spent his career providing crisis intervention and support to individuals and families in communities, behavioral health clinics, and hospital emergency room settings. He has held leadership positions at the Massachusetts Department of Children and Families, the Massachusetts Department of Mental Health, and the Suffolk County House of Corrections. Today, he is an assistant dean of the Massachusetts Institute of Technology's (MIT) Student Support Services.
Recently, Abebe sat down with Innovate to discuss his commitment to the board and his alma mater, and his hopes for the School of Social Work moving forward.
Thanks for taking the time to catch up with us today, Bisrat. What was it like pursuing graduate studies at Boston College as a recent arrival from Ethiopia?
Bisrat Abebe: I am grateful for the opportunity to pursue graduate work at Boston College, although I also encountered real challenges during my educational experience. Prior to coming to Boston, I spent several years studying philosophy and theology in a Catholic seminary in Addis Ababa, Ethiopia. The learning methodology was more focused on memorization. At BC, I was introduced to the concept of integrating critical thinking to my studies and my personal life as a new immigrant. Research methodology was particularly challenging to me, as was taking tests and being evaluated in English, which was not my first language. Additionally, it was a time of emotional challenge and growth to critically reflect on how class content intersected with my life and experiences. I'm appreciative for the support I received from several individuals but I would like to advocate for ways to institutionally bring additional support to international students at the School of Social Work.
You're doing some of this very kind of work in your current position at MIT, aren't you?
BA: Yes. As Assistant Dean of Student Support Services, I work with all undergraduate students and with some graduate students. Recently, I was also asked to work with the international student office. In this role, I introduce international students to the resources that are available to them at MIT and encourage students to make use of them. I give presentations about services and I offer support to students (one on one and in groups) about the developmental and cultural challenges that often occur during young adulthood. We want our students to understand that they can come to us at any time, particularly when they are encountering challenges fulfilling their school work. I can absolutely empathize with those who are facing very real difficulties that may have nothing to do with their academic abilities to get the work done.
Since you graduated BC, you managed to rise into directorial level positions quite quickly. Talk about your previous successes, and ultimately, how you came to MIT.
BA: Originally, my concentration was community organizing. My plan when I started school was to do some HIV/AIDS community work with the immigrant population here in Boston or maybe to go back to Ethiopia. But during my second semester in the program I switched to clinical practice. This was a great decision for me, as I was more comfortable in working with individuals one on one and also was given wonderful clinical training. Courses with Dr. Kerry Mitchell and Susan Tohn provided me with tools I still use today in my day-to-day work.
The school's reputation and connections have also been an advantage—as soon as I graduated I was offered a job where I completed my second year clinical internship at North Suffolk Mental Health. I started out doing emergency psychiatric services work with the Boston Emergency Service Team (B.E.S.T) and Boston Medical Center. This was instrumental in developing my rapid assessment and engagement skills as well as in forging professional relationships across the Boston area.
In early 2009, I was offered a leadership position as Suffolk County House of Correction as a Director of the Mental Health Program. It was there that I started to develop my interest in working with young adults. In the Fall of 2012, I moved to the Department of Mental Health (DMH) to be Director of Young Adult Programs. These opportunities allowed me to develop my supervisory and leadership skills as well as provide counseling for young adults with mental illness. I think it was in these roles that I truly found my calling. I also started teaching at the Bridgewater State University graduate social work program around the same time, further solidifying my love for working with students and young people.
Tell us about how you became an alumni board member, and why it meant a lot for you to do so.
BA: I've been on the board for three years now after I was invited by another board member who I worked with previously. My main purpose for joining the board was to give back to BC, and perhaps contribute a voice to the school on behalf of the international student experience. I was, and remain hopeful, that the board can provide a forum for me to talk about what it means to study here as someone who has just arrived to the country. I see it as an opportunity to bring some new ideas to the conversation.