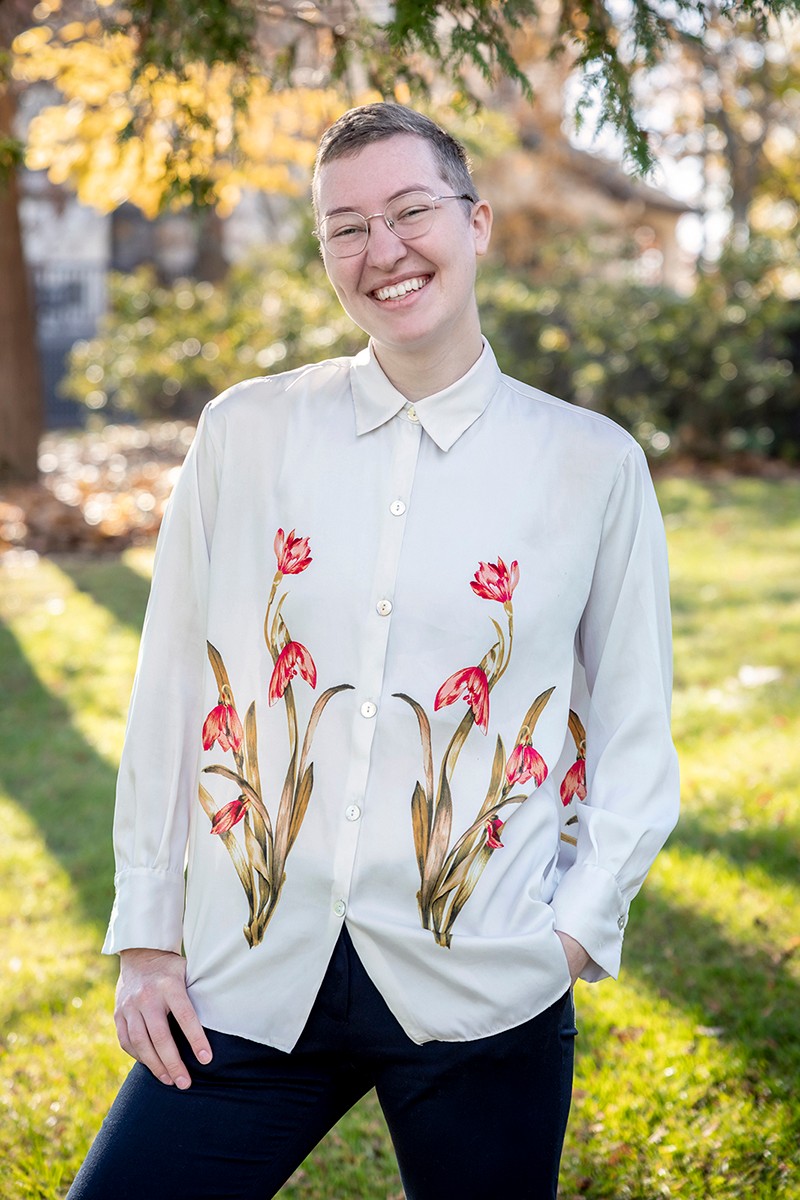 Marina Rakhilin, a student in the part-time master's program at the Boston College School of Social Work, has helped develop an online training program to improve the mental health of transgender youth. Rakhilin has redesigned the website for the Boston College Office of Graduate Student Life with a particular focus on inclusivity. And Rakhilin has served as co-president of Spectrum, BCSSW's LGBTQ+ student group.
Now Rakhilin has been honored with an Ever to Excel Award from the Division of Student Affairs, which recognizes 17 members of the BC community every year for excellence in leadership and service at the University. 
In particular, Rakhilin has received the Ann Forest Morgan, Ed.D. Graduate Student Award, which goes to the "graduate student leader who demonstrated a commitment to the graduate student community and student experience through leadership, innovation, and service." 
"I think I've been in a lot of places where I could make change," said Rakhilin, a macro student on the mental health track who was recognized at the 45th Annual Ever to Excel Awards Ceremony on Monday night at the Yawkey Center, "and so I really couldn't help trying to do something that would."
As a case in point, Rakhilin made page navigation more intuitive on the website for the Office of Graduate Student Life and increased its color contrast to help those with low vision. Rakhilin, who served as the graphic designer and communication strategist for the Office from September 2020 to May 2022, also managed its social media accounts, wrote its weekly newsletter, and helped fellow graduate students secure resources and set up events.
"We're going to make your dreams and your events happen," Rakhilin recalled telling students, "and that's going to set up your success for your career."
As the research coordinator at the Affirm Lab, Rakhilin is managing the development of a virtual training program to teach a group of therapists how to provide gender-affirming care to their young clients. One of Rakhilin's primary responsibilities at the lab, which conducts research to improve therapy for stigmatized youth, is centered on running focus groups with transgender kids, their caregivers, and mental health experts to get input on the curriculum.
"We have these groups that have a lot of trust and altogether they decided with us what the training was going to be," said Rakhilin, who uses they/them pronouns. "There are a million trainings out there, but we want to make one that serves what people actually want to hear instead of what researchers think this training should be."
Maggi Price, an assistant professor, who directs the Affirm Lab, described Rakhilin as the "heart" of her research team, a "role model" for the undergraduates on her staff, and a staunch advocate of "socially just work."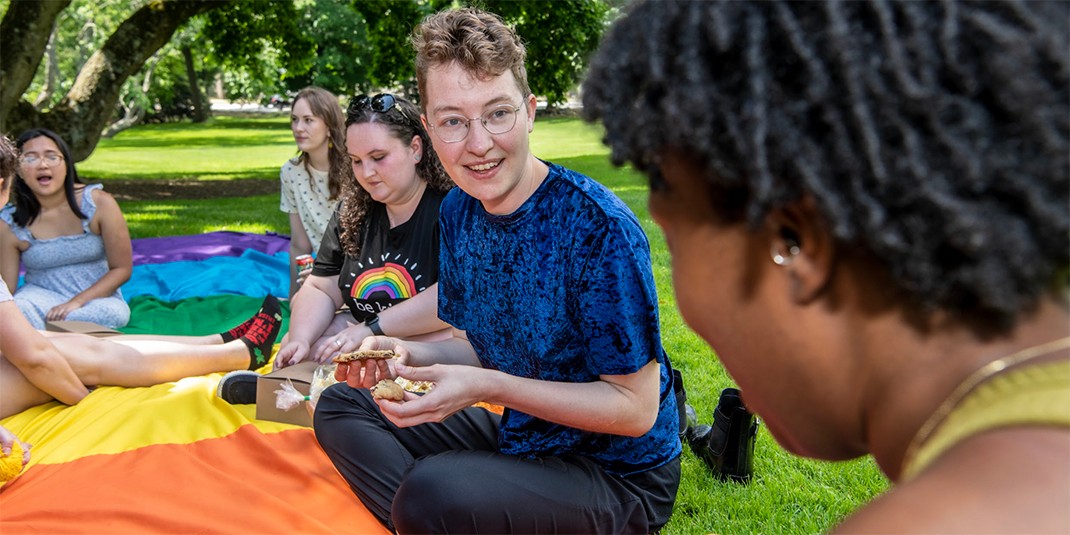 "They lead our team with poise, professionalism, and an unflinching dedication to ethically just management and research," Price wrote in a letter nominating Rakhilin for the Graduate Student Award. "Not only do they inspire our more junior team members to be more ethical and thoughtful researchers, but they compel me to do so as well. I truly believe that I have become a better leader and researcher through my growth-enhancing interactions with Marina."
Although Rakhilin is preparing to graduate in May, they have not stopped working to support LGBTQ+ students and allies. As a co-leader of Spectrum, Rakhilin recently helped bring a social justice organization called The Network/La Red to campus to host a two-session workshop on partner abuse in LGBTQ+ communities.
While they acknowledged BCSSW's popular course Working with LGBTQ Youth, Families, and Adults, they said that students are eager to learn even more about serving LGBTQ clients. "The School of Social Work has a wonderful elective on how to serve LGBT people, but it's a topic a lot of people want to learn about," Rakhilin said in reference to Spectrum's decision to partner with TNLR. "So let's give people the resources they need to serve all of our clients."
Cal Halvorsen, an assistant professor, who has known Rakhilin for nearly two years, said Rakhilin often shared resources and tips for navigating BC programs in his virtual advising pod and Basic Skills in Macro Practice course. Rakhilin frequently told his class about fun, upcoming events, including a graduate student trip to an apple orchard. 
"I truly enjoyed having Marina in class, as they were incredibly engaged and, importantly, brought outside resources into the classroom to share with other students, creating a fuller experience for everyone," Halvorsen said.
Rakhilin's advice to incoming MSW students befits a leader who strove to help their peers make the most of graduate life. "There's so many more resources than you think. There's so many more people who want to help you than you know. So just keep asking questions," Rakhilin said. "It really doesn't matter who the person is—the School of Social Work attracts some amazing people, so just talk to them." 
Rakhilin plans to continue working at the Affirm Lab after graduating, helping to design an online program to train school staff to support transgender youth. In fact, the Affirm Lab will be Rakhilin's first official client as the founder of Access Design, a consulting firm dedicated to building socially just online interventions that reduce health inequities.
Rakhilin said the ultimate goal of the firm is to use design to increase access to evidence-based healthcare, with a particular focus on building collaborations between designers and researchers to improve the well-being of individuals and communities. As a research-minded designer, Rakhilin knows how to collect data, create interventions, and express that information in an appealing visual format.
"I'm looking to help researchers and designers talk and design interventions," Rakhilin said. "Right now a lot of social workers don't know how to make interventions, but they know the psychosocial aspects that have to be in it. And designers don't know how to collect data. So I'm just excited to make interventions with people if they're excited to work with me."