On Monday, January 27, the Boston College School of Social Work (BCSSW) and the BCSSW Alumni Board honored the recipients of the 2020 Distinguished Alumni Awards following the annual Equity, Justice, and Inclusion Lecture in Gasson Hall. This year's Distinguished Alumni Award Winner is Lieutenant Commander Monique Worrell-Oriola, BA '03, MSW '06, and the Distinguished Recent Alumni Award goes to Melanated Social Work, co-founded by Michael Grinnell, MSW '16, Mathieu "Josh" McNeil, MSW '15, Marvin Toliver, MSW '16, and Jesse Wiltey, MSW '16.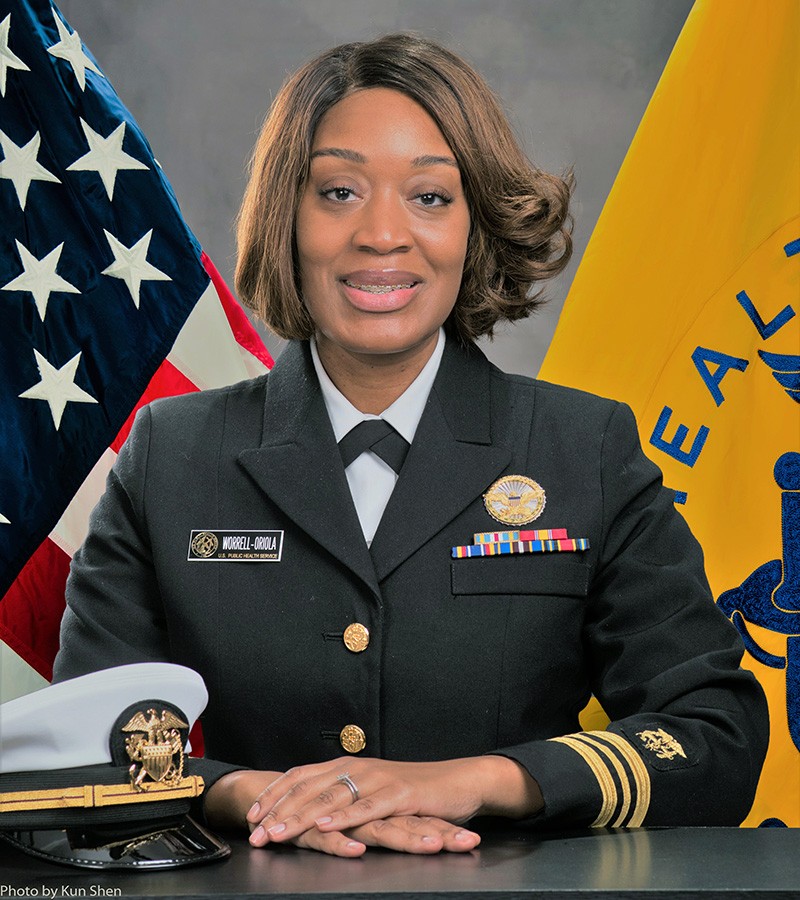 Distinguished Alumni Award Winner
Lieutenant Commander Monique Worrell-Oriola, BA '03, MSW '06
During her time at BCSSW, Lieutenant Commander Monique Worrell-Oriola, United States Public Health Service (USPHS), had to choose between a focus on clinical and macro social work, but she felt drawn to both aspects of the profession.
"I wanted to understand the larger systems—how legislation works, how to move things forward," she says, "and I also wanted to understand clinical practice with the individuals in those systems."
Although she ultimately chose the clinical track at BCSSW, her career has offered many opportunities to fuse these perspectives. Since receiving her MSW, she has worked as a clinician, public health practitioner, educator, grants administrator, and policy advocate. Worrell-Oriola's early career involved working with children in foster care and juveniles involved with the criminal justice system. In 2012, she was commissioned into the USPHS. As a program officer at the Department of Defense, she spearheaded initiatives to reduce barriers to mental health care for active service members, veterans, and military families, and with the Health Resources and Services Administration, she managed $45 million in Ryan White Program funds for uninsured and underserved people living with HIV. Now, as a senior training consultant for the Immigration and Customs Enforcement Health Service Corps within the Department of Homeland Security, she trains health care practitioners on best practices for providing care and treatment to individuals in immigration detention.
She has found unexpected common ground between her work with the Department of Defense and her background in foster care and juvenile justice. "There is a stigma within service member and veteran communities in seeking mental health treatment, just as there is a stigma within underserved communities of color. I was fortunate enough to work with both communities in Boston and Maryland," she says.
Worrell-Oriola cites a BCSSW class trip to Cuba, where she studied the education system, as a transformative experience. "Boston College gave me a global perspective," she says. "I always understood, both as an undergraduate and a graduate student, that the world was bigger than Boston and the campus."
She came to BC from Dorchester, Massachusetts, where she participated in METCO, a state-funded grant program that promotes socioeconomic and racial diversity in schools. She was nominated by her former METCO classmate and fellow BCSSW alumna Jennifer Ward, MSW '07.
"I chose to nominate her because our journeys are similar," says Ward, who reconnected with Worrell-Oriola at a church service in northern Virginia. "We have lived and breathed the struggle. We are using our Boston College training and skills to inspire, transform, and guide individuals and families."  
Worrell-Oriola is the child of immigrants—her mother is from Jamaica and her father is from Barbados. To help pay for her education, her mother worked two full-time jobs and a part-time job, and her father worked two full-time jobs. Worrell-Oriola herself worked full time throughout her MSW program.
"For me," she says, "this award is a recognition of the hard work and unimaginable sacrifices that my parents made for me to be able to be in a position to attend a prestigious graduate school and to vigorously pursue my education and passion. This is what it was for: so that their child—a woman of color and a first-generation immigrant—would have a seat at the table where decisions are being made and have a voice of compassion for those who are vulnerable and for those whom the system may not have considered when a particular policy was made."
Her parents, Sharon and Cecil, will be in the audience on the 27th celebrating their daughter's accomplishments.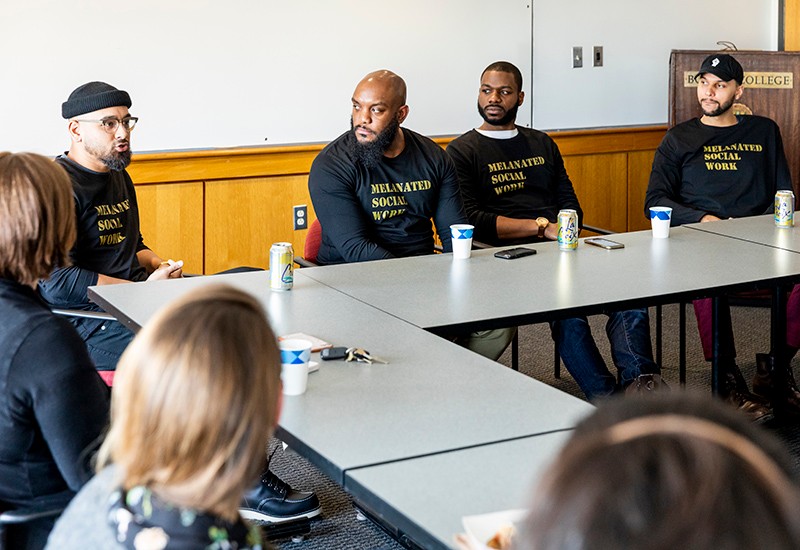 Distinguished Recent Alumni Award Winner
Melanated Social Work
The four co-founders of Melanated Social Work—Josh McNeil, MSW '15, and 2016 MSW graduates Jesse Wiltey, Michael Grinnell, and Marvin Toliver—formed a close bond at BCSSW. As men of color entering a field where men of color are underrepresented, they connected over shared experiences. After they graduated and began their social work careers, they continued to talk twice a month over Skype.
"When we first started connecting, it was just a way to cultivate our friendship and our brotherhood, but then it turned into case consultations, feedback, and support." Grinnell says. "Then we thought, let's start to record our conversations, because I guarantee we're not the only people experiencing these things in the workplace."
He was right: three and a half years later, their conversations have evolved into a podcast with 12,000 listeners and an Instagram account with over 11,000 followers. The nine episodes in the Melanated Social Work Podcast's first season touch on the intersections of social work with racial justice, music, politics, mental health, and culture. These topics are united by a focus on discussing mental health and social work through a lens that centers on the experiences of people of color—and social workers of color in particular.
"I often think about social workers who may not have a strong community of people of color or men of color," Toliver says. "They may really love the work but feel very isolated and frustrated by a lack of support. Hopefully, we can serve as a kind of support for them; they can listen and say, 'Me too.'"
So far, the response has been robust. "We continue to be taken aback by the response from the podcast and Instagram followers," Wiltey says. "I've had people personally reach out to thank us for the work and say that they were going to attend therapy for the first time."
Associate Professor Susan Tohn, who taught the co-founders at BCSSW and nominated them for the award, describes them as "blazing a trail for others."
"On their podcast, they discuss taboo subjects and shine light on important perspectives they have already gleaned in their jobs as social workers," she says. "I am excited to see where their path leads them."
Today, Melanated Social Work is a bicoastal endeavor: Grinnell is a staff therapist at Williams College in Massachusetts, McNeil is a behavioral health clinician at a hospital in Boston, Toliver is a clinical social work coordinator for the School District of Philadelphia, and Wiltey works as a classroom therapist in Oakland, where he just passed his clinical licensing exams. Distance has not slowed them down: the group is working on Season 2 of the podcast and planning a series of speaking engagements and workshops for 2020.
"In particular," McNeil notes, "we want to bring these speaking engagements to historically black colleges and universities with social work programs."
For Toliver, whatever the future holds, the focus will be on "not losing sight of where we came from or the fight as social workers to create change and fight the phobias and –isms that oppress people, and especially people of color. At the end of the day, that's always going to be our mission."