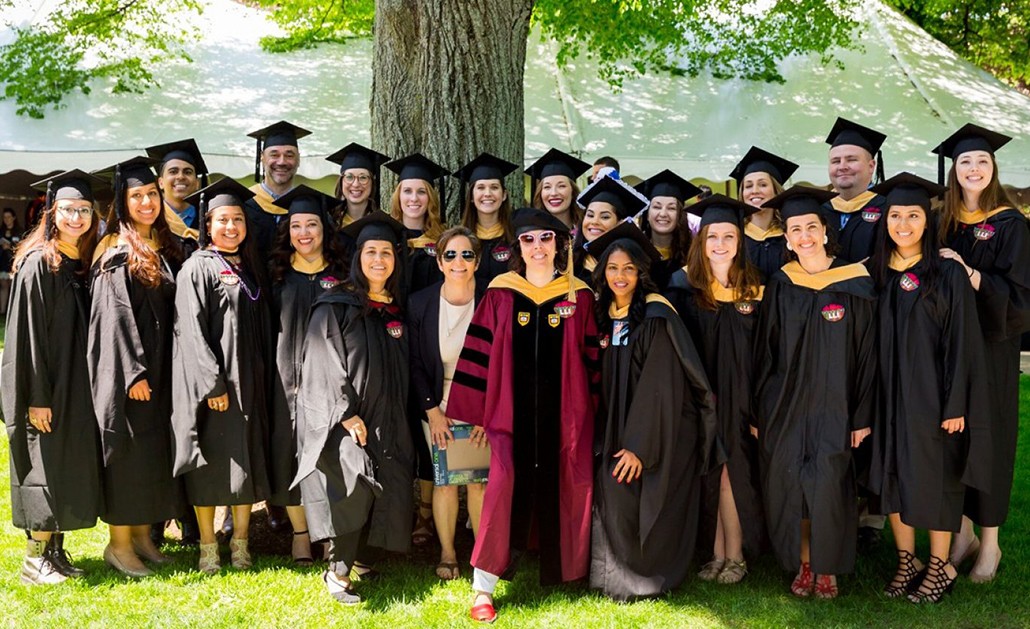 The Latinx Leadership Initiative in the Boston College School of Social Work has won a national award at Excelencia! in Education's Celebración De Excelencia, a virtual event held Thursday in cooperation with the Congressional Hispanic Caucus to recognize programs in colleges and community-based organizations that have accelerated the educational success of Latinx students.
The LLI received the top award for graduate programs that prepare Latinx students to succeed in higher education, besting finalists from the University of Texas at San Antonio and the University of California, Irvine.
The goal of the Latinx Leadership Initiative is to increase the number of Latinx social workers in the United States and develop social work practitioners who are equipped to work effectively with Latinx communities across the country. 
Students enrolled in the program develop a nuanced understanding of the barriers that prevent Latinx communities from accessing equitable education, social services, and healthcare. They take courses in Spanish, complete internships in schools, hospitals, and prisons, and conduct cutting-edge research that shapes the strategies social workers use to support Latinx clients.
"We give Latinx students the opportunity to belong and to be celebrated for who they are," said Rocío Calvo, an associate professor in the School of Social Work and founding-director of the Latinx Leadership Initiative. "We provide the space, but the students step into it with a passion and with a belief in the work that they do in the communities that they serve," added Ximena Soto, the assistant director of the Latinx Leadership Initiative. 
Excelencia! in Education, a nonprofit founded in 2004, conducts research to inform educational policies and promotes institutional practices that accelerate the success of Latinx students. Only 5 percent of Latinx adults received graduate degrees in the United States in 2016 compared to 13 percent of their white peers, according to an analysis of the American Community Survey, which helps local officials, community leaders, and businesses understand the changes that take place in their neighborhoods.
Every year, Excelencia! identifies, reviews, and promotes programs at colleges and community-based organizations that accelerate degree completion through intentional, culturally relevant, and effective practices tailored to Latinx students. 
This year, Excelencia received 112 applications from programs that hoped to be recognized as "Examples of Excelencia." The nonprofit selected 20 programs as finalists in four categories—associate, baccalaureate, graduate, and community-based organizations—and then a national committee comprised of Latinx experts and corporate partners picked the winners. The Latinx Leadership Initiative was named the best graduate program.
"I'm honored to play a small role in congratulating you on this well-earned award," Rep. Joe Kennedy III, a congressman from Massachusetts, told members of the program during the virtual celebration on Thursday. "By investing in Latinx students, the Latinx Leadership Initiative is working to elevate and support a new generation of leaders for our Commonwealth and our country." 
Calvo said she tailored the program to focus on the strengths of Latinx students and capitalize on their knowledge of the Latinx community. Although more Latinx students are attending college now than ever before, reports show that many of them worry that institutions of higher education are taking their money without meeting their needs. 
Students enrolled in the Latinx Leadership Initiative enter the program together and remain together until they graduate. They take classes together in Spanish, attend seminars together in which they reflect on their experiences in internships, and often stay in touch even after they have received their degrees. The program established a network of 148 alumni in 23 states, many of whom support current students as agency supervisors and mentors. 
"The students need to be surrounded by people who share their experiences, the way they see the world, and what they value," said Calvo. "You bring the language, the knowledge of the community, and the willingness to work with the community," she tells students. "You are perfect as you are, we will change the educational structure so you can thrive."
More than 150 students have graduated from the Latinx Leadership Initiative since Calvo created the program in 2013, all of whom have gone on to secure full-time positions. Many graduates now work with Latinx clients in law clinics, public schools, hospitals, community health centers, and correctional facilities, using the skills and strategies they've honed in their evidence-based social work classes to respond to the unique needs of their clients.
Calvo said students take a holistic approach to working with Latinx clients, considering spiritual beliefs, financial status, family dynamics, and systemic issues that prevent Latinxs from accessing opportunities to advance. "Latinxs are facing issues of racism, colorism, anti-immigrant sentiment, unsafe neighborhoods, and low-quality educational settings," she said. "So if you train social workers to only look at the individual, you're going to have a skewed view that will never lead to interventions that are effective and sustainable."
Students and graduates of the Latinx Leadership Initiative say that the program has shined a light on the rich history of the Latinx community, improved their self-confidence, and prepared them to better serve Latinx clients in communities across the United States. 
"I came into this program without much context about my history, my background, and my roots," said Dewin Hernandez, a student who is scheduled to receive his master's of social work and his master's of business administration in 2021. "Being in a cohort of incredible thought leaders, organizers, and activists from different cultural and ethnic backgrounds has been really inspiring and has really broadened my perspective," he said. "It really elevated my consciousness on some of the issues and challenges that our Latino communities are facing here in the United States and how we might confront those issues and challenges to drive innovations and solutions that get to the core of what's keeping us from realizing our collective power."
Jessica Gutierrez, who graduated from the Latinx Leadership Initiative in 2016 and now mentors students in the program, echoed Hernandez. "The LLI taught me to see my own culture from a different angle and to deconstruct systems that many times told me that I didn't deserve to be at BC obtaining a higher education degree," she said. "The program was a support system that helped me reach my goal to become a social worker. Now I continue to be part of the LLI by helping prepare the next generation who want to work with the Latinx community in the United States."
Calvo and Soto hope that other schools across the country will replicate the model that they have created at BC to train the next generation of Latinx social workers. Latinx students represent one of only two demographic groups that have experienced an increase in college attendance over the past two decades, according to the National Center for Education Statistics, and Calvo and Soto want to help ensure that institutions of higher education capitalize on the opportunity to invest in the future of this growing group. 
"Latinos are the future of the United States. Don't get mistaken," said Calvo. "They are the youngest population and they are the largest population. We need to invest in the education of Latinos. They have the right to have an excellent education."