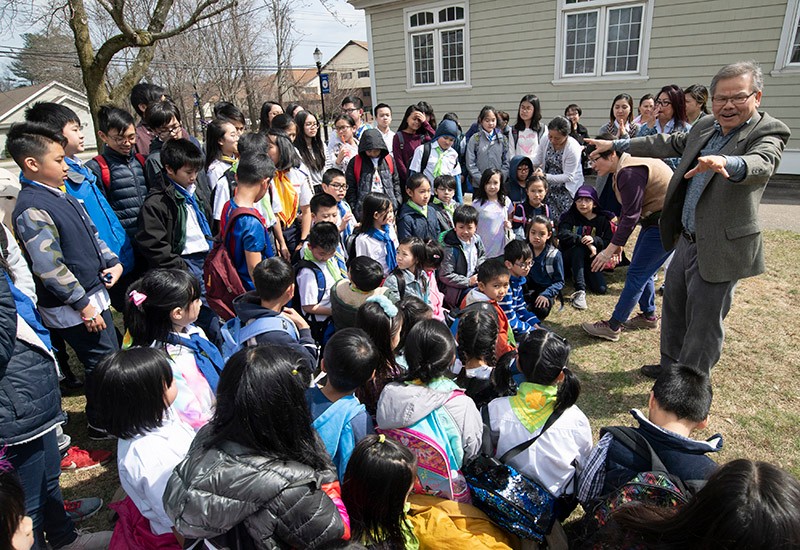 Relationships within multigenerational immigrant families, says Boston College School of Social Work Professor Thanh Tran, "often provide the greatest source of support and the greatest source of friction." Tran, who moved to the U.S. in 1975 as a Vietnam War refugee, says "there's often a breakdown of communication between children born in America and elders, especially grandparents, who can't speak English. There are a lot of conflicts." Since 2009, Tran has volunteered every Sunday to help resolve those conflicts, with the Vietnamese program he founded at St. Bernadette Church in Randolph, Massachusetts (with support from the parish and the Vietnamese Catholic community). His transformative work there earned Tran the 2018 Boston College Community Service Award, given to an employee who exemplifies the Jesuit spirit of service to others, and has inspired recent MSW graduate Sandy Saenbounmy to volunteer with the Vietnamese community.
Located 20 miles south of Boston College, Randolph is a suburban town of 34,000 and has the highest density of Vietnamese Americans in the Commonwealth, growing from some 600 in 2001 to more than 1,500 today. Tran, who lives in nearby Milton with his wife, children, and 90-year-old Vietnamese father-in-law, witnessed this swell and the subsequent communication challenges within the community. To counter this, he partnered with his local Catholic church to start the program and "build connections on two levels." After Mass, Tran and 20 fellow volunteers help Vietnamese-American children learn the Vietnamese language, history, and culture, and help the adults learn English and U.S. history, to "develop a Vietnamese-American identity," he says.
Tran's interest in social work is rooted in his own experience as a refugee. "The first people I met in refugee camps were social workers, and the first people who came to visit me when I resettled in Mississippi were social workers. They were the helpers, the listeners."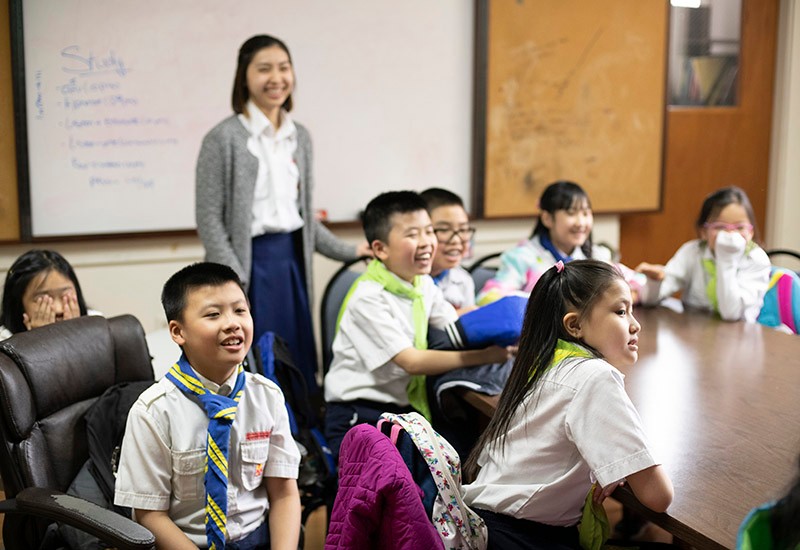 Tran earned his doctorate from the University of Texas at Arlington, and has been teaching at the School of Social Work since 1988 (save five years at California State University, Los Angeles). He studies issues of health and mental-health services for U.S. minority populations. He's donated proceeds of his books, which include Ethnic Families in America: Patterns and Variations, Multicultural Approaches in Caring for Children, Youth, and Families, and works of poetry, to fund scholarships for underserved students. (He's also raised funds for laptops, projectors, and reading materials for students in the local Vietnamese community.) His latest book, Applied Cross-Cultural Data Analysis, will be published later this year by Oxford University Press.
When asked how his own immigrant experience compares with those of today's refugees, Tran says, "There is no comparison. When I arrived in Mississippi, there was no Vietnamese community. [Vietnamese] communities now are much more established, but you also see a lot of friction within the family because of different levels of acculturation." The current political climate, Tran adds, also breeds friction. "There's a lot of anxiety." The Vietnamese St. Bernadette Program is open to participants from all ethnic and religious backgrounds; in all, some 80 children and 10 adults attend each week.
 "Our philosophy is just let them come. Don't force anything," he says. "And gradually they will pick up the language. You create an environment for them to feel proud of their heritage," he says. "To every new student, I say, 'You are a hyphenated American. Ninety-nine percent of you is American, you learn the language, the history, the culture. But you need to learn your foundation from your family, your past.'" At the end of class, time-permitting, the children and adults reconvene, and can communicate new phrases to each other in both Vietnamese and English. Tran's own children's participation in the program has allowed them, after years of limited communication, to connect with their grandfather.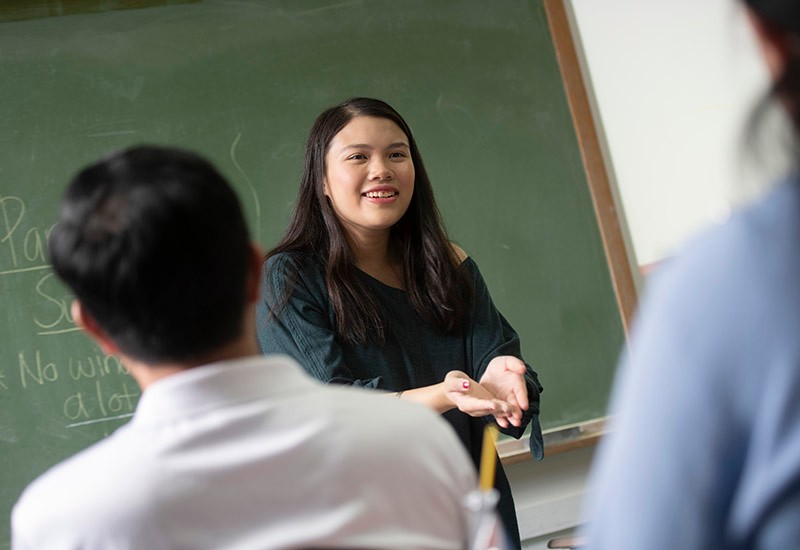 In an interview with the Boston College Chronicle upon receiving the Community Service Award last spring, Tran said, "Community service is a natural part of being a social worker. How can I be a social work educator without engaging in my community?" Reading the story prompted Sandy Saenbounmy, MSW '19, to join the program as a weekly volunteer last September. She helps build citizenship preparation lesson plans, and facilitates ESL dialogues. The daughter of refugees of the Vietnam War, Saenbounmy was born and raised in Rhode Island. "The program has been an incredibly insightful and formative experience. I think my students have taught me as much as I've taught them, they've brought me back to discover my roots," she says. With the help of her students, she's revived traditions from her family's history, including celebrating Têt, the Vietnamese New Year. "In hearing their stories, I've learned their story is my story."
Tran hopes more SSW students join his and other acculturation programs. "We have an excellent Global Practice Concentration, and send students overseas to work and conduct invaluable research. But there are plenty of places for students to volunteer their services to international communities right here in the Boston area. Locally, there are many ways to serve and learn from global populations in need."
Photos by Tony Rinaldo.