Above: Thanh V. Tran (Peter Julian)
School of Social Work Professor Thanh V. Tran, whose longstanding commitment to the local Vietnamese and Vietnamese American community has been called "exemplary," is the 2018 recipient of Boston College's Community Service Award.
The award, organized by the Office of Governmental and Community Affairs, recognizes the outstanding contributions of a BC employee whose actions exemplify the Jesuit spirit of service to others. Tran received his honor from University President William P. Leahy, S.J., at a recognition dinner held on May 30.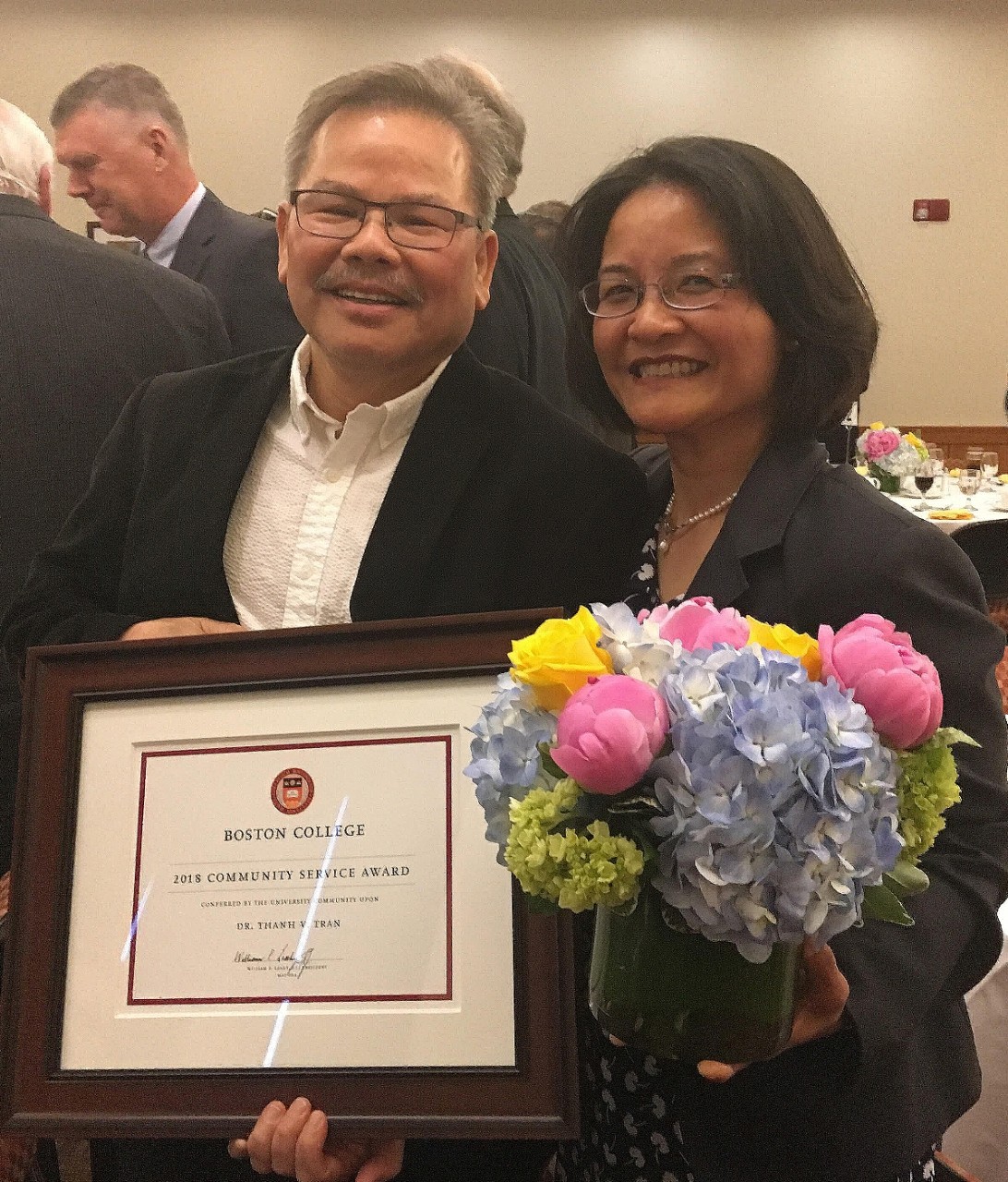 In 2009, Tran established a Vietnamese literacy and cultural program at St. Bernadette's parish in Randolph, Mass., that helps Vietnamese American children and others learn the Vietnamese language and culture and aids immigrant families in acculturating to American life and developing an American identity. He spends several hours every Sunday leading the program to make certain Vietnamese people in the U.S. have pride in their heritage and knowledge of Vietnam's language, history, and culture, but also feel home at home in the U.S. Because the program is open to participants of all ethnic and religious backgrounds, it has become a catalyst for cross-cultural and cross-generational understanding and appreciation in the community.
"[My service] gives me a sense of happiness," said Tran in a recent interview. "Community service is a natural part of being a social worker. How can I be a social work educator without engaging in my community? I need to have a relationship with my community. Otherwise, it's not right.
In addition to the weekly commitment he makes conducting the program, Tran has also led fundraising efforts to purchase laptops and projectors for the program's classrooms as well as reading materials for the Vietnamese community. He has also helped raise money for Catholic Charities to aid refugees.
Tran, who received a doctorate from the School of Social Work, University of Texas at Arlington, has taught at the School of Social Work for 25 years. His primary research focus has been on mental health issues in minority populations. He conducted a National Institute of Mental Health-funded study on depression in the Vietnamese community and a Boston Medical Foundation-funded study on health service utilization among the Chinese and Russian immigrants in Boston area. In 2016, he was named to the Massachusetts Office of Refugees and Immigrants' Advisory Council where he is tasked with advising Governor Charlie Baker on policy, planning, and priorities for refugees and immigrants living in the Commonwealth.
His affinity for immigrant populations stems from his own experience as refugee. Tran was born in Vietnam and came to the U.S. at the end of the war in 1975.
"Community service gives me an opportunity to say thank you to all who have helped me, a refugee, to build my life in this wonderful country," said Tran when accepting his award. "I am who I am today because of the generosity and kindness of numerous Americans whom I encountered in the refugee camp and communities."
One associate who nominated Tran for the Community Service Award and has worked with him for more than two decades wrote that Tran's professional expertise in mental health issues was especially beneficial, since depression and mental health issues are not openly discussed in many communities.
"It is easy for me to share my experiences with these new immigrants. I absolutely have empathy for them," said Tran, who says the stigma surrounding mental illness remains a challenge.
Tran was also nominated for the award by current and former colleagues, with one person describing him as "an extraordinary and humble man…well known for his generous spirit."
Another summarized it this way:  "He has quietly but persistently devoted himself to an important and broad mission—improving life for immigrants and minorities."
Anyone interested in teaching English to immigrants as part of this community service program is encouraged to contact Tran at vantran@bc.edu.
—Kathleen Sullivan | University Communications