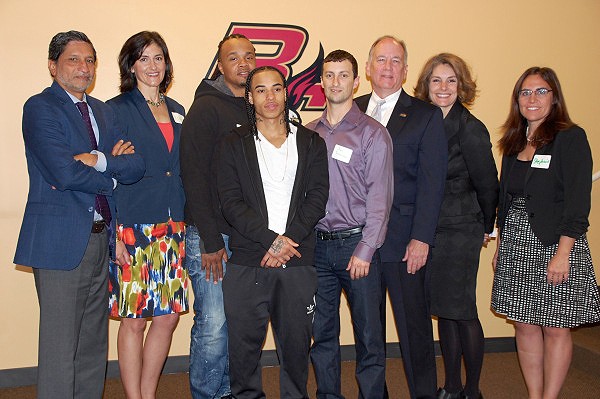 Four Boston area influencers headlined BCSSW's Third Annual Social Innovation Symposium last Friday, weaving together a tapestry of diverse, actionable concepts around the theme of innovative solutions in changemaking.
The event was emceed by Surdna Foundation board member Kelly Nowlin, and included the perspectives of United Way CEO Mike Durkin on collaborative financing, InnerCity Weightlifting CEO Jon Feinman on social enterprise, and the co-founder of the City of Boston's Office of New Mechanics Nigel Jacob, who spoke on changemaking with government.
Durkin kicked off the event by introducing a novel "pay for success model" to reduce homelessness in Massachusetts, a project convened by his organization and implemented by the Massachusetts Alliance for Supportive Housing (MASH). The goal of the initiative is to provide 500 units of permanent and supportive housing for up to 800 people over the course of six years, a number that represents half the population of the chronically homeless in the Commonwealth. Early returns are promising, he explained, as more than 250 homeless have already been resettled, and 85 percent of those resettled after the first year remain so.
Feinman followed Durkin with a short introduction on Inner City Weightlifting, an organization whose stated mission is to reduce youth violence "by connecting proven-risk young people with new networks and opportunities," using the gym to "replace segregation and isolation with economic mobility and social inclusion."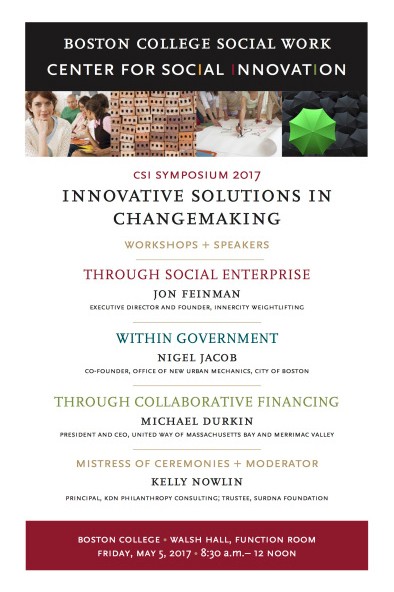 From the beginning, said Feinman, ICW leadership knew that, "in order for this organization to work, it wasn't about solving problems from my perspective. Instead it was about listening and gaining someone else's perspective and being by their side to help them to solve those problems." Staying true to ICW's ethos, Feinman spoke briefly, in order that the symposium audience could learn from two of the trainers who are currently at InnerCity Weightlifting, Jermaine and Averick. They told their personal stories of finding new opportunity following stints in prison, and how ICW helped them to become leaders in the community.
Jacob concluded the program with thoughts on how to "make a smart city smart" through engaging and innovative initiatives that forge partnerships between tech and local government. To begin with, "you focus on people's lives," he explained. "In some ways, that may be obvious maybe to an audience like this… But for the people I've worked with, and spent most of my life with, in terms of work experience, this is a new idea… Focusing on the needs of people [in terms of innovating advances in the tech sector] is in many ways a new idea."
Jacob also underlined the importance of "the how" being just as important as "the what" when building new initiatives, especially vis-à-vis community engagement, and the fact that technology, when properly implemented, can effect compassionate change and help to generate stronger relationships across sectors. (For more on the work being done by Jacob's office, check out this video).
The symposium was sponsored and organized by BCSSW's Center for Social Innovation, students in the School of Social work and its Macro Student Group, and the Center's co-directors, professors Stephanie Berzin and Tiziana Dearing. The Center provides students and the community with opportunities and resources in innovation training, support, and research, and its impact reaches across Boston, and across the world, in places as geographically distant as Santiago, Chile.